Bioengineering Student Becomes Bodybuilder at Millberry
---
Published on December 29, 2016
---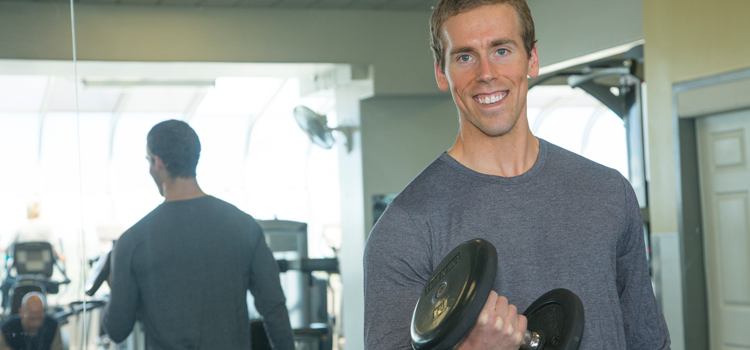 When Luke Cassereau arrived at UC San Francisco to pursue his PhD in bioengineering, he wanted to continue his regular workouts. He soon discovered Millberry Fitness & Recreation Center at Parnassus.
What he didn't know, at the time, was the role the fitness center would play in his physical transformation.
Cassereau was a rower as an undergrad, so he was used to spending five or six days a week in the gym. His habits changed, however, when he began working out at Millberry. "I had a family friend involved in bodybuilding, and it was something I found intriguing, but it wasn't a sport I felt I could do because I had always been a lean guy. But when I arrived at [Millberry], I had the schedule flexibility that allowed me to commit to training."
Cassereau researched bodybuilding and built a training program targeting different muscle groups that he worked several times a week. Over the next two years, he went from 180 pounds to 240 at his highest, and he's now a natural (not drug-assisted) bodybuilder competing at 205 pounds. He's added 100 pounds to his squat and deadlift and 75 pounds to his bench press.
"You'll be hard pressed to find a gym that's better equipped," Cassereau said of Millberry. "I certainly found nothing lacking and would obviously recommend it to students."
His new workout hobby also helps with his studies. "Without the regular workout breaks, it would have been harder to stay on track with my thesis and research."