A New City, A New Fitness Routine
---
Published on March 23, 2017
---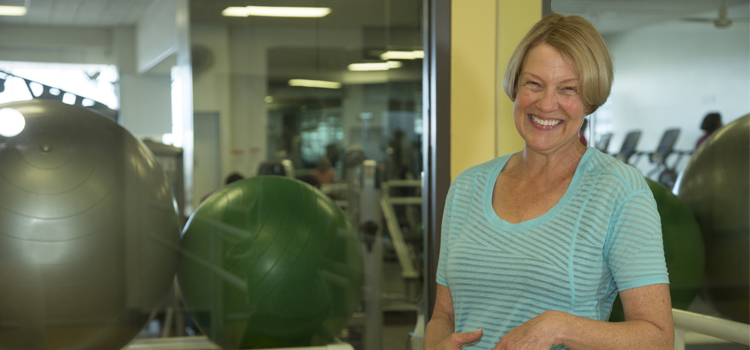 Karen Forsthoff believes that people who dedicate their lives to taking care of others often neglect taking care of themselves. So, when Karen, a marriage and family therapist, recently moved from New Hampshire to San Francisco with her husband, they agreed to take the time to improve their health.
The first step was joining Millberry Fitness & Recreation Center.
"Our kids were grown and we didn't want to retire, and we were looking for another adventure,"
she said. "We decided to sell the house, my husband took a position at UCSF, and we moved to San Francisco."
As part of the move, they agreed to leave behind the 10 to 12-hour days and committed to a healthier lifestyle. "We both played a lot of tennis, but we knew we had to work on our core to keep fit. I started taking yoga and Pilates classes to build my strength. After three months, I added Spinning® and BODYPUMP™."
Karen encouraged her husband to use the weight machines while she focused on group exercise classes.
"I enjoy the motivation of the instructors, and it's a pleasure to feel like I belong and that people in the classes care about each other. It's made a huge difference in my life."
After four months at the fitness center, Karen noticed increased strength and stamina, and her tennis game improved. "I learned that it's a lifestyle change. You can't work out once in a while. You have to get into a routine and have it become an important part of your day. A lot of people in the service fields, who take care of others, skip out on taking care of themselves. You can't let work become a factor on missing out on your health."