Marta's Fitness Philosophy: Just Keep Swimming
---
Published on February 02, 2015
---
Personal Training Helps Her Clients Overcome the Urge to Give Up
Marta Fernandez, a Personal Trainer at UC San Francisco, believes the human body has more endurance than the mind. "I think your mind wants to quit way before your body wants to quit."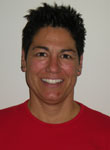 As a trail runner and a triathlete, Marta regularly pushes through her mental desire to quit by cheerleading and coaching herself. She runs the grueling 8-mile Angel Island Trail Run, the first 5 miles of which is uphill, an endurance event so demanding that her body typically ends up a little "tweaked" afterward.
Marta coaches herself at the inevitable tough points during the event when she feels like quitting; "Sometimes during the last mile of a triathalon swim, the end just looks really far off. I tell myself, 'You'll get there; just keep going; just keep swimming.'"
"That's how I see training with my clients," adds Marta, who has worked in a gym environment for 20 years. "I coach them to not quit. If you don't quit, you will get there wherever there is for you. The biggest obstacle to success in anything is quitting."
This chestnut summarizes Marta's training philosophy. It is perhaps the biggest point of pride in her career. Imparting the wisdom of "Just-Don't-Quit" to her clients, many who have worked with Marta for more than five years, helps them build on the mutual goal of creating consistency in their fitness routines. "Some people think personal training is a luxury, but I don't," she says. "It's an investment in your health and mobility as you get older."
Consistency and tenacity in a fitness routine create long-term health and happiness, says Marta. "I see people who have a fitness routine doing something they love, if it's tennis or triathlons, this as being more well-rounded." For example, one of Marta's clients is an 87 year-old woman who still plays 18 holes of golf on the weekends.
"When I work people out consistently, I find the physical limitations that bothered them before stop bothering them. It's happening without them knowing it's happening," she explains.
In addition to building continuity and stamina, Marta's fitness agenda includes debunking the idea of a big pay-off. The so called "runner's high," or a rush of euphoria from a workout, is not for everyone, says Marta.
For decades, we have heard about this thing called this "runners high," brought on by a flood of endorphins. Although the theory has been tested and found to be physically evident in some endurance trainers, Marta says it is not a fair expectation for her clients. Instead, Marta encourages her clients to maintain a more down-to-earth, practical approach to their fitness routine.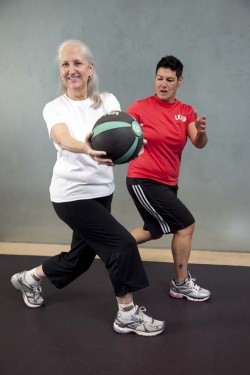 "A lot of people feel bad when they're waiting for that endorphin high," she says. Marta's goal with her clients for whom exercising is not a euphoric experience is to set up accountability.
"We need to be OK with people who don't really like exercising. Most of my clients do not experience the flood of endorphins. They're not driven by the 'high,' she says.
"There has to be a place in personal training for people who don't get the runner's high, but who want to exercise simply because it's good for them."
Bio
Trainer: Marta Fernandez
Education: World School of Holistic Massage, 2006
Certification: International Sports Sciences Association (ISSA), 2007; National Academy of Sports Medicine (NASM), 1997; American Council on Exercise (ACE), 1993 experience
Experience: Sports Club Company; Gold's Gym; Cole Valley Fitness -
Learn more about our personal trainers.