From Tri-Athlete to No Athlete – one trainer's journey
---
Published on January 05, 2015
---
Campus Life Services Fitness & Recreation personal trainer Ken Meyerhoffer was 44 when he went from being a tri-athlete to "no-athlete," thanks to an injury he now believes was associated with the early onset of Parkinson's Disease. Looking back, Ken says he stalled the progression of the disease for decades because of his vigorous exercise habits. Still, living with the neurodegenerative illness transformed his personal training career.
"I got to this place of barely being able to walk and I had to do a personal assessment of how to get out of that," says Ken. "I had to develop a joint-by-joint, body part-by-body part program."
Ken now helps his clients build mastery over time by going back to the ground level with each of them. Some come to him eager to run a marathon in two weeks; others come in with zero athletic confidence. They all go back to the basics with Ken by setting goals realistically.
"I deal with people who are going through remarkable transformations," he says. "They're getting stronger, they're finding themselves more able to function daily than they were the day before. And they find their stamina improving. Building a daily practice with the goal of longevity is the basic principle in Ken's fitness instruction. "It's about consistency. You want to ask yourself, 'what did I do today to make my body healthier?'"
Ken focused on corrective exercise to rehab from injury has been enhanced by working closely with Nancy Byl, a licensed physical therapist in the Department of Physical Therapy and Rehabilitation Science. Dr. Byl researches neuroplasticity, and provides physical therapy services to patients with disorders of movement at the UC San Francisco Physical Therapy Health and Wellness Center at Mission Bay. Dr. Byl's work with clients who have Parkinson's is focused on exercises that strengthen the brain's ability to rebuild.
Also called brain plasticity or brain malleability, neuroplasticity describes the brain's ability to grow new nerve endings to reconnect neurons whose links were injured or severed, and to form new neural pathways. The opportunity Ken has had as a client working with Dr. Byl has carried over to his training with his clients to improve their brain fitness and balance. This, in combination with building his own corrective exercises, enables Ken to tap his clients' innate potential to adapt to injury. Ken recognizes each client's ability to build physical strength.
"I think the most important thing for many people, especially if they're de-conditioned, is core strength," he says in a voice, calm, soothing, and well suited for work with clients who deal with various physical limitations of their own. "Core strength supports your posture. It starts with the center," adds Ken.
The Huggy Bear, below, is part of Ken's core strength regimen: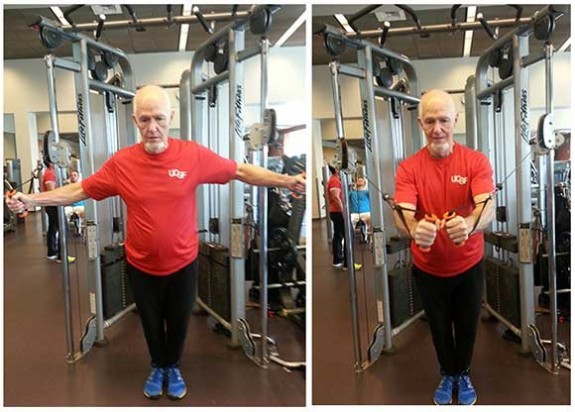 In many ways, starting with the center is the basic idea behind Ken's style. Clients who work with Ken get a strong conceptual framework of fitness and health. It's more than just drills and repetitions. He also gives clients silly names for the workout exercises. It's "fun and builds memory," explains Ken. "Fun," he adds, "is really key. People will find not all exercise is fun, but you can learn how to make it fun by setting up a reward system."
Below, Ken demonstrates one of his favorite exercises, he nicknamed The Travolta: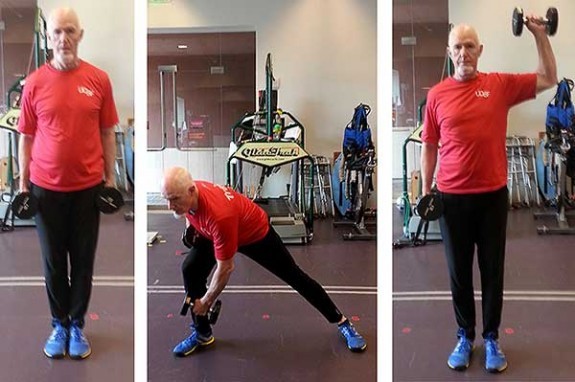 Training with Ken means learning to reward yourself, as well as getting educated about the big ideas, particularly the concept of exercise as medicine. Oftentimes, clients come to Ken expecting quick results. "A good number of my clients come in wanting to rush through this process." This is where education comes into play.
Ken's mode of teaching is more offbeat than standard issue. For instance, he has built a "life cycle of training" style that mimics the mobility milestones of babies.
As we know, infants build movement beginning with lying on their backs, then learning to roll over. Next, they learn how to creep along a bit. Eventually there's a point where they get to their feet and stand. Ken builds his clients exercise workout in a similar manner. "My clients do a lot of crawling on the floor now," he smiles.

Bio
Trainer: Ken Meyerhoffer
Education: Bachelor of Arts, Psychology, John F. Kennedy University; Business Administration major, Virginia Polytechnic Institute
Certification: National Academy of Sports Medicine Corrective Exercise Specialist (pending); American College of Sports Medicine: Certified Personal Trainer; American Heart Association Infant/Child and Adult Cardio-Pulmonary Resuscitation.
Personal: When not training at UC San Francisco, Ken loves to "watch the Golden State Warriors basketball games and drink wine."