Child Care Centers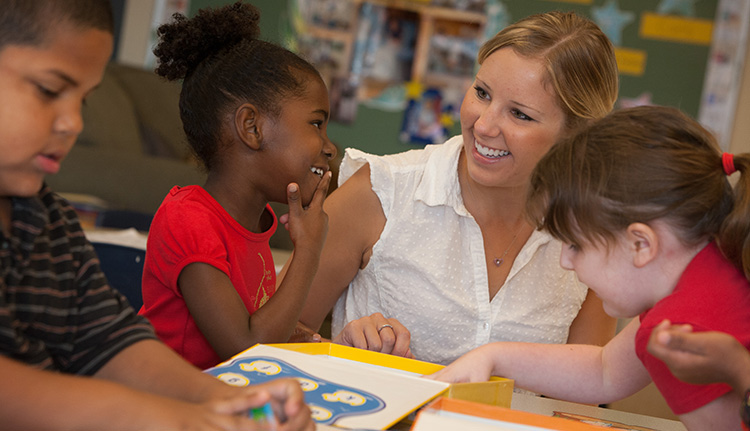 Learn more about UC San Francisco's child care centers.
UCSF maintains four beautiful child care centers serving three campuses: Mission Bay, Laurel Heights and Parnassus. Since 2006, UCSF has partnered with Bright Horizons Family Solutions, a leading provider of high-quality child care, early education and other services, to operate and manage our child care centers. All of our centers are accredited or pursuing accreditation by the National Association for the Education of Young Children (NAEYC) and strive to provide a welcoming, supportive community of caring to help infants, toddlers, and pre-schoolers reach their milestones.
September 2020 Update: The Marilyn Reed Lucia Child Care Study Center and the Kirkham Child Development Center closed in mid-March at the start of San Francisco's shelter-in-place order. While the Kirkham Center has since reopened, the Marilyn Reed Lucia Center remains closed until further notice. Learn more about the current status of UCSF child care centers, as well as resources available for the UCSF community at Family Services' COVID-19 Resources: Child and Dependent Care page.
COVID-19 Update:
Our child care centers are operating at reduced capacity due to group size restrictions, which means that enrollment opportunities are limited. We are still accepting wait pool applications, but tours have been temporarily suspended as we no longer allow non-essential visitors into our centers. If a family receives an enrollment offer, a virtual visit will be offered.
Locations:
University Child Care Center at Mission Bay (2 months-5 years)
Marilyn Reed Lucia Child Care Study Center at Parnassus (2-24 months)
Kirkham Child Development Center at Parnassus (24 months-5 years)
Laurel Heights Child Development Center (2 months-5 years) (new location)