Expanded UCSF Child Care Center at Mission Bay to Open in June '18
---
By Robert Hood on May 09, 2018
---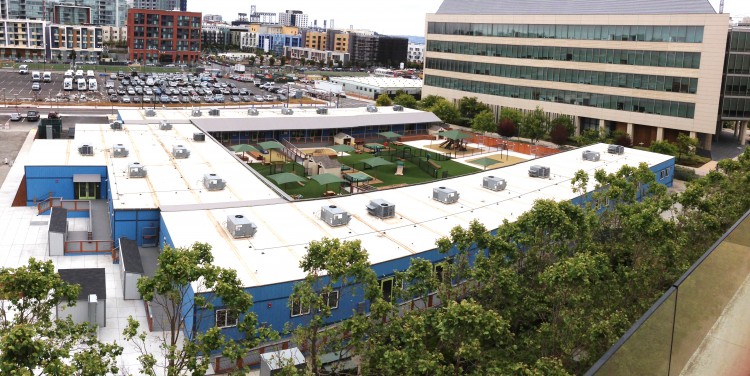 UCSF is set to open an expanded University Child Care Center at Mission Bay in June, 2018.
The expansion will increase the number of children enrolled in child care at Mission Bay from 85 to 272. The new facility, which accepts children ages two months to five years, is located at 727 Nelson Rising Lane.
"We're excited to welcome more families to participate in on-site child care near their workplace," said Suzie Kirrane, associate director of Family Services.
The new facility, which will be the largest child care facility in San Francisco, features 18 classrooms, 14,800-square-feet of outdoor play area, two art centers, and a lactation room for nursing mothers.
Once families have transitioned to the new center in June, the existing child care center at 1555 6th Street will be removed, and the area on Block 18 will be paved as a parking lot to serve Mission Bay permit holders and provide designated passenger loading for the new child care center. Enrollment to the center's full capacity of 272 will be gradual over the upcoming school year.
For information on how to apply, sign up for a tour, or view frequently asked questions about the wait pool, visit UCSF Family Services.
In a 2016 survey of UCSF families with children attending UCSF's four child care centers at Parnassus, Laurel Heights and Mission Bay, 99.1% of parents said they were "Very Satisfied or Satisfied" with the education and child care provided by Bright Horizons Family Solutions, which has operated UCSF's child care program at Mission Bay since it opened in 2006.
Kirrane explained that UCSF families also responded in that survey that having on-site, UCSF-sponsored child care, positively affects their satisfaction with UCSF and the feeling of being valued here. She said that the survey also found that parents feel they are productive with their children; and that UCSF helps them to balance, if not integrate, demands of career and family. Parents also appreciate that they can drop in and visit their children anytime during the day, according to the survey.
"Now more than ever, supporting the overall well being of our employees is important for UCSF, as is furthering UCSF's efforts to be family friendly," said Leeane Jensen, Executive Director of Wellbeing Services & Operations.
The expansion of the Mission Bay child care center and enhancements in housing, transportation, fitness and wellness programs, as well as increased employee activities and discounts, are a few examples of how UCSF continues to invest in the health and happiness of members of the UCSF community. "All part of making UCSF a best place to work," Jensen said.
UCSF's child care centers focus on education that supports a child's school readiness. The design of the new modular facility at Mission Bay has been developed in consultation with the early childhood education experts from Bright Horizons. The result is developmentally appropriate educational environments for infants, toddlers, pre-school and pre-kindergarten aged children. The new center at Mission Bay will provide welcoming spaces and well-planned learning centers that allow for physical activity, child choice, self-directed play, small groups, and supportive teaching. The spaces, furnishings, and activities will be designed to encourage the youngest children to learn about their work through individualized curriculum that invites exploration.
Visit these websites for more information on enrollment and project updates and progress.