New UCSF Mission Bay Child Care Center Opens
---
By Robert Hood on June 22, 2018
---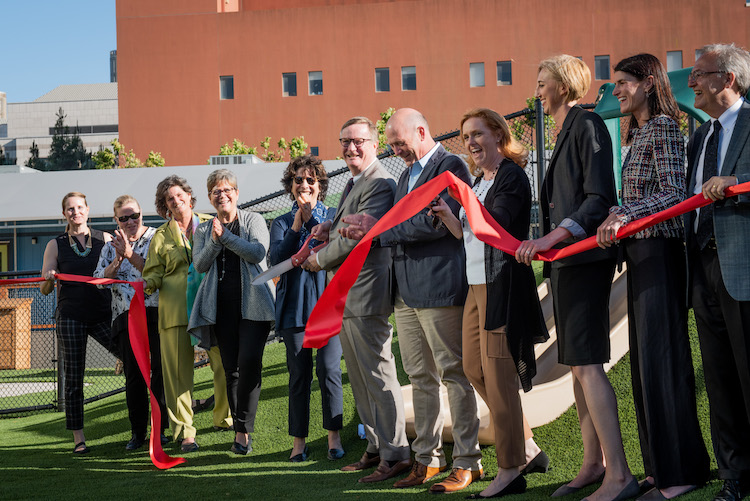 Marco Sanchez, UCSF Documents & Media
Under a sun-drenched sky, a long red ribbon strung across a new turf hillside was cut with a pair of oversized scissors by UC San Francisco Chancellor Sam Hawgood, MBBS, to officially open the new 24,000-square-foot University Child Care Center at Mission Bay.
Behind the line of university leaders, children raced around a brand-new playground on a variety of wheeled toys, oblivious to the pomp and circumstance but clearly giving the facility their own stamp of approval.
With the June 11 opening ceremony, the University Child Care Center at Mission Bay officially becomes the largest child care center in San Francisco. Sitting on 1.4 acres, the new center features 18 classrooms, seven playgrounds, two art rooms, and a lactation room for nursing mothers. Once enrolled to capacity the center will serve 272 children, triple the current number, and employ 100 Bright Horizons staff.
The center is operated by Bright Horizons Family Solutions, a national expert in employer-sponsored early education. UCSF is among 90 higher education institutions partnering with Bright Horizons.
"I'm very proud of our partnership with Bright Horizons," said Suzie Kirrane, associate director of Family Services. "The program has been recognized and continues to maintain outstanding marks in overall customer satisfaction – achieving a 98 percent satisfaction rating among parents."
UCSF was a pioneer in providing on-site child care for faculty, staff, and students. Dr. Marilyn Reed Lucia, MD, a graduate of UCSF and later a faculty member, initiated legislation in 1968 which authorized the regents of the University of California and the trustees of the California State University systems to establish and maintain children's centers on their respective campuses. A year later, she initiated Assembly Bill #2261 which authorized funds for the construction and support of a children's center at UCSF. In 1979, UCSF opened the doors to the Marilyn Reed Lucia Child Care Study Center at Parnassus.
Clare Shinnerl, associate vice chancellor of Campus Life Services, said on-site child care plays a key role in the university's drive to attract and retain top academic talent. "In a recent survey, 94 percent of our parents with children enrolled in UCSF child care said that having on-site child care positively impacted their ability to concentrate on the job, to be productive, and to integrate personal and professional demands."
Kirrane also recognized the many partners that made the project possible, including UCSF Real Estate, Matano Kang Architects, UCSF Campus Life Services, BuildGroup, Jacobs, UCSF ITS and civil engineering firm McGuire and Hester. "Without these partnerships, this project would not have been possible," she said.
Visit University Child Care Center at Mission Bay for enrollment information.