Lactation Credits for UCSF Health Ambulatory Clinicians
---
By Caroline Wick on October 29, 2020
---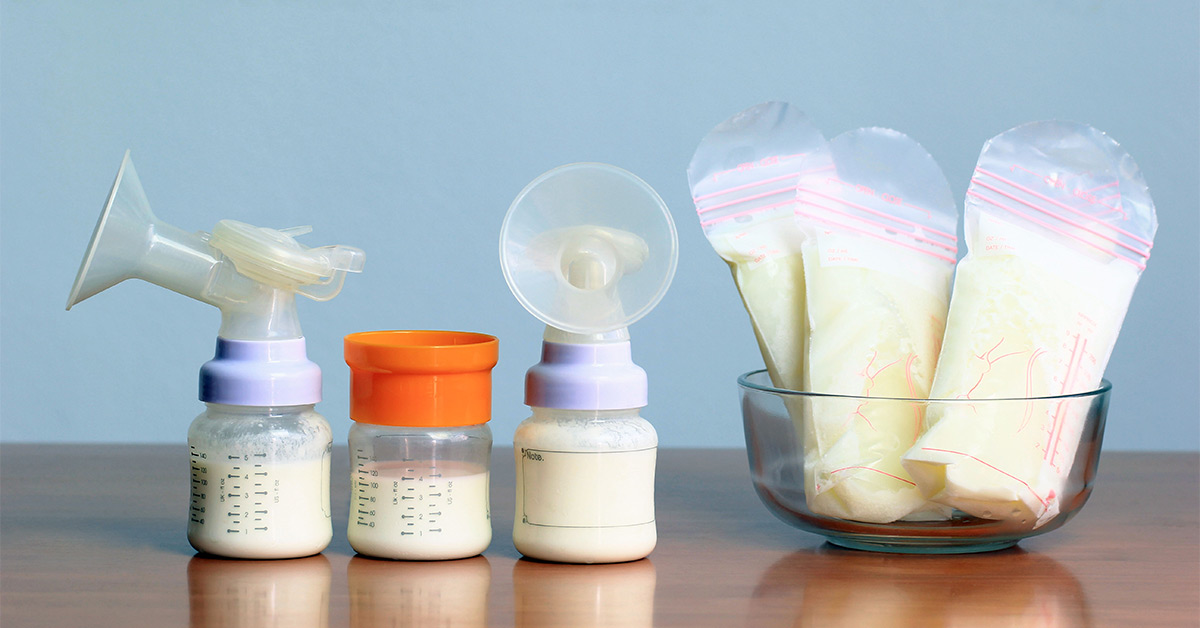 Lactation Credit program for Ambulatory Providers at UCSF Health

Breast/chestfeeding has numerous benefits for lactating individuals and babies including potential reductions in disease risk, antibody transference, promotion of a healthy weight, reduced risk for postpartum depression and convenience for parent and baby. Despite excellent breast/chestfeeding initiation rates, lactating clinicians as a group are at risk of premature breast/chestfeeding and lactation cessation, citing lack of sufficient time and adequate place for milk expression at work.
When working in a productivity model in clinical work, as many of our ambulatory physicians do, the time needed to pump results in decreased productivity and pay. This may affect salary, access to bonuses and scribes, as well as staffing resources for the clinic. The message we are sending our physician parents who breast/chestfeed is that they are not meeting productivity standards due to breast/chestfeeding, pressures not faced by non-lactating parents.
In order to address this inequity and to further support lactating individuals returning from leave, UCSF Health will now offer 1 year of support to those lactating after a childbearing leave. Physicians, trainees and Advanced Practice Providers returning from childbearing leave who work at UCSF Health sites, will now be allowed to schedule one 30-minute lactation hold per half day clinic session for up to 1 year after the birth date of a child. For physicians who are paid on a productivity model, 1.5 wRVU credit per hold will be provided to the clinician's home department on a quarterly basis for disbursement of funds to the clinician. For APPs who rely on an RVU target, the target will be reduced by 1.5 wRVU credits per lactation hold. This support began on November 1st, 2020.
FAQ about UCSF Health Lactation wRVU Credit Program
FAQ: Lactation wRVU credit for UCSF Health Clinicians

What is a Lactation Credit?
Faculty, trainees and APPs returning from child-bearing leave are given the option of adding a "Lactation Hold" to their clinic schedule per half-day session, which can last anywhere between 20-30 minutes at the clinician's discretion. This lactation hold can be placed anywhere in a 4-hour session, template permitting, and for eligible clinicians will result in wRVUs credited to the clinician's home department on a quarterly basis for disbursement of funds to the clinician. Each Lactation hold, regardless of the duration, will be reimbursed as a set amount of wRVUs—- 1.5 wRVUs, equivalent to a 25-minute patient visit.
How will providers know about this credit?
In preparation for their leave, expectant faculty and APPs will be informed of the option for Lactation credits by the Division/Department manager for physicians or Administrative supervisor for APPs, and introduced to the program. Providers can choose to work with their clinic to place holds either prior to or on return from leave. A repeat communication will be sent two weeks prior to return from maternity leave as a reminder to review clinic schedules. The new parent will be instructed to work with her clinic supervisor or designated scheduling admin to place these holds into her clinic schedule if desired. See sample letter below.
How will Lactation Credits be tracked?
The number of "Lactation holds" and corresponding wRVUs generated will be tracked by Faculty Practice Revenue Management Office and provided to the Departments on a quarterly basis with the corresponding payment. This will be a similar mechanism to the tracking and payout of e-consults. Clinic staff can run a report of the number of lactation hold by provider, as outlined in the APeX Lactation Hold Tip Sheet.
What are the responsibilities of the Division/Department Manager?
The responsibility of the Division/Department manager is to:
1) Ensure all clinicians taking child-bearing leave are aware of this program prior to their leave and receive email communication regarding the program upon their return.
2) Upon receipt of wRVU legers and payments, Division/Department Managers will need to properly allocate Lactation wRVU credits to the individual provider.
What are the responsibilities of the Practice Managers?
Practice Managers should inform those responsible for scheduling or managing provider templates about the new lactation hold visit type and the ability of lactating individuals to schedule one "Lactation Hold" visit per 4-hour session. Please see the Lactation Hold tip sheet for more details
What happens if a clinician cancels their session?
If a clinic session is cancelled, the lactation hold visit should similarly be cancelled. A cancelled visit will not result in lactation credit being provided.
What should be done if a clinician decides to overbook her lactation hold visit?
If a clinician decides to overbook her visit, the lactation hold visit should be cancelled. A prompt in APeX will remind schedulers to remove the hold if an overlapping visit is booked.
Is this program available in all practice areas and at all sites?
Currently the lactation credit is available to clinicians practicing in all UCSF Health and SF Benioff Children's Hospital sites who are on a UCSF Health wRVU based payment model. Oakland Benioff Children's Clinics will follow shortly. Given our reliance on scheduling through EPIC to generate the credit, only clinics working in our instance of EPIC can participate at this time. In the future, we hope to expand to off license sites not on EPIC. Faculty in Departments or clinics who are paid on a UCSF health system staffing plan per FTE are not eligible for reimbursement in this program.
With any additional questions about this program, please contact .(JavaScript must be enabled to view this email address)
With any questions about the UCSF Lactation Accommodation Program, please contact .(JavaScript must be enabled to view this email address) or visit their website at https://tiny.UCSF.edu/UCSFpump



APeX tip sheet: Placing lactation holds into a clinic schedule
Creating of an Ambulatory "Lactation Hold"
Adding a Lactation Hold to a provider template
1. Open the provider template
2. From the Exception tab, select the time slot
3. Click "On Hold"
a. Select the reason of "Lactation Hold"
4. Click Apply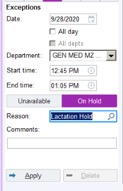 Adding a Lactation Hold from the provider View Schedule
1. Select the correct date
2. Right click
3. Click Exception > Hold Time > Set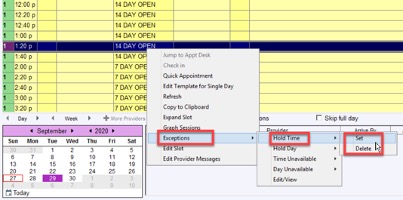 4. Enter the Reason of "Lactation Hold"
5. Click Accept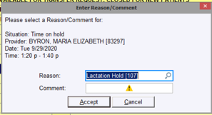 If the scheduler scheudler into a Lactation Hold- Warning Message
1. The system will not show a Lactation Hold block with auto search scheduling functionality. If the schedulers use manual search, and selects the Hold slot,
they will get a warning message



2. If the provider does not need the lactation hold and a scheduler proceeds to schedule the patient in that time slot, there will be another warning message during Registration, after scheduling. This is a reminder to cancel the Lactation Hold, so that the hold isn't counted in the lactation hold tracking.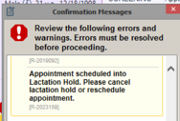 For questions about this hold, please reach out to Dr. Katie Grouse, .(JavaScript must be enabled to view this email address)
For questions about the Lactation Credit program, please contact Dr. Michelle Mourad, .(JavaScript must be enabled to view this email address)



With any additional questions about this program, please contact .(JavaScript must be enabled to view this email address)
With any questions about the UCSF Lactation Accommodation Program, please contact .(JavaScript must be enabled to view this email address) or visit their website at https://tiny.UCSF.edu/UCSFpump