Landscaping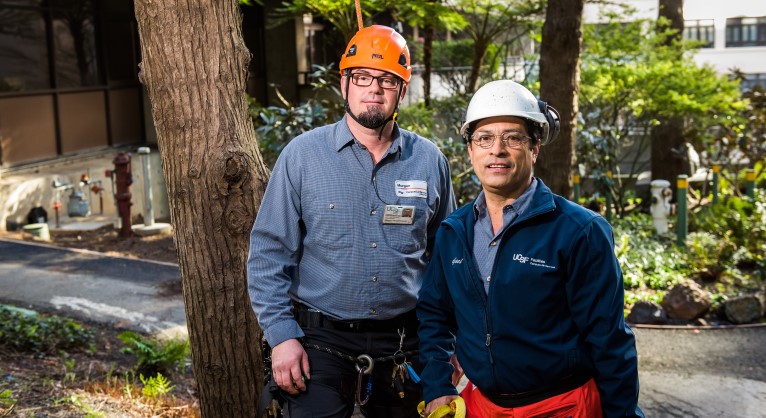 Forestry Technicians at Parnassus: Morgan Vaisset-Fauvel and Rafael De Lara Rodriguez

Ensuring that the exterior of all campuses are clean, safe, and attractive is our job. To meet the needs of the UCSF campuses, Facilities Services maintains the following: outdoors plants, shrubbery, trees, hardscape, and all landscaped areas on all campuses. To keep outdoor areas tidy and ensure pedestrian safety, Facilities Services provides cleaning and removal of debris from pedestrian path of travel, sidewalks, entrances, doorways and other areas to ensure pedestrian safety.

Landscaping maintenance includes the following:
| | | |
| --- | --- | --- |
| Service Area | Centrally Funded Services for State Supported Spaces | Billable Services |
| General Maintenance | Brick, mortar, cement inspection • Public space inspection • Graffiti removal | Minor moving services of equipment, furniture, etc. |
| Landscaping Services | General landscape maintenance of all non-dedicated landscape areas • Hardscape maintenance and trash removal • Tree trimming, removal, and replacement • Litter pickup • Road and walkway maintenance and repair • Irrigation system installation and repair • Exterior planter beds and containers not specifically assigned to a department • Library planters and terrace irrigation in state supportable space | Project related landscape needs or repair of damage caused by project work • Special requests for plantings or color changes • Parking lot maintenance and cleanup • Special event preparation and cleanup • Damage and vandalism to existing landscaping and irrigation systems |
*Note: This list is not exhaustive and only includes some of the most common service requests. "Centrally funded services for state supported spaces" indicates non-billable services.
---
Need landscaping maintenance?
Submit a service request.