Elevators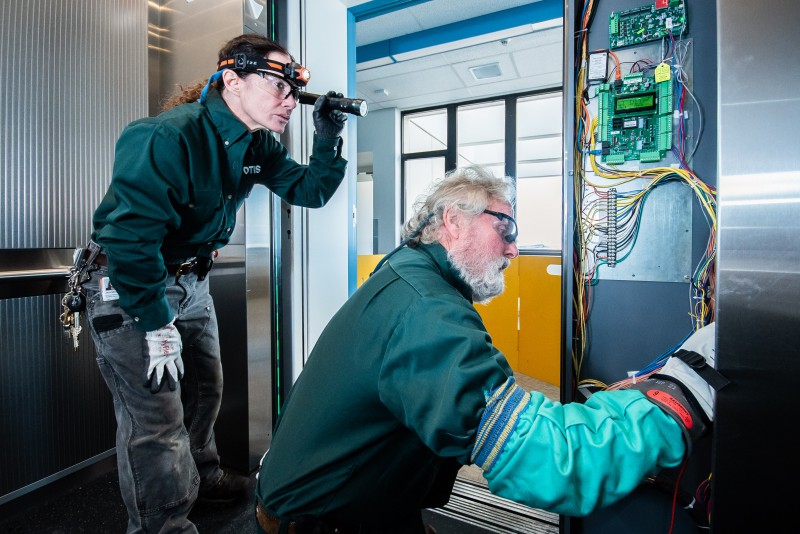 Elevators – the ultimate on-demand ride service
Going up or down, our passengers are accustomed to having a working elevator appear at the touch of a button – 24/7.
One of the hardest working parts of any building is the elevator. UCSF Facilities Services not only keeps them going up and down, but also safe. All elevators maintained by us are on a regular preventative maintenance schedule.
Safety First
Facilities Services has also contacted California's Department of Industrial Relations (DIR) for inspection for all our (150) elevators and lifts.
However, due to an increase in new building developments across the Bay Area, the State has been unable to provide inspections on our campus in a timely manner. This current trend has had great impact on all commercial and residential businesses. When we receive state inspections, our elevator mechanics are responsive and quick to make corrections, as part of the preliminary order within 1-2 months, so that we adhere to elevator safety codes and follow procedures for recertification of state permits.
Ride on!
In the meantime, as we wait for the next inspection, our (4) full-time elevator mechanics are dedicated to perform regular maintenance to extend the longevity and reliability of our elevators.
We also have a current project of modernizing (27) existing elevators at Parnassus, Mt Zion Cancer Research Center, and Buchanan Dental Center, which involves installation of brand-new machines, interior restoration, and infrastructure upgrades. 19 of these elevators are located at Parnassus. In concert with Real Estate Services, this will happen over the next five years with early discussions to modernize additional elevators at other campuses.
Elevator Modernization ScheduleCompleted Elevator Modernization Projects
• Mount Zion Cancer Research, Elevators 1, 4: Completed, October 2018
• Dental Clinics Building, Elevators 1, 2, 3: Completed, January 2019
Elevator Modernization Scheduled to Start in Summer 2019
• Millberry Garage, Elevator 3 (Next to Golden 1) & Elevators 5, 6 (Next to Subway)
• Medical Sciences Building, Elevators 1, 2, 3, 4
Scheduled to be Modernized in 2020 - 2025
• School of Nursing Building, Elevators 1, 2: Schedule pending, contingent on the opening of CSB
• Mission Center Building, Elevators 1-3
• Medical Sciences Building, Elevators 5, 6, 7
• Aldea Housing, Elevators 1, 2
• Buchanan Dental Clinics, Elevator 1
• Medical Sciences Building, Animal Towers, Elevators 7, 8
• Dental Clinics Building, Freight Elevator 4
• Millberry Union East & West, Elevators 1, 2
*UCSF Facilities Services is currently evaluating additional buildings for future elevator modernization projects.
For the complete elevator maintenance schedule, go here.