Remote Freezer Monitoring
---
Published on September 15, 2020
---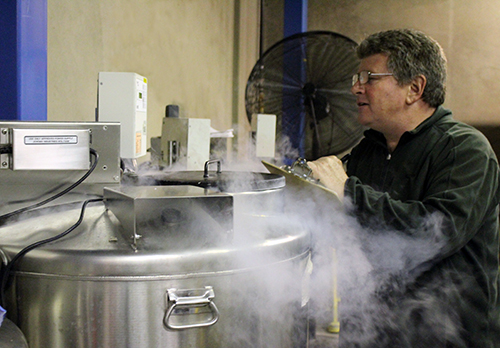 Introduction
UCSF has over 1,000 -80 freezers on campus storing precious materials: research samples, clinical trial samples, expensive reagents, and more. Unfortunately, freezers fail. And when they do, the consequences vary from catastrophic to expensive. During the pandemic and during off-hours, no one may be in the lab to hear a door alarm. Remote monitoring is needed.
The UCSF Facilities department is pleased to offer free remote temperature monitoring and workflow solution for -80 freezers.
The Remote Monitoring Program
The remote monitoring program is available to UCSF research labs with -80 freezer(s). The program provides the hardware, software, and network connectivity for remote monitoring.
Hardware
The hardware is Monnit ALTA low-temperature sensors (powered by AA batteries) and Monnit ALTA Ethernet Gateway with POE.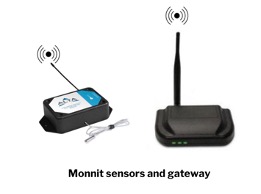 Software
Tempathic is a third party software company that has been selected as the primary software module for UCSF. However, Labs have the option of using either iMonnit software or Tempathic software, which is in pilot stage through December 2020. Both programs support text, phone, and email notifications for multiple users. Tempathic software also provides an alert escalation and resolution workflows. Information for both software applications can be found below.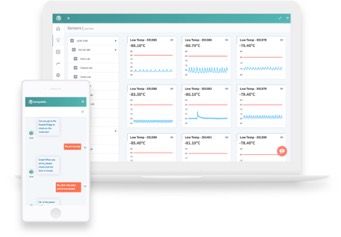 Tempathic software monitors the Monnit sensors and alerts when there is a temperature excursion or inactivity. Alerts are escalated until an authorized responder acknowledges alerts and guides responders through the necessary steps to ensure stored materials are kept safe.
These guided workflows make it practical for a less experienced member of your team to handle the situation. That's a relief when you can't always go on campus.
At anytime from anywhere, you can use your Smartphone or a connected computer to:
● Check all your freezer temperatures
● Update the escalation path to reflect the staff scheduled to be on campus
● Acknowledge or escalate an alert
● Follow the workflow to resolve the alert
● Monitor your colleague's progress resolving an alert
● Review the timeline of events
Network
Facilities Services has worked with UCSF IT Services to ensure the hardware and software applications provided by Monnit and Tempathic are cleared for use by UCSF.
How to get started
Submit a Facilities Work Order. After your work order is received, we will send you an intake form to gather information needed to support your request.
Once your request is submitted:
● Facilities will provide sensor(s), installation instructions, and an install kit of materials. You will install the sensors unless you've elected to have facilities install them. Installation is quite simple and takes just minutes.
● Facilities/Tempathic support will set up your account and configure the sensors, thresholds, alerts, escalation path, and users. Each user will receive an account invitation via email.
● Tempathic will email users with links to short videos explaining how to use the software and make configuration changes.
● Ongoing software support (for either iMonnit or Tempathic) is available via email or phone during regular business hours from Tempathic's support team. For sensor or gateway support, contact Facilities Lab Services.
How it all works
The Monnit sensor is installed on the -80 freezer by the program participant (you). Once the batteries are installed, the sensor will wirelessly connect to the network gateway and then to the cloud. Once connected, the software will collect and display the temperature data.
Labs that currently use iMonnit software may continue to do so, or may elect to use Tempathic software instead. Users may choose to switch between iMonnit and Tempathic at any time. When using iMonnit, Tempathic notifications will be disabled to prevent duplicate alerts.
FREQUENTLY ASKED QUESTIONS
What if a lab has other equipment that needs to be monitored, such as -20 freezers, CO2 tanks, or mouse chambers? Is monitoring available for equipment other than -80 freezers and, if so, what is the cost?
Facilities Services' first priority is to ensure that all UCSF -80 freezers are monitored. The current phased implementation plan projects a completion date of December 2021. However, Facilities can assist with monitoring lab equipment other than -80 freezers on a case-by-case basis. Labs will be responsible for the cost of monitors and gateways. Equipment costs vary, depending on the type of device and Facilities can provide an estimate at the time of request.
Is monitoring software available to labs that already have monitors in place?
Yes. Facilities Services is currently prototyping equipment monitoring software to support lab research. Any lab may request access to the software at no charge. This does not include the cost of replacement monitors.
Is there any cost?
No, the freezer monitoring program is free for all -80 freezers on the UCSF campus.
How long does it take to get remote monitoring working?
It takes about a week. First, you will get the sensor in 1 - 2 days. It will take about 30 minutes to install the sensor. After the sensor is installed, the software will be configured the next business day and everyone on the alert escalation path will receive an email welcoming them to the system and providing them links to training videos. Next, you will confirm the system settings and notify your lab mates know the system is live.
How long does it take to install the sensor?
About 30 minutes.
Can I get help with installation?
Yes, facilities can provide installation assistance, which needs to be scheduled ahead of time.
How are alerts delivered?
Each user can configure their profile to alert via email, text, and/or phone call.
Can I monitor other things besides the temperature of -80 freezers?
The program only covers temperature monitoring for -80 freezers. However, you may purchase other sensors for a fee and add them to the monitoring software at no charge. Facilities Lab Services can provide an estimate for additional types of sensors.
How many users can be on the escalation path?
You have as many users as you like. You can manage users and their roles from the software.
What prevents false alarms?
Common reasons for temporary temperature excursions is when the door is opened to get/add materials to the freezer. The software has a preset 30-minute delay before sending alerts to prevent these annoying false alerts.
Can I change the alert threshold?
Yes. You can also change the units from Celsius to Fahrenheit.
Can I download data to a spreadsheet?
Yes, you can export data to a CSV file.
Can I move a sensor from one freezer to another?
Yes, provided you notify support in advance so the software can be updated and the data from the old unit archived.
If the sensor fails, will it be replaced at no charge?
The sensors are covered under warranty for manufacturing defects. If it has been damaged during use, then you will be responsible to purchase a replacement.
How long do the batteries in the sensor last? Will I be notified if they are running low?
The batteries will last for at least 3 years. Yes, you will be notified if batteries need to be replaced.
If I am part of the pilot program and use Tempathic, am I included in the program?
Yes, all participants in the freezer monitoring pilot using Tempathic are automatically included in the program.
If I already use Monnit sensors, can I add them to the program and use Tempathic?
Some labs have purchased Monnit in the past and may wish to add more sensors as part of this remote monitoring program. That is possible. You can choose which software, iMonnit or Tempathic, to use. You will have accounts on both systems but only one will have notifications enabled.