Six Facilities Employees Earn 2021 Achievement Awards
---
By Robert Hood on June 01, 2021
---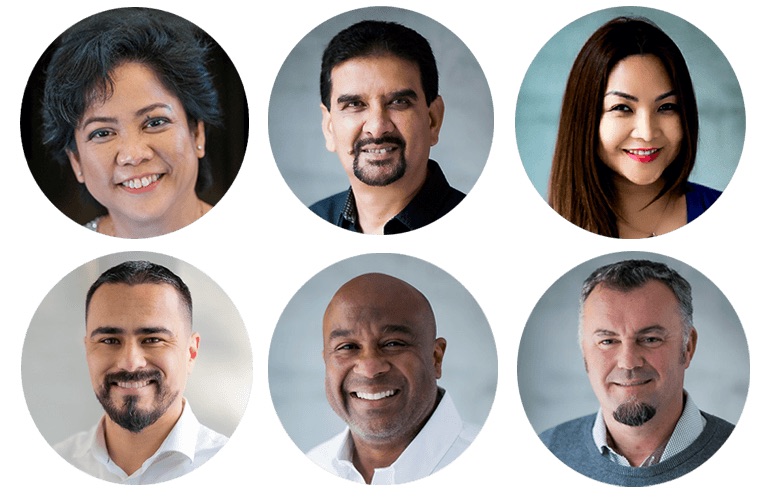 Alice Abate, Raj Bhakta, Jaycee de Guzman, Felipe Rubio, Girod St. Martin and Morgan Vaisset-Fauvel all received 2021 Achievement Awards.
The UC San Francisco Achievement Awards recognize sustained, exceptional performance and/or significant contributions from an employee over an extended period of time. The contribution being recognized at the Achievement Award level must reflect at least one of the Chancellor's Priorities and/or the UCSF PRIDE Values.
Facilities Analyst Alice Abate was recognized for her leadership in developing program management to the Facilities Services Mobile Device/Workstation Management Program as well as the Center of Excellence program. "Alice volunteered to complete an inventory audit and establish an Asset Upgrade Lifecycle Program for the fleet of mobile devices and workstations managed by Facilities," said Business Systems Lead, Seth Boudsady. "This enabled the organization to establish a financial forecasting model. Abate also created the first-ever trade-in program with Apple, Inc."
Abate was also instrumental in running a completely remote virtual week for the Center of Excellence Program. "This brought a boost in morale and unity across Facilities Services and we have Alice to thank for that," said Assistant Director, Sean Aloise.
Fire & Life Safety Systems Superintendent, Raj Bhakta, was recognized for fostering collaboration in university stewardship. "Raj and his team continue to excel to keep UCSF compliant to the fire marshal requirements for fire alarm testing," said AD of West Campus Operations, Mike Jang. "Working with the FIN Team, Raj and his team were able to start annual and five-year sprinkler inspections and obtain a vendor contract. He also leveraged in-house resources to start the inspections, which resulted in huge savings of cost and time, since the technicians performing the inspections knew the sites well."
Customer Service & Support Center Supervisor, Jaycee De Guzman, was recognized for redefining the Customer Service Center program so it could deliver the best value across the organization. "It's easy to tell how committed a leader is to really seek out value and improve their business," said Director of Operations, Cesar Sanchez. "They lean into change, and, in fact, are the ones to create it. As for Jaycee, last year, she studied and adopted a business model on which to measure her team's performance."
Sanchez said De Guzman invited customers to critique various aspects of the Customer Service Center and provide feedback as to whether or not they saw good value as the ultimate deliverable. "She then took all this information and began to work on retooling the Customer Service Center's priorities, projects and structure so they aligned to what the customers requested. This has resulted in improved customer service and nimbleness to quickly respond to changing business needs.
Interim Assistant Director of Custodial Services, Felipe Rubio, was recognized for his leadership and the ability to pivot through the constant change that the pandemic brought to UCSF. "Felipe has always been a key contributor and essential to our custodial program," said Custodial Services Director, Billy Reynoso. "When the COVID-19 pandemic hit last year, Felipe stepped to the plate and surpassed everyone's expectations. Our success would not have been possible without his efforts."
Rubio's cleaning team became the frontline defense, especially in the special cleanings of COVID contaminated spaces. His team's work saved the university more than $500,000. Rubio also worked closely with Retail Services, Family Services, Sustainability and more in preparing their sites as employees returned to campus.
Similarly, Facilities Manager of Housing, Girod St. Martin, supported UCSF Housing throughout the COVID pandemic. St. Martin implemented new procedures for apartment cleaning, maintenance entry protocols, signage and communications, as well as adjusting building systems such as HVAC and water fountains to keep residents safe. "Girod played a huge role supporting operations during the COVID pandemic," said Facilities Services Director, Adam Schnirel. "He provided a safe environment for housing occupants and worked within the ever-changing emergency-recovery operational guidelines to pivot efforts around cleaning, maintenance and security."
Landscape & Grounds Program Manager, Morgan Vaisset-Fauvel received a 2021 Achievement Award for maintaining Mount Sutro and implementing a ten-year management plan for the forest. "Morgan continues to take on more responsibilities while managing the Mount Sutro Vegetation Management Plan," Schnirel said. "Managing Mount Sutro was not easy this year, as the pandemic impacted even our outdoor spaces. Morgan did an excellent job adjusting trail directions and signage to make sure everyone was staying safe while hiking or recreating. He also continued to work with the community to make sure their voices were heard while bringing the forest back to life."
Vaisset-Fauvel and his team also removed dead and dying trees on Mount Sutro while replanting more than 1,100 trees. He regularly meets with the Community Advisory Group, Community and Government Relations, and was even appointed to Seat 1 on the Urban Forestry Council for the City and County of San Francisco's Department of the Environment.