Popular UCSF Facilities Services First Impressions Contest on Hiatus
---
By Robert Hood, Campus Life Services on September 09, 2020
---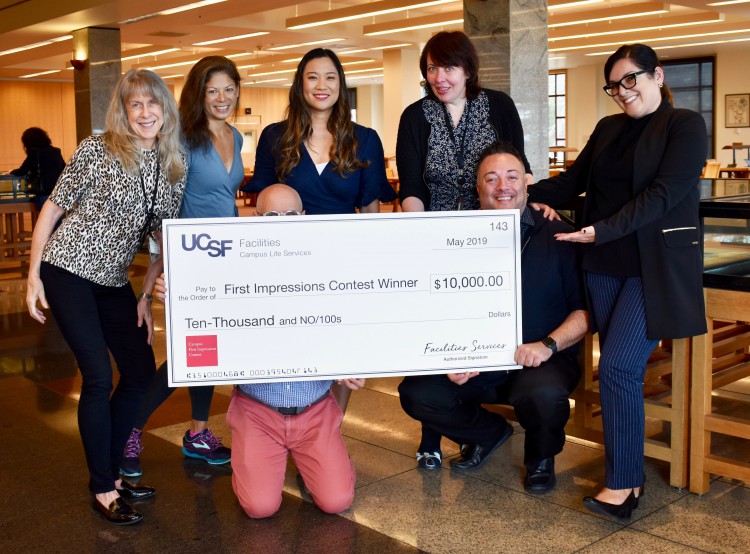 The popular big checks won't be distributed this year as the UC San Francisco Facilities First Impressions Contest is taking a break due to COVID-19.
Over the past three years, the annual contest has transformed 36 campus eyesores into inviting spaces that enrich the working environment at UCSF. This year's contest was going to provide up to $15,000 to upgrade 10 campus public spaces that make a significant first impression on students, staff, faculty and visitors.
"Unfortunately, the money budgeted for our annual First Impressions Contest needs to be redirected to our COVID-19 response," said Assistant Vice Chancellor for Facilities Services, Jon Giacomi. "We have been amazed by the interest and creativity expressed in the contest over the past three years. It's a great way for us to engage the UCSF community and helps us prioritize projects that we may not have noticed in the past. Once we get past the pandemic, First Impressions will return and we're hopeful that will be next year."
Last year's contest drew 94 entries and a 17-member committee reviewed the entries and chose ten winners.
The First Impressions Contest was launched in 2017 and attracted 48 entries. Projects funded included improving the entrance to the Parnassus campus from the MUNI N-Judah stop and adding new furniture to the Millberry Union Food Court.
Other projects funded over the past three years included landscaping common spaces and sprucing up entrances to buildings, renovating student lounges, and otherwise creating more inviting public spaces around campus. Entries with a high degree of public visibility were prioritized such as upgrades to the School of Nursing mezzanine, beautification of the UCSF Library lookout space, landscaping at Parnassus Heights, and improvements to the entry of the UCSF Dental Center.