Luis Morales: UCSF's Lab Cleaner
---
By Robert Hood, Campus Life Services on August 21, 2020
---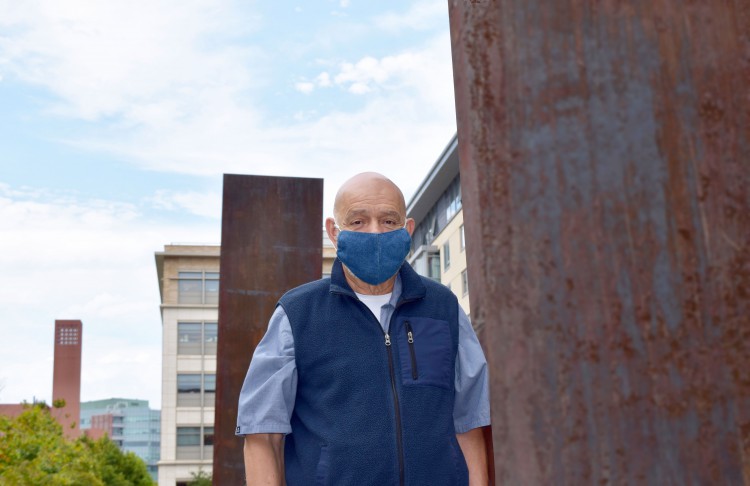 Senior Custodian Luis Morales takes pride in cleaning research labs at the Helen Diller Family Comprehensive Cancer Center at UC San Francisco's Mission Bay campus. He communicates with lab managers and researchers about the complexities of cleaning each lab to make sure the work is done safely and to their specifications. And he does it all without being able to hear.
We recently met with Morales and an interpreter to learn how he immigrated from Central America to the United States and eventually came to work at UCSF.
Born in war-torn Nicaragua, Morales has been deaf since he was five-years-old. He still vividly remembers the incident that left him without hearing. "I was walking across a bridge and I heard a siren from behind and it was a train. I fell off the bridge trying to avoid the train and hit my head. I was laying in sewer water. Thank God the neighbors heard me scream and took me to the doctor."
Unfortunately, the water caused an infection. "I had massive swelling in my brain from the accident," he said. 'They tried to remove the water from my ears and gave me glycerin drops but I lost my hearing."
Growing up in Nicaragua with a hearing impairment during a brutal civil war wasn't ideal for Morales. His uncle was a lawyer and advised his parents to send young Luis to live in Mexico City where he could learn sign language and live in school dormitories.
"Honestly, I was more interested in playing ball," he said. "They tried giving me speech training at school, but it was hard for me to understand. I learned to communicate with the other kids using Mexican sign language. We played soccer together and I learned the words I needed to help me communicate."
Morales eventually graduated and went to university in Mexico where he studied chemical and industrial engineering. "We were working on shampoos, lotions, lipsticks and other cosmetics," he said. "There were no interpreters, so it was difficult to study. I was very involved in the deaf community and would teach sign language on Fridays and I was an active participant in the deaf soccer club."
Once he graduated, a teacher told Morales to consider moving to the United States, where there were better opportunities for deaf people. He was married with a baby girl and decided to come to the United States alone to find work and then send for his family. He worked briefly in New York before moving to San Francisco in 1979.
Morales became involved in the deaf community in the Bay Area through the Deaf Counseling Advocacy & Referral Agency in San Leandro. They helped him get his driver's license, apply for social security, and land his first job as a dishwasher at the San Francisco Hilton.
He moved to Los Angeles briefly, held several more jobs in the Bay Area, and then applied for a job at UCSF. Morales was hired as a janitor at the Parnassus campus and met another deaf custodian, Armando Marquez. While Marquez is retired, they remain good friends.
Morales learned how to work with different cleaning products and how to safely handle chemicals. "It was a great team at Parnassus. We had employees from all over the world. We would share our food and culture. We also shared tips on the best ways to clean."
He eventually learned how to clean labs and work with hazardous materials. "I learned how to follow protocols and wear protective equipment," Morales said. "I taught other custodians how to clean the labs. I also learned how to work with different researchers and medical students."
Leo Li, custodial assistant superintendent for the East Campus, said Morales never allows his disability to keep him from doing an exemplary job and leading a good life. "A few days ago, he was cleaning the loading dock. He sent me a text to say there was dirty water and it could hold coronavirus and he wanted to keep UCSF's employees safe," Li said.
Morales said he enjoys working at UCSF. "It's a prestigious place to work. Everything needs to be done perfectly. You want it to shine like a mirror."