Facilities Response to COVID-19
---
By Robert Hood on May 08, 2020
---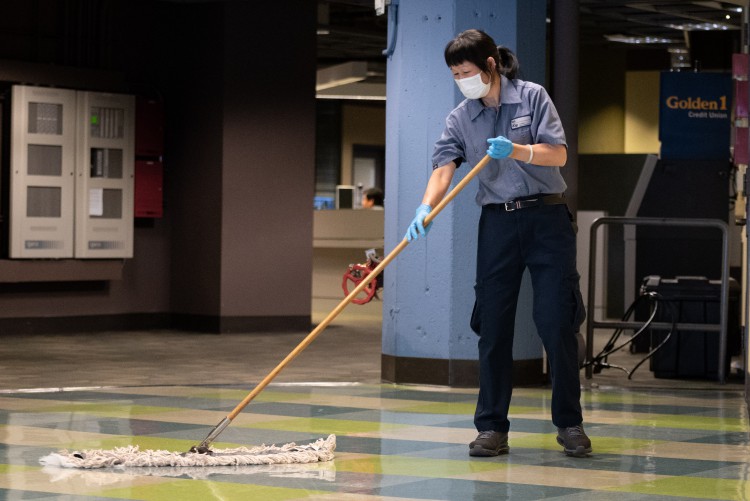 We want to thank our frontline staff who are working to make UCSF a safe place to work during COVID-19. From supporting labs to maintaining building security, the UCSF Facilities Services staff help maintain a safe working environment for everyone on campus.
Request Surface Disinfectant
If you need to obtain a bottle of surface disinfectant to use on shared administrative workstations, a designated department representative can contact your building's Facilities Manager. Please visit our Meet Your Facilities Managers page for your Facilities Manager's contact information.
ENHANCED CLEANING - CUSTODIAL SERVICES

The UCSF Facilities Services Custodial Department will be adhering to guidelines from the U.S. Centers for Disease Control and Prevention (CDC), by increased cleaning frequencies and disinfecting high-touch surfaces in all high-use common areas, public spaces, break rooms, and de-trashing areas throughout the east and west campuses. The department is focusing on the reopening of the campus by implementing operation plans to sustain enhanced cleaning, disinfecting services, and frequencies to all high-use areas beginning Monday, May 18.
Campus Instructions for Disinfection of Suspected or Confirmed COVID-19 Positive Spaces
COVID_19_Cleaning.pdf
High-Touch Areas:
High-touch surfaces are those that have frequent contact with hands. High-touch surfaces in high-use areas require more frequent cleaning and disinfection than minimal contact surfaces. Cleaning and disinfection is usually done at least three times daily and more frequently if the risk of environmental contamination is higher (e.g. all public areas).
Coronavirus EPA-approved Disinfecting & Cleaning Agents:
Clorox Health Care Hydrogen Peroxide Disinfectant (Wipes)
Ecolab Neutral Cleaner Disinfectant (Cleaning solution)
Cleaning Schedule(s) & Frequencies:
Cleaning services and disinfecting high-touch surfaces are performed Monday through Friday three times during the day and once at night at the Mission Bay and Parnassus Campuses between 7am and 11:30pm. Recycling, garbage and compost pick up will be scheduled once a day. Soap and hand sanitizer dispensers will be replenished as needed.
Additional cleaning services within operational hours are available upon request by calling the Customer Service Center at 476-2021
Custodial Cleaning Details
| | |
| --- | --- |
| Common Areas | Door knobs, handles & ADA push bars; light switches, push bottons, card readers; tables and countertops; chairs (hardbacks and arms); refrigerators (exteriors); fixtures (sinks/dispensers; elevator push buttons; digital signage & touch-screen kiosks; clean & disinfect walls/glass; trash lids. |
| Kitchen & Break Areas | Tables & countertops; refrigerators (exterior); chairs; arms & seat back; light switches; fixtures (sinks/dispensers); trash lids; door knobs/handles; display screens & AV control systems. |
| Main Entrances | Doors (metal frame & glass)/panel doors; clean & disinfect walls; call buttons, card readers, & ADA push buttons. |
| Elevators | Call buttons, card readers, & ADA push buttons; panel doors; handrails. |
| Stairwells | Door knobs/handles & ADA push bars; doors (metal frame & glass)/panel doors; handrails. |
| Hallways & Corridors | Door knobs/handles & ADA push bars; doors (metal frame & glass)/panel doors; handrails; drinking fountains & ADA push bars. |
| Restrooms | Door knobs/handles & ADA push bars; doors (metal frame & glass)/panel doors; light switches; handrails; fixtures (sinks/dispensers); toilets; flush valves; toiletry dispensers; disinfect receptacle lids; stall partition doors & knobs. |
| Conference/Classroom/Huddles | Door knobs/handles; light switches; tables & chairs (hard-backs and arms); remove trash & disinfect lids. |
| Trash | Remove waste. |
| Dispensers | Replenish soap/hand sanitizer. |
| Hardscape Common Areas | Main entrance exterior doors; hand railing; safety dividers; seating and tables; recycling cans; UCSF display map and signs. |
| Shuttle Shelters | Benches and seats; display cases; hand ramps; recycling cans. |
HEALTHY BUILDINGS

As UCSF laboratory and clinical research are gradually returning to Campus, many of you may ask, is my building/ laboratory/ office ventilation system safe to perform my day-to-day activity?
UCSF labs have ventilation systems that utilize 100% outside air (OSA) and high filtration. Introducing fresh outside air minimizes the risk of infection from the air distribution system. These systems have filtration components exceeding industry standards for indoor air quality.
According to the ASHRAE (American Society of Heating and Refrigeration Engineers), "Transmission of COVID19 through the air is sufficiently likely that airborne exposure to the virus should be controlled. Changes to building operations, including the operation of heating, ventilating, and air-conditioning systems, can reduce airborne exposures."
UCSF Facilities' is taking precautions to minimize the risk of spreading the virus via the building ventilation. Offices and support spaces that normally use partially recirculated air are being temporarily adjusted to maximize outside air levels and reduce recirculation. Please note that these measures are to prevent the spread of COVID-19 via the ventilation. Ventilation adjustments will not replace the use of the correct PPE, social distancing, increased cleaning, and disinfecting surfaces.
As our UCSF community gradually transitions back to on-site work, Facilities along with Environmental Health and Safety will continue preparations to meet a phased return to work approach. This includes building by building assessments of the ventilation systems and closely monitoring CDC and ASHRAE recommendations. This team will provide specific recommendations before occupants return to their labs and offices.
For further information or questions about your building's ventilation, please contact the Facilities Customer Service Center at 415-476-2021.
LAB RESEARCH SUPPORT

Facilities has been closely connected to the lab research community during the COVID-19 Pandemic. We continue to support critical infrastructure for labs throughout campus and are here to help as research resumes in a phased approach.
The Lab Services program supports all UCSF Campus Facilities maintained and operated locations including ZSFG. Some of the support functions are outlined below.
* Repair and maintenance of lab infrastructure, eye wash, fume hoods, cold rooms, etc.
* Temperature monitoring installation for -80 ULT freezers.
* Facilities Managers small project support
* Supporting building access for deliveries and coordinating with UCPD to ensure essential lab gasses available to equipment.
* Leading COVID-19 essential maintenance and small projects to support lab alterations to assist with COVID research.
MOUNT SUTRO INFORMATION
Due to increased use on Mount Sutro's narrow trails and being mindful of physical distancing, the following protocols are temporarily in place: * Some trails are temporarily closed to bicycle users, please see map below * The Historic Trail is now one way up hill only for bicycle riders * Trails that are closed to bicycle riders include: North Ridge, East Ridge, West Ridge, Mystery and Fairygates * Six feet of separation is mandatory on all trails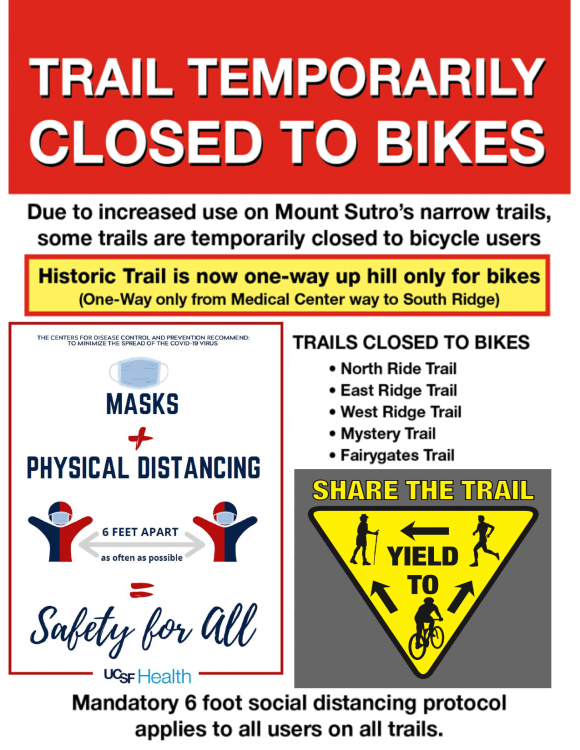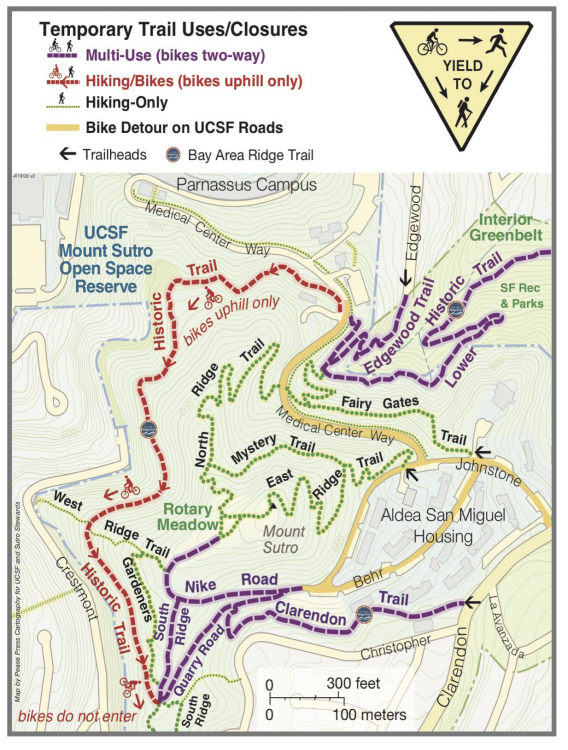 PHYSICAL DISTANCE BARRIERS

UCSF Health: For departments working with UCSF Health Facilities, please visit their website: https://safety.ucsf.edu/safe-and-physical-distancing-covid19

CAMPUS: Barrier installations should be located at public transactional areas with check-in desks. Departments working with UCSF Campus Facilities are required to schedule an EH&S assessment and order the physical barriers through our preferred vendor list. Please review guidelines below:

How to Request an EH&S Assessment: Campus departments serviced by campus Facilities Services are required to schedule an EH&S assessment by filling out this assessment form. Areas that do not meet the definition of a "public transactional area" may still request assessments, but these will focus on alternative means of ensuring physical distancing instead of barriers.

How to Procure a Physical Barrier after EH&S Assessment
1. Departments can order physical barriers directly from one of the approved vendors in Bear Buy (below) once an assessment is obtained. Click on the vendor name to preview the physical barrier.
FastSigns
Phone: 415.507.0878
Email:

.(JavaScript must be enabled to view this email address)


BearBuy Supplier Number 0030007463
Signs by Van
16130 Highway 156
Salinas, CA 93907
Phone: 831.204.2402
Email:

.(JavaScript must be enabled to view this email address)


BearBuy Supplier Number 0030253783
Waxie Sanitary Supply
Contact: Suzanne Garcia
WAXIE Strategic Accounts
Phone: 650.906.9300
BearBuy Supplier Number 0030044496
One Work Place option 1; One Work Place option 2.
2500 De La Cruz Blvd
Santa Clara, CA 95050
BearBuy Supplier Number 0030012322
Contact: Sonal Bhide, Account Manager/Designer
Phone: 510.999.1658
Email:

.(JavaScript must be enabled to view this email address)


BearBuy Supplier Number 0030044496
Shoppers must contact the vendor for assistance with either a custom or standard barrier quote. Once the barrier selection is made, request an invoice from the vendor. The invoice can be paid using the BearBuy homepage's "Non-Catalog" option. If the purchase is being done using a P-Card, confirm that the payment type is allowed by your department, request credit card authorization details from the vendor, and proceed as directed.
2. Departments will need to have the following information ready before contacting vendors:
Select materials - Facilities Services recommends acrylic and polybicarbonate.
Measure height x length of the area where barrier will be installed.
Barrier thickness: ¼" recommended.
Determine whether you want a pass through cut out in the barrier for passing items back and forth. Vendor will need to know dimension of this cut out.
Ask vendor about lead time.
3. If additional support is needed, please create a work order with our
Facilities Service Center
Please note additional fees will apply and an EH&S assessment documentation report will need to be attached to the work order.