Healthy Buildings Initiative
---
By Robert Hood on May 08, 2020
---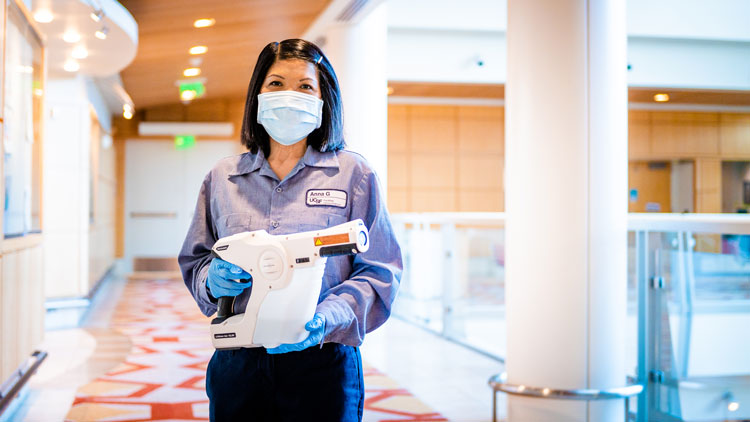 We want to thank our frontline staff who are working to make UCSF a safe place to work during COVID-19. From supporting labs to maintaining building security, the UCSF Facilities Services staff help maintain a safe working environment for everyone on campus.
---
Enhanced Cleaning | HVAC Systems | Lab Support | Request Surface Disinfectant | Request Hand Sanitizers
---
Enhanced Cleaning - Custodial Service

The UCSF Facilities Services Custodial Department will be adhering to guidelines from the U.S. Centers for Disease Control and Prevention (CDC), by increased cleaning frequencies and disinfecting high-touch surfaces in all high-use common areas, public spaces, break rooms, and de-trashing areas throughout the east and west campuses. The department is focusing on the reopening of the campus by implementing operation plans to sustain enhanced cleaning, disinfecting services, and frequencies to all high-use areas beginning Monday, May 18.
Campus Instructions for Disinfection of Suspected or Confirmed COVID-19 Positive Spaces, review policy.
High-Touch Areas:
UCSF Health and campus custodial services now clean and disinfect high-touch surfaces in common spaces – including in restrooms, elevators, stairwells, conference rooms, classrooms, offices, huddle rooms, hallways and corridors – at least one time a day. UCSF adheres to cleaning and disinfecting guidelines issued by the U.S. Centers for Disease Control and Prevention.
Coronavirus EPA-approved Disinfecting & Cleaning Agents:
Clorox Health Care Hydrogen Peroxide Disinfectant (Wipes)
Ecolab Neutral Cleaner Disinfectant (Cleaning solution)
Cleaning Schedule(s) & Frequencies:
Cleaning services and disinfecting high-touch surfaces are performed daily Monday through Friday at the Mission Bay and Parnassus Campuses between 7am and 11:30pm. Recycling, garbage and compost pick up will be scheduled once a day. Soap and hand sanitizer dispensers will be replenished as needed.
Additional cleaning services within operational hours are available upon request by calling the Customer Service Center at 476-2021
View full list of custodial cleaning details.
HVAC Systems

As UCSF laboratory and clinical research are gradually returning to Campus, many of you may ask, is my building/ laboratory/ office ventilation system safe to perform my day-to-day activity?
UCSF labs have ventilation systems that utilize 100% outside air (OSA). Introducing fresh outside air minimizes the risk of infection from the air distribution system. These systems have filtration components exceeding industry standards for indoor air quality.
According to the ASHRAE (American Society of Heating and Refrigeration Engineers), "Transmission of COVID19 through the air is sufficiently likely that airborne exposure to the virus should be controlled. Changes to building operations, including the operation of heating, ventilating, and air-conditioning systems, can reduce airborne exposures."
UCSF Facilities' is taking precautions to minimize the risk of spreading the virus via the building ventilation. Offices and support spaces that normally use partially recirculated air are being temporarily adjusted to maximize outside air levels and reduce recirculation. Please note that these measures are to prevent the spread of COVID-19 via the ventilation. Ventilation adjustments will not replace the use of the correct PPE, social distancing, increased cleaning, and disinfecting surfaces.
As our UCSF community gradually transitions back to on-site work, Facilities along with Environmental Health and Safety will continue preparations to meet a phased return to work approach. This includes building by building assessments of the ventilation systems and closely monitoring CDC and ASHRAE recommendations. This team will provide specific recommendations before occupants return to their labs and offices.
For further information or questions about your building's ventilation, please contact the Facilities Customer Service Center at 415-476-2021.
Lab Research Support

Facilities has been closely connected to the lab research community during the COVID-19 Pandemic. We continue to support critical infrastructure for labs throughout campus and are here to help as research resumes in a phased approach.
The Lab Services program supports all UCSF Campus Facilities maintained and operated locations including ZSFG. Some of the support functions are outlined below.
Repair and maintenance of lab infrastructure, eye wash, fume hoods, cold rooms, etc.
Temperature monitoring installation for -80 ULT freezers.
Facilities Managers small project support
Supporting building access for deliveries and coordinating with UCPD to ensure essential lab gasses available to equipment.
Leading COVID-19 essential maintenance and small projects to support lab alterations to assist with COVID research.
Request Surface Disinfectant

If you need to obtain a bottle of surface disinfectant to use on shared administrative workstations, a designated department representative can contact your building's Facilities Manager. Please visit our Meet Your Facilities Managers page for your Facilities Manager's contact information.
Request Hand Sanitizer

Departments working in UCSF Campus Facilities can order hand sanitizers and refill through Facilities Services. This is a rechargeable service, please click here to view pricing.
How to Request Hand Sanitizers
1. Review EH&S requirements for each area that hand sanitizer is being requested. EH&S Checklist for Hand Sanitizer
2. If designated area meets EH&S requirements, departments must provide the following information when submitting a service to our portal.
Building and room number
Provide a picture of location being requested (please take a picture standing 6 feet away from location)
Obtain departmental chart of accounts