Facilities Response to COVID-19
---
By Robert Hood on May 08, 2020
---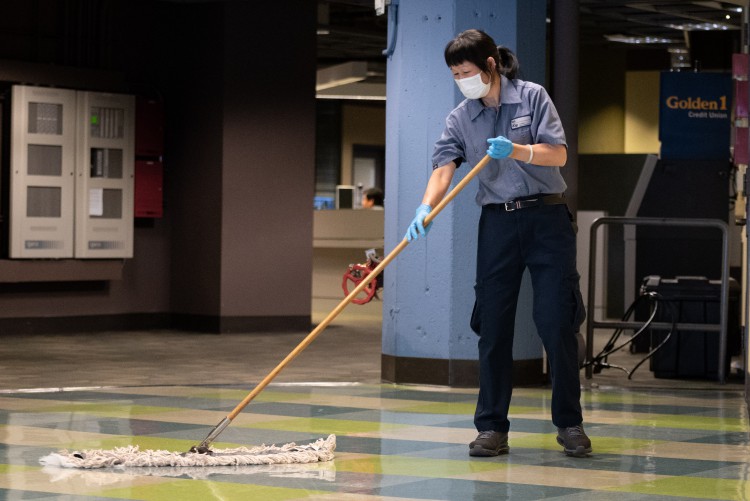 We want to thank our frontline staff who are working to make UCSF a safe place to work during COVID-19. From supporting labs to maintaining building security, the UCSF Facilities Services staff help maintain a safe working environment for everyone on campus.
Request Surface Disinfectant
If you need to obtain a bottle of surface disinfectant to use on shared administrative workstations, a designated department representative can contact your building's Facilities Manager. Please visit our Meet Your Facilities Managers page for your Facilities Manager's contact information.
ENHANCED CLEANING - CUSTODIAL SERVICES
The UCSF Facilities Services Custodial Department will be adhering to guidelines from the U.S. Centers for Disease Control and Prevention (CDC), by increased cleaning frequencies and disinfecting high-touch surfaces in all high-use common areas, public spaces, break rooms, and de-trashing areas throughout the east and west campuses. The department is focusing on the reopening of the campus by implementing operation plans to sustain enhanced cleaning, disinfecting services, and frequencies to all high-use areas beginning Monday, May 18.
Campus Instructions for Disinfection of Suspected or Confirmed COVID-19 Positive Spaces
COVID_19_Cleaning.pdf
High-Touch Areas:
High-touch surfaces are those that have frequent contact with hands. High-touch surfaces in high-use areas require more frequent cleaning and disinfection than minimal contact surfaces. Cleaning and disinfection is usually done at least three times daily and more frequently if the risk of environmental contamination is higher (e.g. all public areas).
Coronavirus EPA-approved Disinfecting & Cleaning Agents:
Clorox Health Care Hydrogen Peroxide Disinfectant (Wipes)
Ecolab Neutral Cleaner Disinfectant (Cleaning solution)
Cleaning Schedule(s) & Frequencies:
Cleaning services and disinfecting high-touch surfaces are performed Monday through Friday three times during the day and once at night at the Mission Bay and Parnassus Campuses between 7am and 11:30pm. Recycling, garbage and compost pick up will be scheduled once a day. Soap and hand sanitizer dispensers will be replenished as needed.
Additional cleaning services within operational hours are available upon request by calling the Customer Service Center at 476-2021
Custodial Cleaning Details
| | |
| --- | --- |
| Common Areas | Door knobs, handles & ADA push bars; light switches, push bottons, card readers; tables and countertops; chairs (hardbacks and arms); refrigerators (exteriors); fixtures (sinks/dispensers; elevator push buttons; digital signage & touch-screen kiosks; clean & disinfect walls/glass; trash lids. |
| Kitchen & Break Areas | Tables & countertops; refrigerators (exterior); chairs; arms & seat back; light switches; fixtures (sinks/dispensers); trash lids; door knobs/handles; display screens & AV control systems. |
| Main Entrances | Doors (metal frame & glass)/panel doors; clean & disinfect walls; call buttons, card readers, & ADA push buttons. |
| Elevators | Call buttons, card readers, & ADA push buttons; panel doors; handrails. |
| Stairwells | Door knobs/handles & ADA push bars; doors (metal frame & glass)/panel doors; handrails. |
| Hallways & Corridors | Door knobs/handles & ADA push bars; doors (metal frame & glass)/panel doors; handrails; drinking fountains & ADA push bars. |
| Restrooms | Door knobs/handles & ADA push bars; doors (metal frame & glass)/panel doors; light switches; handrails; fixtures (sinks/dispensers); toilets; flush valves; toiletry dispensers; disinfect receptacle lids; stall partition doors & knobs. |
| Conference/Classroom/Huddles | Door knobs/handles; light switches; tables & chairs (hard-backs and arms); remove trash & disinfect lids. |
| Trash | Remove waste. |
| Dispensers | Replenish soap/hand sanitizer. |
| Hardscape Common Areas | Main entrance exterior doors; hand railing; safety dividers; seating and tables; recycling cans; UCSF display map and signs. |
| Shuttle Shelters | Benches and seats; display cases; hand ramps; recycling cans. |