Facilities Customer Service and Support Center Seamlessly Transitions to Remote Operations
---
By Robert Hood on September 21, 2020
---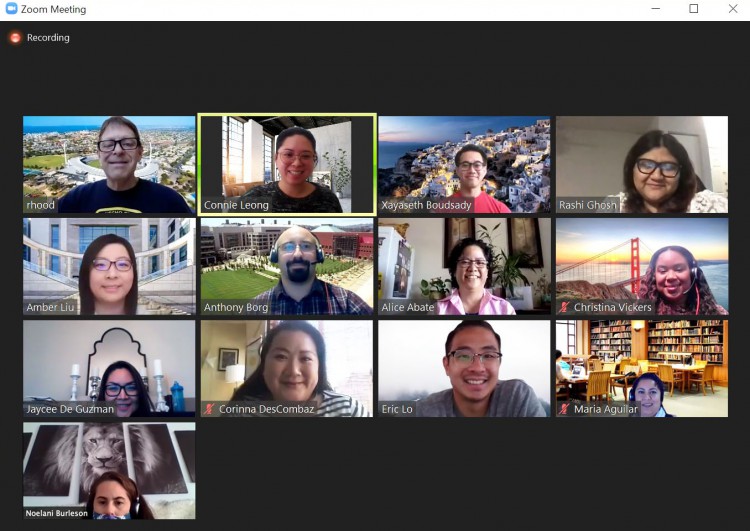 While some businesses and government agencies have struggled to adapt to working remotely since the onset of COVID-19 in March, the UC San Francisco Facilities Customer Service and Support Center team (shown above in a recent Zoom meeting) made a seamless transition thanks to some fortuitous planning.
"Many of our customers don't even realize we're working from home," said Customer Service and Support Center Supervisor, Jaycee De Guzman. "There have been no interruptions to our service."
The Facilities Customer Service and Support Center receives work requests, processes job inquiries, customer billing, estimates, and relays the needs of customers to the appropriate Facilities Services staff member so the work can be completed. This occurs every day of the year at all hours of the day and night.
The team also works with Facilities staff to deliver new laptops and mobile devices as well as troubleshoot existing devices that might be experiencing issues.
And while the work never stops, it isn't bound to an office.
"Jaycee had a vision of working from home one day a week and what needed to be done to make that happen," said Corinna Descombaz, a business systems analyst and team member.
De Guzman and Descombaz developed a plan and presented it to senior leadership at Facilities Services. They visited UC San Diego and UC Davis to learn best practices. They began working from home one day a week to test the new system when the pandemic hit.
All of a sudden, working from home one day a week became working from home every day.
"I don't know what would have happened if we weren't ready," De Guzman said. "Thank you to the Campus Life Services Leadership team. They supported the idea."
And this became the ideal time to rebrand the unit. Recently the group hosted two events where they gave presentations to program managers and leaders and discussed the current state of their business model. One of the topics included changing the name of the team. After careful discussion and gathering feedback from all team members, the newly approved unit name have been changed to Customer Service and Support Center (CSSC).
Analyst Anthony Borg said the pandemic exposed the organization's adaptability that hadn't been tested. "We're communicating now more than we were when we worked five days a week in the same office. We're also getting to know each other better with regular Zoom meetings."
Business Systems Lead Seth Boudsady returned to work at the university after the pandemic hit. Boudsady, who was serving in the military, found everyone working remotely in a new environment. "We're very fortunate to be part of the UC System and UCSF because we have a robust IT service that makes it easy for everyone. We work with Facilities employees in the field and we can connect with them remotely. Our systems can be maintained without us being on campus."
Boudsady hadn't even met Business Analyst Rashi Ghosh, who was hired during his military stint. "Due to Covid, I haven't met many of my team members," Ghosh said. "Zoom has helped coordinate my training and allow me to connect with the team. I'm learning our systems remotely."
Analyst Alice Abate is working on campus supporting field technicians but she also uses Zoom to troubleshoot remotely. "If they have a mobile device with an issue, they show me their phone on Zoom and I'm able to talk them through the issues. I go to Parnassus and Mission Bay once a week and I assist remotely with our engineers at Laurel Heights."
Descombaz said she has daily remote work meetings to review asset data related to Block 33 and Block 23A in Mission Bay. "When the new buildings are brought online, it's important that our engineers and trade groups know where the assets are located," she said. "We want to make sure we're providing consistent maintenance to the critical infrastructure in those buildings."
While the transition to remote working has been seamless for the team, De Guzman encourages customers to fill out the customer satisfaction survey that is generated with each job. "Last month, we received 128 surveys, but we had approximately 2,000 jobs. We want to hear from our customers so we can continue to improve our service."