COE 6.0 THE FACILITIES INITIATIVE
---
By Robert Hood and Sophia Labeko on January 16, 2022
---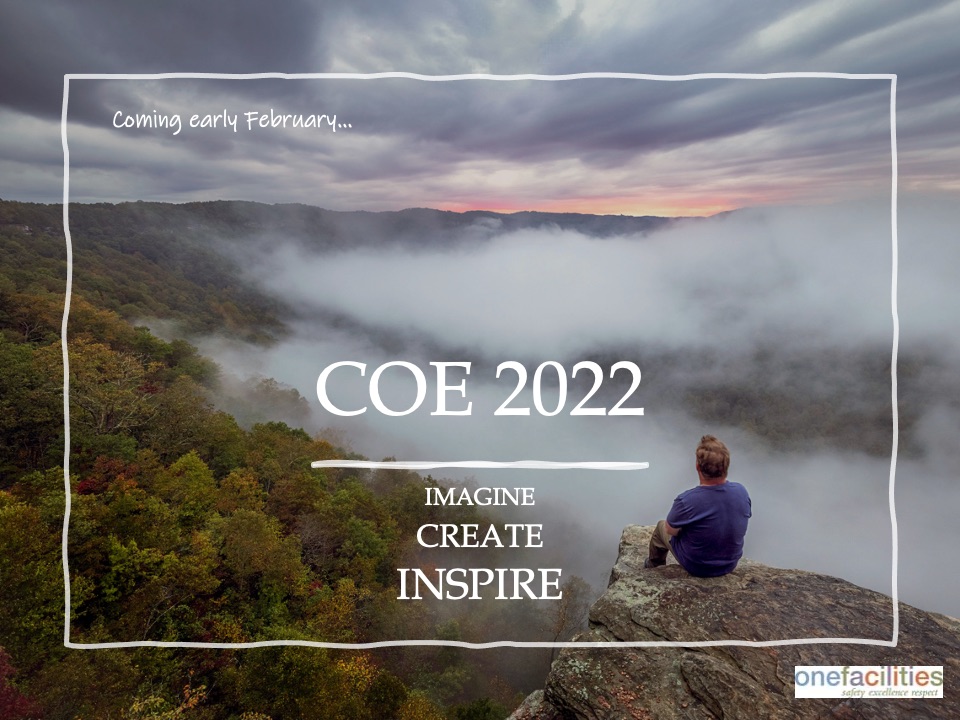 Alice Abate
Welcome to the 2022 UCSF Facilities Services Centers of Excellence Conference. All of us in Facilities Services invite you to attend the various presentations taking place this week! This annual conference assembles all the program managers in charge of our full range of building and site services - from landscape, design engineering, deferred maintenance and communications to maintenance, operations, custodial services, and many others. These sessions will cover broad aspects of their governance structures, documentation, resource management and overall performance.
REGISTER TODAY!
The Facilities Initiative – Two Steps Greener, No Steps Back! represents our collective effort against delaying climate action and tackling increased energy costs. For the first time in the history of the COE program, each of the more than 25 program managers is assessing their program with a focus on environmental sustainability. Facilities Services leadership is excited to learn about and support their forward-thinking ideas on being kinder to Mother Earth! We look forward to seeing you throughout the week!
For a detailed list of speakers and topics at Wednesday's Carbon Neutrality Spotlight event, please visit the Carbon Neutrality Spotlight website.
Schedule of Talks
Monday, Feb. 7
10:00am - Opening & Keynote
11:05am - Communications
11:25am - Finance
11:45am - Planning & Scheduling
12:00pm - Lunch Break
12:30pm - Customer Service
12:50pm - Support Center
01:10pm - Energy Program
Tuesday, Feb. 8
10:00am - Emergency Preparedness
10:20am - Safety
10:40am - Fire & Life Safety
11:00am - Access Control & Security Systems
11:20am - Activity (Mixer)
11:40am - Lunch Break
12:10pm - Custodial
12:30pm - Recycle & Waste Reduction
12:50pm - Landscape, Pest & Mt. Sutro
01:10pm - Building Controls
01:15pm - End
Wednesday, Feb. 9
10:00am - Commissioning & Controls
10:20am - CUP
10:40am - Training
11:00am - Carbon Neutrality Spotlight
12:00pm - Lunch Break
12:30pm - FIN
12:50pm - Renewal
01:10pm - Tenant Improvements
01:30pm - End
Thursday, Feb. 10
10:00am - Facilities Management
10:20am - Housing
10:40am - Elevator
11:00am - Inventory Warehouse
11:20am - Activity (Break Out Talks - Guests/Other Orgs)
11:40am - Lunch Break
12:05pm - Trades Operations
12:25pm - Engineering Operations
12:45pm - Lab Services
01:05pm - Professional Engineering Services
01:20pm - Summary/Closing Remarks
01:30pm - End
Keynote Speaker: Larry Liberty
We are excited to have a keynote speaker whose expertise and background focuses upon how organizations and leaders can be effective in these most chaotic times. Larry Liberty is an International Consultant, professor, author, and coach. He works with organizations across the landscape from start-ups to Fortune 100, from Federal government to Nonprofit.
The world as we know it no longer exists. Our daily lives are disrupted by changes that we could have never foreseen a few years ago. Larry's focus is upon better understanding how we got to where we are and identifying what we can do to tap our resilience. His research will inform us about how to work, lead, and live in these transition times. Larry will bring us insights, tools, and best practices for being our best in these times of crises.

To register for the event, please fill out the Coe 6.0 Registration Form.
If you have any questions on signing up, please contact Alice Abate at Alice.Abate(at)ucsf.edu
COE Program Support Team
Sean Aloise, Assistant Director
Seth Boudsady, Facilities Support Supervisor
Alice Abate, Facilities Analyst III