The Pelican Room
The Pelican Room at The Tidelands
The Tidelands are located just across the street from the Benioff's Children's Hospital at Mission Bay. Easily accessible by walking or using the Green Shuttle. Parking is available in the Mission Bay parking garages.

Some of the Amenities Our Clients Love

• State-of-the-art Audio-Visual systems including three LCD monitors for your presentations,
• microphones and wireless internet, white board walls and tack board walls
• Catering kitchen with private entrance
• Easy access from the Mission Bay campus, a short walk or a quick ride on the Green Shuttle
• Lactation Room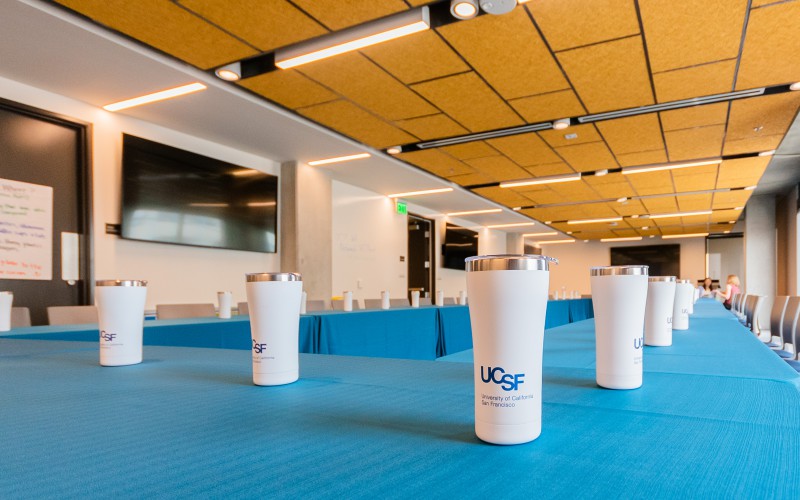 Pricing
Rates as of February 2020
Up to 4 hours: $970 More than 4 hours: $1470
(Rates per day)
Rental costs include in-house tables and chairs, set-up, breakdown, clean up for your event and use of the AV systems. If you require additional furniture and/or linens for your event, we're happy to order those for you at an additional cost. ETS may be hired for further technology for an additional cost.
Do We Have Enough Space for Your Event Needs?
Layout
Max Capacity
Details
Max Capacity for Dept. Use
80
Details
Room for food tables
Max Capacity for Dept. Use
64
Max Capacity for Dept. Use
50
Details
Takes up most of the room
Max Capacity for Dept. Use
40
Details
Takes up most of the room
Max Capacity for Dept. Use
100
Details
Food tables and mingling without chairs
What's On the Menu?
All caterers approved for University events are listed in BearBuy.
How to Green Your Event
We strive to make all our events as sustainable as possible. Please look into caterers who can provide compostable tableware and large water dispensers instead of individual plastic water bottles. UCSF Sustainability can help you green your event.
How Can You Book This Space?
Please email your requested date and event details to .(JavaScript must be enabled to view this email address) and our events team will connect with you.
Need Directions to the Tidelands?
We are located at 590 Minnesota Street, San Francisco, CA 94107
Location Map