Catering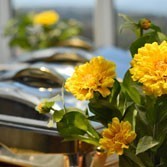 Great Food Makes for a Great Event
Almost as important as the agenda you plan is the menu you serve. From croissants and coffee, to full-course dinners, we offer international fare that can cater to a few or feed hundreds. Our menus are health-conscious, nutritious, and organic whenever possible. Our staff can steer you toward a venue and the catering options available at each location.
Your Event, Your Choice
With three facilities to choose from, you decide whether your event will be full-service or do-it-yourself—or somewhere in between.
Aldea Center on Mount Sutro features a fully-equipped catering kitchen. For your convenience, we recommend our approved UCSF caterers and participants of the Catering Recharge Program, or our full-service catering partners at Mission Bay Conference Center.
Millberry Union Event & Meeting Center has a small catering kitchen suitable for serving pre-prepared food. You may choose the caterer of your choice or select from our preferred UCSF caterers.
Catering at the Mission Bay Conference Center at UCSF is provided exclusively by the facility's catering staff. A variety of catering levels are available, and our event planners will work with you to create a menu that satisfies.
All three venues can also help provide beverage permits. If you'd like to serve beer, wine, and/or champagne at your event, simply complete our online Alcohol Request Form.
Whatever you need, we can help you serve a menu that suits your location, vision, and palette.
How to Green Your Event
For details on how to make your event more sustainable, please use this guide.
Hosting a Green Event!