The Winning Choice for Your Event
---
Published on August 04, 2014
---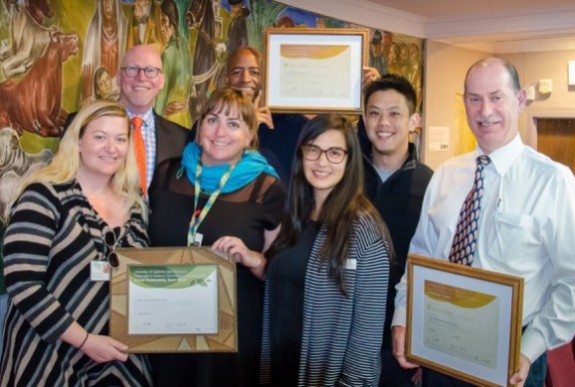 What's better than having an awesome event at a beautiful venue? Knowing you're hosting or attending an eco-friendly event.
The Mission Bay Conference Center (MBCC) and Retail Services have been doing their part to provide high-quality food and event services while greatly reducing the impact on our resources. These efforts are part of the plan to meet UCSF's goal of zero waste by 2020.
In June 2014, at the 4th Annual Sustainability Awards at UCSF, The Mission Bay Conference Center received the Sustainability Award in the Team category.
At meetings and events at the Mission Bay Conference Center and at The Pub at UCSF Mission Bay, you'll find the following sustainable principles in practice:
• All MBCC and Pub seafood is a "Best Choice" with the Monterey Bay Aquarium's Sustainable Seafood Watch Initiative
• Box Lunches are 100% compostable/recyclable
• Spa water stations and water bubblers have replaced water bottles in meeting room locations
• Compost and recycling bins are available where food is served
• Cage-free and "certified humane" eggs are exclusively available
• Reusable dishware and flatware are available
• Sustainable food choices are sourced, using local and organic ingredients, and vegetarian options
• Fair trade coffee is served
• Upgraded conference tables do not require linens
In May 2014, the MBCC was also awarded, by the Green Meeting Industry Council, the Sustainable Event of the Year (under 1,000 people). The qualifications included: green food procurement, waste management, décor, air quality, and communications.
"We chose UCSF's Mission Bay Conference Center because they are leading the way in sustainable meeting practices," said Julie Lindsey, president of the Green Meeting Industry Council's Northern California Chapter and a director for global events at Gap Inc.
If good taste in food, events, business, and sustainable practices matter to you–make a connection with Mission Bay Conference Center.