Cards and Stationery Online Ordering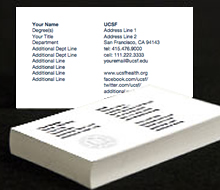 Please choose the items you wish to order.
see samples
Order most stationery items as well as business cards for the UCSF Academic package, the entire UCSF Medical Center package, and the UCSFBenioff Children's Hospitals package online.
see samples
Order business cards & stationery for UC Berkeley, UC Hastings, UC Santa Cruz, or UC Office of the President online.