The Hustle of the Moffitt Copy Center
---
By Sophia Labeko on September 01, 2021
---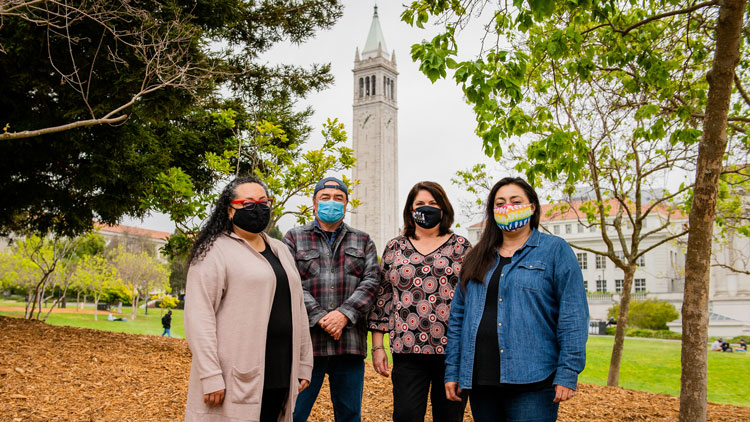 UC San Francisco Documents & Media services five UC campuses, if you consider UC Office of the President a campus, and operates four service centers: two at UCSF, one at UC Hastings School of Law, and one at UC Berkeley (Cal).
The Moffitt Copy Center, at Cal, is located on the third floor of the Moffitt Undergraduate Library. It's staffed and operated by designated UCSF Documents & Media staff: Pam Krol, Bob Key, Columba Munoz, and Fabiola Calderon. This small and mightly team assists the entire University with printing, copying, large format printing, developing and printing marketing collaterial, bindery, offset printing and mailing, and photography needs. Although all of the above mentioned is in their portfolio of expertise, their most common requests from departments are printing exams (they're a secure facility with no student access), producing syllabus' and readers, and printing large format posters. Munoz, who leads the Moffitt Copy Center, supports students daily with requests for printing notes, paperwork, and book chapters on their way to class.
A service that deserves special attention is their Print Management Program (PMP). Subscribers to this program can forget about dealing, maintaining, and servicing their participating printers, because Bob and Fabiola will do all that. From the moment you sign up and need any assistance with questions or training, they will be there bringing supplies, replacing parts, and setting up any service calls with a trained technician. The most common PMP request is to change the toner, "until we show the customer how easy it is to do," says Key.
By the Numbers:
Essentially, the Moffitt Copy Center provides service to the entire UC Berkeley campus, and to put that into numbers, that's:
42,347 students
1,600 faculty and staff
130 departments
80 research units
Out of that, PMP specifically supports:
140+ departments and labs
25 Cal libraries
600 machines and printers
The Team
Combined, the team has over 47 years of service, each one has surpassed the decade mark. Columba and Fabiola spent additional time on campus as undergrad students at Cal. Although there's a lot to be thankful for while working on the Cal campus–the architecture, student energy, and wildlife, in the form of squirrels, turkeys, and birds–the team enjoys their work because of the relationships they've formed. There's a sense of pride in their work and gratitude when a customer goes out of their way to say hello on campus.
"One of our favorite things we do at Moffitt is print out the daily headlines from all over the world from the Freedom Forum website," says Krol. That's right, the team supports the Library and Free Speech Café by printing and hanging the daily headlines, so many campus occupants and visitors enjoy.
If you spot them hanging up new headlines, say hello or wave from the distance.
Want to know more about what goes on at the Berkeley campus? Follow the Moffitt Copy Center on Instagram for the latest fun and news @moffittcopy