Working Mothers Find Support at UCSF
---
Published on October 19, 2017
---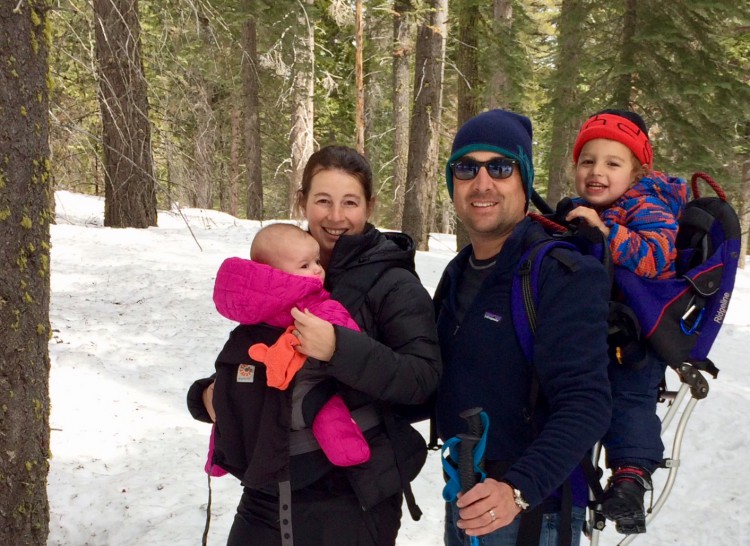 Balancing the demands of work and a young family is made easier for UC San Francisco's Jennifer Poza thanks to a variety of services offered by the university.
Poza, a labor and employee relations specialist, recently returned to work following the birth of her daughter, Selena. As a mother of two children, both under the age of four, Poza said she's grateful to work for an employer that understands her challenges.
"Allowing me to come back part-time before going full-time was enormously helpful, as is being flexible with telecommute arrangements," Poza said. Her advice for new mothers is to come back to work part-time temporarily before going back full-time. She said trying to figure out the new cadence of her life with two kids was a challenge. "It's exhausting, and so easing into it can help you figure out what the rhythm is."
Thankful for the Lactation Rooms Around Campus
Once she returned to work, Poza was thankful for services such as the lactation rooms on campus and Care Advantage Sittercity, a pre-screened resource for in-home child-care.
In her job, Poza acts as an advisor to employees, supervisors, and managers regarding labor and employment issues, the administration of Human Resources policies and practices, collective bargaining agreements, and more.
"My workdays are incredibly varied," she said. "I usually have meetings all day, every day, from Mission Bay to Parnassus to 654 Minnesota to Laurel Heights. I'm everywhere on campus."
That means she has to fit pumping into her busy schedule. Poza said it's unrealistic for her to drag a breast pump and cooler with her on the campus shuttles. "Plus, where do you put all that stuff during meetings?"
The university's Lactation Accommodation Program provides more than 40 clean, comfortable, private lactation rooms, spread out over nine campus locations. "The lactation rooms on campus have allowed me to travel light," she said. "I have one small bag that looks like a lunch box, and I don't have to worry if a meeting goes longer than expected, or if I can't get back to my own office space in time. There are pumps everywhere!"
Poza said it's also nice to meet other breastfeeding moms to connect on the joys (and not so joyous moments) of parenting, and of working while parenting. "It's not easy, so it's nice to have a network," she said.
Spreading the Word on UCSF's Lactation Program
Poza has told others about the university's lactation program because she's impressed they are conveniently located across the campus and they have hospital grade pumps. "I can pump more in less time, on a really nice Cadillac version of pumps."
While she's returned to work, she has to balance being the mother of two young children. "Selena still wakes me up at 5am – I really have to sleep train her. After making lunches and getting the kids ready, I do my daily drive to Selena's daycare, and then Carlos' preschool and then I have to check my calendar to find out which campus I'm going to. It's not easy!"
Even going out with her husband on a Saturday night can be a challenge. They recently had a sitter cancel at the last minute, leaving Poza scrambling. "I couldn't find anyone at all. So I signed up for Sittercity that afternoon and was able to browse potential sitters who lived right in my neighborhood. I was also able to sort through those that had completed background checks, and connect directly with those sitters quickly. Those available ranged from professionals with child psychology degrees to area high schoolers looking for a quick gig. It was awesome. And, I was hooked up with a great sitter I can call again."
Suzie Kirrane, manager of UCSF Family Services, said the university's programs to support families helps employees feel valued. "Now, more than ever, supporting the overall well being of our employees is important for UCSF, as is furthering UCSF's efforts to be supportive of family needs."