Women at Work: Being Female in Facilities Services
---
Published on September 11, 2017
---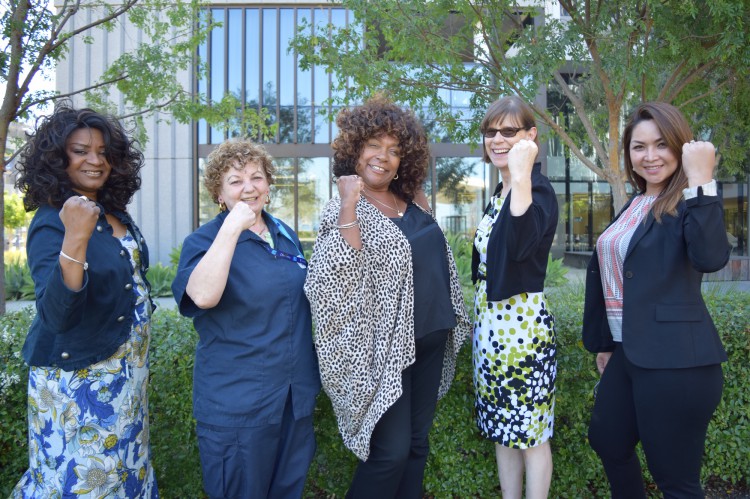 A simple sign can say so much. That point was illustrated recently when a UC San Francisco community member asked Facilities Director Joyce Hammel why a "Men Working" sign was posted instead of a more gender-neutral sign.
"The short answer is, our current vendors don't have gender-neutral signs," said Facilities Program Manager Julie Sutton. Sutton is the manager of the landscaping Center of Excellence and directs the landscaping program standards for all UCSF campuses including nine locations.
While signs and stock photography in the facilities management industry predominantly depict men in traditional roles, women are clearly not taking a backseat at UCSF Facilities Services.
"Three of our five directors are women," Sutton said. "I think we are doing what we can to improve the representation of women in facilities."
Susan Yun, a contract operations analyst for elevators and shutdown coordinator, said that having women in high leadership roles and male leaders who are strong advocates for women to work in Facilities Services has helped balance the gender ratio at UCSF in a male-dominated industry. "My hope is to get the word out there and do more strategic outreach to attract talented women to join Facilities Services," she said.
Marquita Bowe agrees. She started as a journeyman painter for UCSF and has moved up the ranks to become a trades supervisor. She's also taking night classes in construction management to further her career using the Campus Life Services Tuition Assistance Program.
"This organization is giving me an opportunity," she said. "It doesn't matter if I'm male or female."
Bowe has 17 direct reports including building maintenance workers and heating, ventilation and air conditioning specialists. All are male. "It doesn't make a difference," she said. "The crew has respect for me because they know that I started in the same place they did and I worked my way up. I understand their jobs and I try my best to help them. We have a sense of pride and ownership in what we do. Our shared goal is making sure campus buildings function properly to the satisfaction of our customers."
Siham Bijah, a senior custodian at Mission Bay, said Facilities Services has helped her learn computer skills and she is now working on her writing. "I still need improvement, but the organization has not only helped me grow as an employee, but also as a person." She also appreciates that the custodians receive the same work, no matter if they are men or women.
Jaycee De Guzman, supervisor for the Facilities Services Customer Services Center, said mentorship and role modeling is important.

"I had a good mentor within the organization who taught me how to add value to my organization which helped me with my career," she said. "With my mentor's help I'm able to improve efficiency, improve quality, fix an existing problem while preventing a future problem."
Janie Peña, analyst for Infrastructure & Utilities Services, is at the beginning of her career but has discovered an organization that helps advance her career. "It isn't always easy and can be quite challenging at times," she said. "Facilities focuses on the individual by having them create their own Career Development Plan along with their supervisor. Facilities has provided me the opportunity to grow within the department, as well as given me the tools necessary to be successful."
When Sonya Harris joined UCSF two years ago as a custodial supervisor, she admits she was a bit intimidated by the job, but it wasn't gender related. "I came from Sutter Health where I was the director for housekeeping. When I began attending briefings at UCSF on building repairs and possible safety concerns for our crew, the jargon was intimidating. I hadn't worked with tradespeople and building engineers in the past. I was learning a new language."
Harris quickly discovered that she was welcomed as part of the team and that her coworkers were more than willing to describe their work in translatable terms. "The atmosphere was all about teamwork. I never felt like I was asking a stupid question. They were happy to explain their work so I could relay it to my team."
Harris also found a culture that rewarded hard work and welcomed new ideas. She was recently promoted to assistant superintendent of the day shift custodial team at Parnassus and the organization embraced her idea for a "Heal & Chill" potluck that brought everyone together to share food and have conversations following the national elections when people needed to be together. "It's a simple thing and it's nice to be recognized."
Harris manages a crew of 13 custodial team members and lead custodians who are responsible for cleaning and maintaining the Parnassus campus.
Millicent Magiera is the director of operations at Mission Bay/East Campus and has spent 30 years working for UCSF Facilities Services. Her operation has 112 employees and 37 engineers. "When I first started, most of the employees in facilities were men. The women who worked in the organization were predominantly in clerical roles. I've always felt very welcomed and I've had a good relationship with the shop supervisors and trades workers."
She started as a file clerk and has steadily risen through the ranks during her career. In 2002, the university assigned her to oversee the opening of Genentech Hall, the first building at Mission Bay.
"I never felt like there were gender issues in the organization," she said. "As long as I had the required skills and knowledge, I was given the opportunities to advance professionally."
Magiera was responsible for managing all of the buildings as they came on line over the years. Former UCSF Chancellor Michael Bishop personally recognized Magiera and her team for their work in helping open the campus.
"It was an interesting time and we certainly had our challenges but we always felt like we had the support of the university, the faculty, and the administration," she said.
Sutton said one of the bigger challenges facing facilities is recruitment in general. "There is a shortage of interest in the facilities trades," she said. Sutton suggested that UCSF Facilities Services would benefit from being even more involved with outside professional organizations and training programs to encourage interest in the facilities services field. Finding qualified workers – regardless of gender – is one of the organization's biggest challenges. Magiera agrees and suggests that the 'art of the craft' is losing ground to different values of the new generations: high-tech and even higher-paying jobs.
"Facilities Services is always looking for good people – women and men," said Jon Giacomi, executive director of Facilities Services. "As part of our continuing efforts, we've ordered signs that reflect a more inclusive culture. We hope this is just one small indication of how we can set an example that is a gender inclusive environment."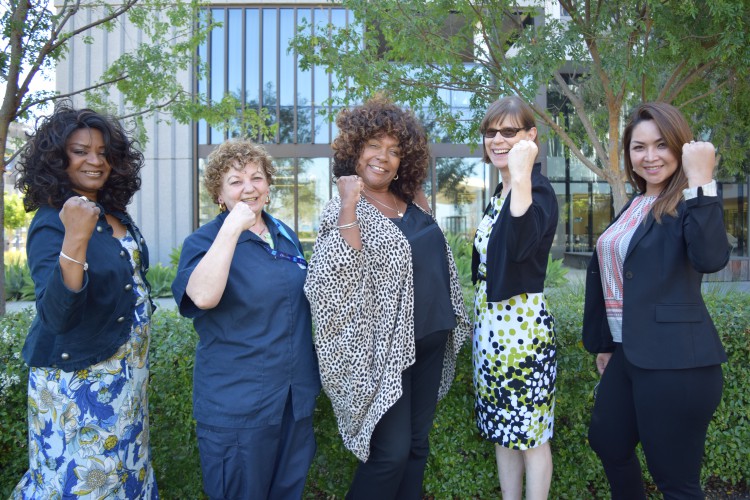 Female employees at UCSF Facilities Services include (left to right) Sonya Harris, Siham Bijah, Joyce Hammel, Millicent Magiera, and Jaycee De Guzman.