Winners Announced in Facilities Services "Campus First Impression Areas Contest"
---
Published on April 27, 2017
---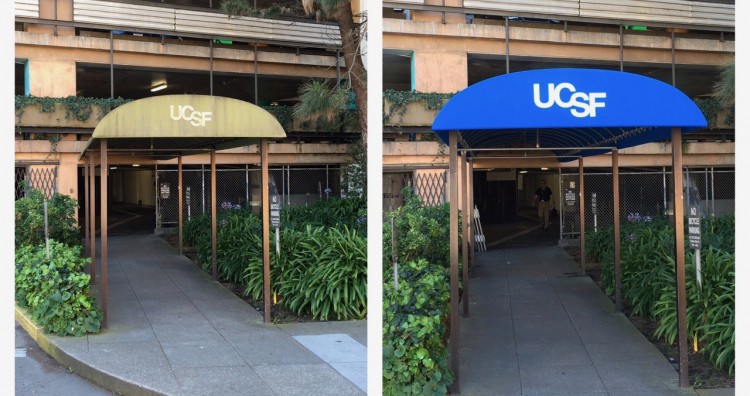 The faded awning at the entrance to the Parnassus campus from the Muni N-Judah stop has always been an eyesore for Peter Turnbaugh, Assistant Professor in the Department of Microbiology and Immunology.
"I regularly take the train to work and have been greeted by a faded grey awning covered in pine needles," he said. "It seems like a small thing, but this is the first impression visitors, including many people coming to the hospital, have of our wonderful campus."
Now that entrance is going to be spruced up, thanks to the Facilities Services Campus First Impression Areas Contest. In fact, a new blue awning has already been installed by Transportation Services replacing the old, faded grey one cited by Professor Turnbaugh. And additional work, such as improving the landscape, will be done to make the entrance more inviting.
This campus entrance is one of 12 areas around UCSF selected for improvements through the First Impression Areas Contest.
"I couldn't be more pleased with the campus response to this first-ever contest," said Jon Giacomi, Facilities Services Executive Director. "We had entries from faculty, staff, and students. Interest was so great that we upped the funding to select 12 winners instead of five. I think the campus will be pleased to see these projects completed. We will certainly sponsor this contest again next year."
The winning projects include:
• School of Nursing Stairwell
• Faculty/Alumni House Corner
• Health Sciences West 300-303 Lobby Area
• Millberry Union Food Court
• Parnassus Entrance Area (ACC and MU Garage)
• Mission Bay Fourth Street Monument Area
• FAMRI Terrace & Garden Area (Flight Attendant Medical Research Institute)
• Rock Hall 302/304 Conference Area
• EH&S Building & Med Center Way Pavement
• Rutter Center Lobby Areas & Patio
• Cardiovascular Clinic Entrance Area
• Millberry Union Restroom Upgrade
Giacomi said a total of 48 entries were received. They were judged based on their overall impact and ease of delivery. Projects were limited to public spaces that would make a significant first impression for students, staff, staff, faculty and visitors and they needed to be completed with $10,000 or less.
Giacomi said work on the project will begin immediately and should be completed over the coming months.