Volunteer with Your Colleagues in April for UCSF Volunteers Month
---
By Robert Hood on March 15, 2019
---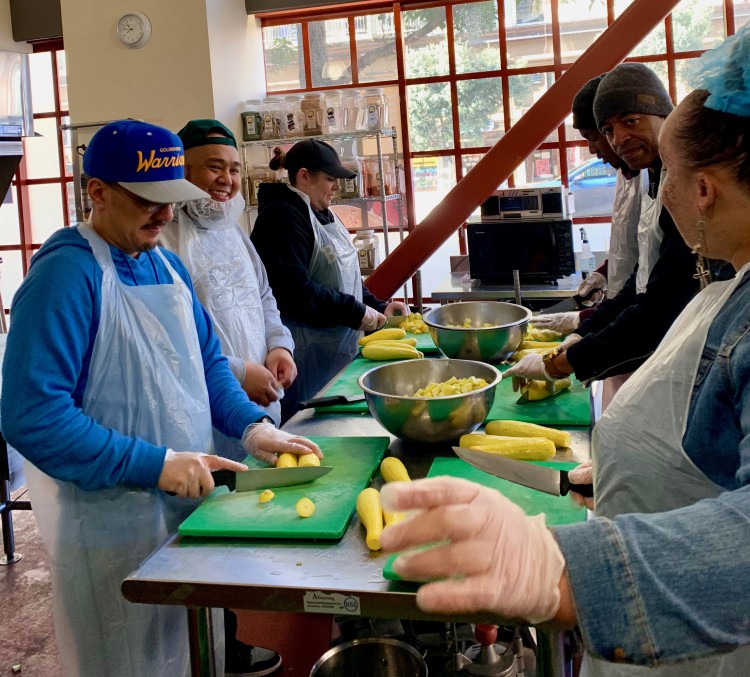 Emily Lefson, meeting and events manager at UC San Francisco Housing Services, understands what a few hours volunteering at a local nonprofit can mean to people.
Lefson and 22 coworkers at Housing Services recently spent several hours at Project Open Hand in the Tenderloin preparing nutritious meals for the sick and vulnerable.
"We had so much fun in the kitchen chopping hundreds of vegetables for ratatouille, preparing chicken, and creating labels for packaged meals," she said. "Our staff, being very competitive, made a game out of how many veggies we could chop and provide for the patrons. We finished our task with time to spare. As we were leaving our stations, we were able to see the people who were there to lunch and participate in the program. It made a clear and real connection for many of us. We made a difference that day."
April is UCSF Volunteers Month, giving the entire university community the opportunity to make a difference. The UCSF Volunteers group encourages teams at UCSF to volunteer together during the month of April and has organized the following opportunities for teams to join:
• SF-Marin Food Bank, Friday April 12, 9-11am (50 spots available). Help SF Marin Food Bank prepare food for distribution to local food banks and home- delivered groceries to help nourish and empower your neighbors. Register here.
• Sutro Stewards, Monday, April 15, 9:30am to 12:30pm (20 spots available). Volunteer to help maintain the historic reserve of Mount Sutro, right in our own backyard, just south of UCSF's Parnassus Heights campus. Register here.
• Golden Gate National Parks Conservancy: Ocean Beach Clean-up, Friday, April 26, 1-3pm (50 spots available). Gather for a feel-good day at the beach. Volunteer to protect the beauty of Ocean Beach, along with the Golden Gate National Parks Conservancy. Register here.
"Together, we can achieve a greater impact and lasting good," said Laura Ishkanian, associate director, UCSF Family Services. "Pick an activity that speaks to you and your colleagues and make a difference."
Ishkanian and Dani Cambier, communications & outreach manager for Housing Services, were part of the 2016 UCSF Campus Life Services leadership cohort that created UCSF Volunteers, a website designed to help managers find information to organize volunteer activities with their UCSF teams. The site includes volunteer opportunities, a manager's checklist, guidelines and required waivers, and answers to frequently asked questions.
"Volunteering with colleagues is a great way to boost engagement while team building and contributing to the local community," Cambier said. "By creating UCSF Volunteers Month, our goal is to mobilize UCSF employees to give back to the local community."