UCSF's Kirsten Hutchinson Starts Her Day at the Fitness Center
---
By Robert Hood on January 08, 2020
---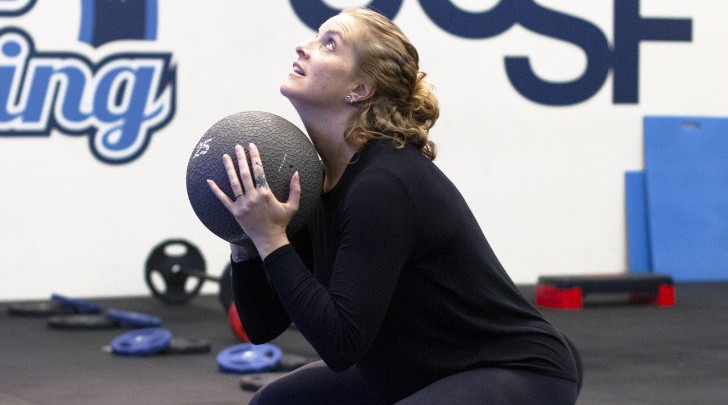 Before most people have rolled out of bed in the morning, Kirsten Hutchinson has arrived at the Bakar Fitness & Recreation Center at Mission Bay for her 6am F45 class.
"I try to go to F45 five days a week," says Hutchinson, a division administrator for the Center for Reproductive Health and the Reproductive Endocrinology and Infertility Program. "I really love the early morning class. It's such a great way to wake up."
The F45 training program was introduced at the Bakar Fitness Center just over a year ago. It combines elements of high-intensity interval training, circuit training, and functional training. The fusion of these three training concepts has led to the development of 31 different, 45-minute workout experiences featuring 3,000 exercises.
The class is offered five times per day Monday through Thursday; three times on Friday; twice on Saturday and twice on Sunday.
"I started working out at UCSF Mission Bay in June, 2018 specifically because of F45," Hutchinson said. "I was attending a circuit training class on the peninsula prior to starting to workout at Bakar, but F45 caught my eye and I haven't turned back."
As a division administrator, Hutchinson manages approximately 25 employees involved in finance and administration. "Working out is the best way for me to release my stress and ensure that I'm as healthy, both mentally and physically, before starting my workday. My whole day runs smoother when I take the time to take of myself first."
Hutchinson worked for three-and-a-half years at UC Berkeley prior to moving to UCSF four-and-a-half years ago. "The best part about working for UCSF is the exciting science that occurs here," she said. "It's so great to be part of an institution making such large strides in science."
Hutchinson said she loves the overall community feel of the Bakar Fitness Center. "The staff and trainers are really great about making all of us feel at home. That's the key!"
For more information, or to join, please visit the UCSF fitness & recreation centers.