UCSF Volunteers Make an Impact Across San Francisco
---
By Robert Hood on November 22, 2019
---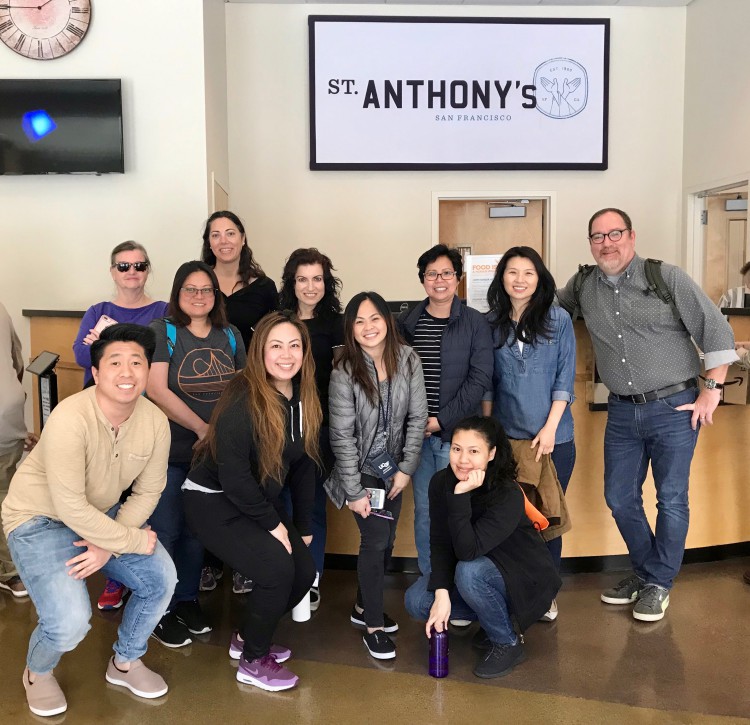 For Georgina Lopez, director of finance and administration at UC San Francisco's Institute for Global Health, volunteering to serve food in the Tenderloin was both humbling and inspiring.
"I was inspired by the commitment and dedication of our staff that I was privileged to work alongside during our day of volunteering at St. Anthony's Dining Room," she said. "As I helped serve food to the community that lives and works in the Tenderloin, I was reminded of all the privileges I take for granted each day."
Lopez and her co-workers formed one of the 27 different UCSF teams that have helped non-profit organizations over the past year as part of UCSF Volunteers.
The UCSF Volunteers program was developed by the 2016 Campus Life Services Leadership Development Program cohort as a way to encourage engagement through community service and team building while making UCSF a great place to work. It also seeks to make a positive impact on Bay Area community organizations while instilling pride within the UCSF community.
Lopez said she saw the IGHS staff bring the same work ethic and customer service to feeding people in the Tenderloin as they do in executing their day-to-day jobs supporting UCSF researchers. "I saw their smiles and concentration in making sure the tasks they completed were done to the best of their abilities and I was humbled, inspired, and proud to be a part of such a special team!"
Ashika Nahal, a member of the compensation and strategic awards team at UCSF Human Resources, also had a positive experience when her team volunteered at Glide Memorial Church. "Spending the day at Glide with my team was not only a great team-building experience, but also a positive, personal experience," she said. "I have participated in volunteer events in the past, but never in this capacity, where we were able to prepare meals and clean up after the lunch hour. It's very humbling to see the work that goes into providing these meals and truly makes you want to keep coming back to help."
Leslie Martinez, program and event coordinator for Wellness & Community at Campus Life Services, said UCSF teams that submitted photos from their volunteer efforts were entered into a drawing to win UCSF Volunteer hats and $50 worth of gift cards.
Marilyn Cimahosky, who also volunteered at Glide with Human Resources, said it was amazing to work side-by-side with employees from other companies in the Bay Area. She said senior managers with UPS flew from as far as Toronto to volunteer at various institutions for three straight weeks. "It was truly an impressive commitment and made me proud of our efforts," she said.
To find out how you can champion a worthy cause or volunteer with your team, go to volunteer.ucsf.edu. The site makes it simple for UCSF employees to volunteer in the community by providing a manager's checklist, general guidelines for volunteering, a link to the required waiver, a list of frequently asked questions, and feedback form to describe your own volunteer experience.