UCSF Volunteers: Improving Biodiversity & Relationships on Mount Sutro
---
By Robert Hood on April 10, 2018
---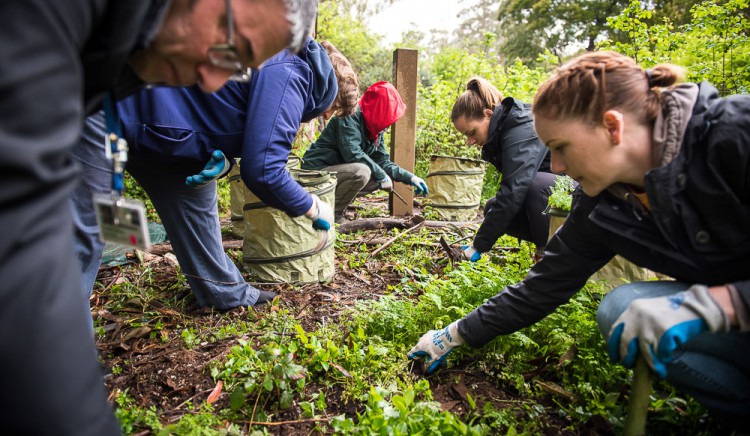 From caring for 6,000 native plants in the nursery to building and maintaining five miles of recreational trails on Mount Sutro, volunteers are at the heart of everything that happens with the Sutro Stewards.
"We work with more than 1,000 volunteers annually for a total of 4,000 hours of volunteer service," said Amy Kaeser, the nonprofit's executive director. "It's because of our volunteers that we are able to care for our plants, build our trails, and improve biodiversity and wildlife habitat through conservation efforts."
Mount Sutro is owned by UCSF. The university has been managing Mount Sutro as permanent open space since 1976 and maintains public access through a partnership with the Sutro Stewards, which is an independent non-profit.
Recently, Kaeser tapped into a new source of volunteers that learned about the needs of Sutro Stewards from the new UC San Francisco Volunteers program. The program was developed as the 2016 Campus Life Services Leadership Development Program Practicum project to encourage engagement through community service and team building while making UCSF a great place to work.
"This is a manager-led program that connects UCSF volunteers to local non-profits that need our help," said Laura Ishkanian, wellness program manager and member of the 2016 CLS Leadership Development Program cohort.
Ishkanian said workplace volunteer programs have many benefits, including positive effects on engagement by strengthening workplace relationships, increasing the positive feelings of an employee for the employer, and connecting to an individual's need for meaning and accomplishment. She said managers can work with staff to identify volunteer activities through UCSF Volunteers.
UCSF Volunteers was first rolled out to all Financial and Administrative Services units and was formally launched at Chancellor Sam Hawgood's State of the University Address on Oct. 30.
Dani Cambier, project manager in the Office of the Associate Vice Chancellor for CLS, said volunteering with the Sutro Stewards was a rewarding experience.
"We split into two teams with half weeding trails and the other half working in the greenhouse planting plants," Cambier said. "Despite the rain, we had a great time and it felt good to volunteer with the Sutro Stewards since Mount Sutro is such a big part of the Parnassus campus."
Kaeser said she welcomes volunteers on Wednesdays from 9:30am to 12:30pm and the first and third Saturdays from 9am to 1pm. "On a typical Wednesday morning, volunteers receive an orientation and break up into groups to complete projects including plant propagation, seed collection and processing, transplanting and other nursery care, as well as habitat conservation projects including invasive weed removal, native planting and more."
Sutro Stewards provides tools, gloves and training to complete the projects while volunteers should bring water, a sturdy pair of closed-toe shoes and long pants. Free lunch is provided to Saturday volunteers.
To volunteer with the Sutro Stewards, sign up online at www.sutrostewards.org/events. Groups of four or more can email .(JavaScript must be enabled to view this email address) to ensure space and set up a team project. Registered volunteers receive an information packet with details about where to meet, what to bring, etc.
To connect with additional volunteer opportunities, visit UCSF Volunteers.