UCSF Painter Wendy McChesney: Parnassus is Her Canvas
---
By Robert Hood on February 28, 2020
---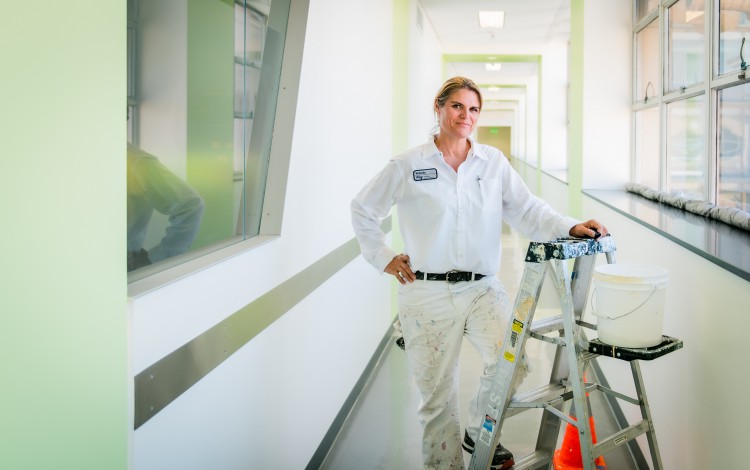 The interior walls of the buildings at Parnassus Heights provide the canvas for UC San Francisco painter Wendy McChesney. And, while McChesney's role at the university isn't to create a work of art, her handiwork is recognized by students, staff and faculty.
"Painting at UCSF is rewarding," McChesney said during a recent interview on the 13th floor of Health Sciences West. "The university is a busy place, but when people stop what they are doing to thank me for brightening the walls with a fresh coat of paint, that makes me feel like I'm making a difference."
Painting runs in McChesney's family. Her father was a general contractor and painter and her brother was also a painter. She has worked for a non-toxic painting business, painted heritage homes in Petaluma, worked for the state to paint historical sites in the North Bay, and was the lead painter at a hospital.
But when she arrived at UCSF, she immediately noticed something different about the work atmosphere.
"I was interviewed by a woman (Marquita Bowe)," McChesney said. "In the painting business, I rarely worked for women and never saw them in management roles. It was so inspiring to see a woman in management for a facilities organization."
McChesney said that welcoming atmosphere she experienced in her job interview has continued in the field. "I feel totally welcomed at UCSF. Everyone is super cool and, as a woman working in the trades, I've never felt like an outsider. It's just a great work environment."
Maintenance Supervisor Dan Standridge said McChesney's coworkers have expressed how much they enjoy working with her and how surprised they are when she greets them by name.
"Wendy's contribution has been so refreshing not only to the campus appearance but all who come in contact with Wendy see a friendly smile," Standridge said. "What a great representation of our PRIDE values she brings to UCSF."
McChesney did admit she's still trying to wrap her mind around the size of the university. "The painting never stops," she said with a laugh. "When you finish with a hallway or restroom you immediately move onto the next project which could be a stairwell or parking garage. It's always something different but there is always something that needs painting."