UCSF Housing Helps Create Community for Students with Children
---
Published on September 05, 2017
---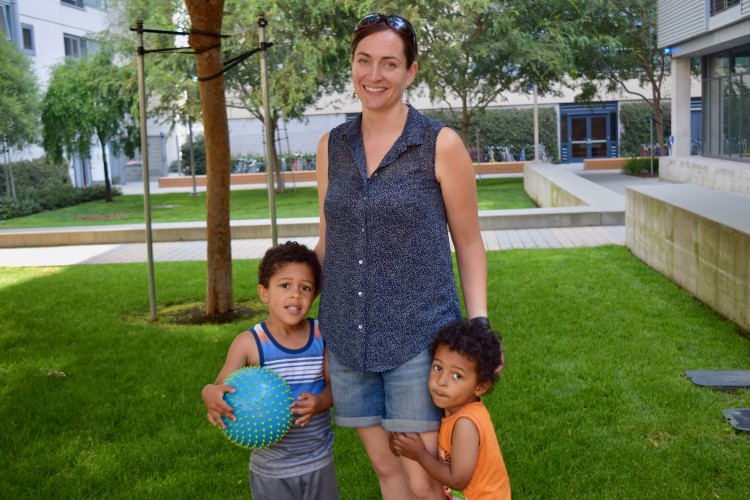 For a family with children, moving to San Francisco to study at UC San Francisco can be both exhilarating and terrifying. For Denisse Porter and Peter Thompson, finding community at the university's housing complex at Mission Bay has made the transition easier.
Porter moved to San Francisco from Redlands, California last year to study in the Masters Entry Program in Nursing. Thompson and his wife, Adele, brought their two children from Vancouver, Canada, two years ago so Thompson could work as a postdoctoral scholar in Type 1 Diabetes.
"When I found out I was accepted to UCSF, we were all very excited and very scared at the same time," Porter said. "We had family to think about and this was a big move for us. I wanted to be at a school that would have the resources I needed as student with a family. This meant having childcare and housing."
UCSF Housing Provides Priority for Families
Because they had children, both families had priority in the university's lottery system to allocate housing, but they weren't guaranteed anything. "Thankfully for us, we didn't have to pursue the search for 'affordable' housing in San Francisco when we first moved as we were awarded student housing, something we are incredibly grateful for," said Adele Thompson (photographed above with her two children).
"The housing lottery process as a student with children was nerve-wracking because I didn't know anyone in San Francisco and did not know where we would get the money to initiate a rental agreement in the city if we did not get housing," Porter said. "After a few rounds in the lottery system, we found out we got an apartment."
Housing Services received over 350 applications for each month this summer (2017), but historic trends indicate that only 35% of applicants are placed in campus housing. Housing Services reported over 99% occupancy rates throughout the past 12 months.
The campus Housing Advisory Committee recommended new rules in the past couple of years that gives some assignment priority to families with children. "Almost all demand from families with children is being met," said Todd McGregor, assistant director for Housing Services. "The campus is doing a great job at meeting the family demand, but there are significant gaps in our ability to house singles and couples."
Exploring San Francisco's Mission Bay Community
Once settled, both families found a supportive community in Mission Bay. "I feel we adapted well to living on campus," Adele Thompson said. "There have been great resources for families here. Amy McKinney, housing programs and special events specialist, is often organizing events for families to help build community. In addition, the Mission Bay community itself has a lot of families and also hosts various activities and events."
Porter learned the intricacies of the San Francisco Unified School District's lottery system for placing students, which found her middle school aged child in the Presidio while her two elementary aged children were assigned a school in the Castro. "To say the least, this has been a difficult year for us as a family, but living in Mission Bay has helped us setting into city life."
Porter said they feel safe living in Mission Bay. "We enjoy the family events planned by the housing staff such as the spring egg hunt, movie night, and Halloween trick-or-treat. We do feel the housing office makes an effort to make us feel more comfortable as a family."
Adele Thompson said she and her family love the housing staff. "Seriously, they are amazing! Kisha in the office always makes us feel so welcome every time our boys run in for stickers. Carla comes and fixes anything that can possibly need to be fixed, including pumping up a flat stroller tire for me on a few occasions. Maria, one of the custodians, even made a pressure washer into a sprinkler for the boys to run through on a rare hot summer day! They have become like family to us."
Adele Thompson said they are the only family with children living on their floor but their neighbors have been incredibly gracious and kind. "We have had a few of our neighbors over for dinner and even had a couple of neighbors do an emergency babysit for us when we've been in a bind. We will be sad to leave this community."
As their two-year housing term limit is almost up, the family needs to relocate. "The search for housing has begun and it is certainly difficult to find a two bedroom in San Francisco within our budget that is comparable to what we pay at UCSF," Adele Thompson said. "Unfortunately, we may not be able to stay in the city."
Porter said it's important to do your research and downsize when moving to San Francisco with a family. "There are many great public schools in the city but they are hard to get into on the first try. Look into UCSF's childcare program. It is conveniently close for those who can take advantage of it and they are expanding the program. Simplify your furniture and the amount of things you bring to the city and get yourself a Clipper Card to ride MUNI and BART and take advantage of the many free and cheap events that occur in the city throughout the year."