UCSF Fitness Center Provides Challenge for Jody Williams
---
By Robert Hood on January 02, 2020
---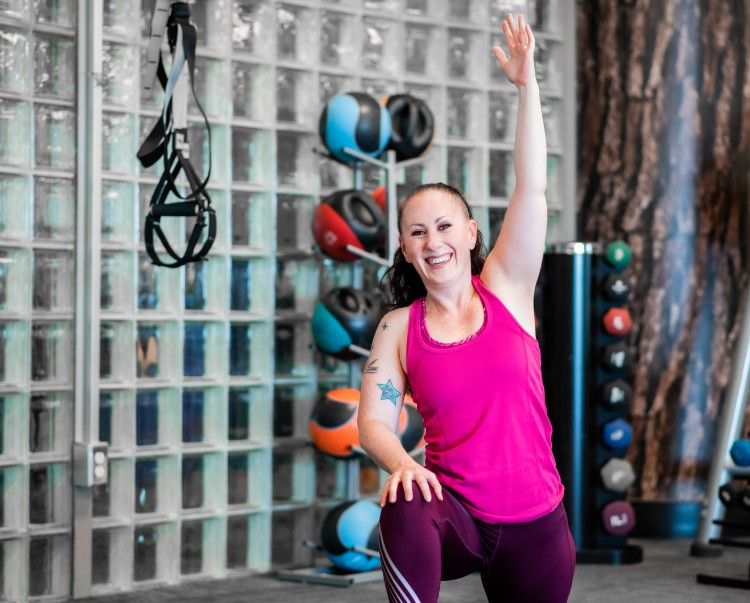 Marco Sanchez, UCSF Documents & Media
Jody Williams, an administrative assistant at UC San Francisco's Langley Porter Psychiatric Hospital and Clinics, was a regular Jazzercise participant for nine years but felt it wasn't enough to meet her fitness goals. Then she found the Millberry Fitness and Recreation Center at Parnassus.
"I love the community at the gym and the friends I've made," she said. "I look forward to seeing all of my friends every day. People are supportive and encouraging and the registration desk staff are amazing!"
Williams describes her workout routine as tough, fun, and exciting. "I work out twice a day Monday through Thursday and once on Friday. Weekends are for other activities with my husband and two dogs."
Williams has been working at UCSF since 2003, when she started in Adolescent Medicine. She now supports several faculty members at LPPI engaged in various types of research while also supporting a training program for psychiatry residents that are interested in research careers. She began working at LPPI in 2008.
"What I like most about my current job is being able to help students, doctors, staff, volunteers and residents with their research projects," she said.
Williams said working at LPPI makes it very convenient to work out at Millberry. "I look forward to every workout because I know I will be challenged and feel amazing when I'm finished. I feel like I can lower my stress and keep my energy positive throughout the day. I'm in the best shape of my life."
For more information, or to join, please visit the UCSF fitness & recreation centers.