UCSF Fitness Center a Life-Changing Experience for MD/PhD Student May Szeto
---
By Robert Hood on August 14, 2018
---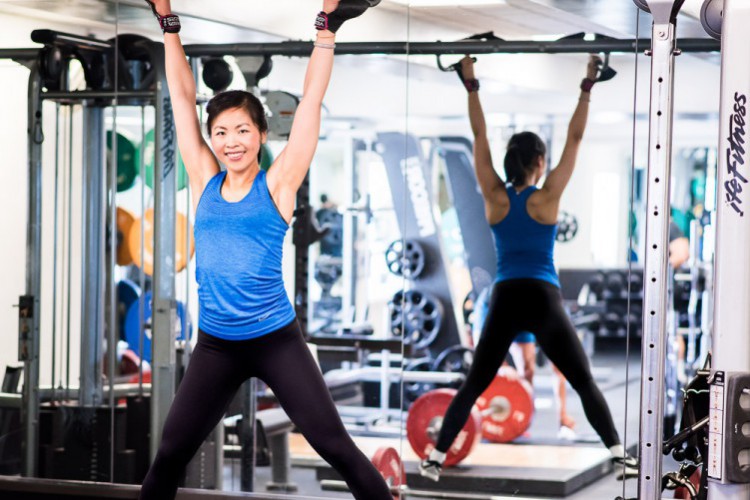 Photo by Marco Sanchez, UCSF Documents & Media
UC San Francisco MD/PhD student May Szeto changed her life with the help of the university's fitness center.
Shortly after graduating from college, Szeto was overweight and unhealthy. Working as a lab tech at UCSF, she joined the university's fitness centers and lost 30 pounds over the next two-and-a-half years by dieting and embarking on a routine of cardio exercise. And, while the weight came off, Szeto knew she still wasn't healthy.
"With episodes of hyperthyroidism during that time, I lost muscle mass, became 'skinny fat' and almost underweight," she said. "When I started the PhD portion of my MD/PhD program three years ago, I made it a mission to gain weight and muscle mass."
She turned to the fitness center for help.
"At that point, I knew nothing about gaining muscle. I just wanted to gain healthy weight in case I had more hyperthyroid episodes in the future. I started by going to BODYPUMP™ where I learned basic lifting. I slowly transitioned into GRIT™ classes and eventually worked with a personal trainer, Melody, who helped me develop a training regimen."
Szeto is now at the gym five days a week. "It became addicting as I saw improvement."
While weightlifting can be intimidating, Szeto said the BODYPUMP™ classes at the fitness center are a good way to learn new exercises and techniques and meet new people. "It's a friendly, community environment. I've met people at the fitness center that I hang out with on weekends. It's really become a way of life for me."