UCSF Facilities Services Launches Zero Waste Campaign
---
By Robert Hood on June 01, 2019
---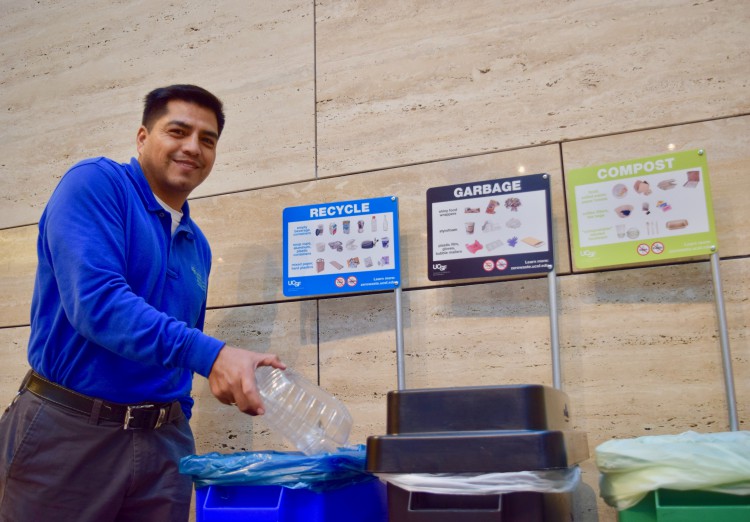 Robert Hood, Campus Life Services
Nearly everyone at UC San Francisco is concerned about climate change but after months of regular waste audits – essentially digging through garbage and recycling containers on campus – it's clear there is room for improvement.
That's why Facilities Services is launching a new Zero Waste campaign designed to help the campus community make informed decisions when they toss something in the compost, recycling or waste bins.
"Currently at UCSF we divert 78 percent of our discards from the landfill," said Susan Bluestone, the university's recycling coordinator. "Simply put, of everything we discard, only 22 percent is heading to the landfill. But we know we can do better because we conduct waste audits regularly and we've learned that about 80 percent of what we find in the garbage, if correctly tossed, could actually go to recycling or compost."
The UCSF Zero Waste campaign features a series of social media messages along with educational posters to remind the university community to think before they toss.
Pablo Ortega (shown above), who is often found sorting through the black, blue, and green bins on campus, helped develop the campaign. "We often find tin cans, plastic bottles, plastic to-go food containers, food waste, and single-use items like plastic utensils in the wrong bins," he said. "We're simply asking people to take a moment to think before they toss. Never place something that came from a plant, tree or animal in the garbage."
Bluestone said she hopes the new campaign will help everyone on campus think before they toss. "It's important to know that your participation working toward zero waste can directly reduce our impact on the climate," she said. "When our resources get sent to the landfill they simply turn into noxious gases like methane. Instead, we can recycle, which reduces the need for raw materials and also preserves the land instead of just filling it with waste."