UCSF Employee Delivers Needed Supplies to COVID-Ravaged Nepal
---
By Robert Hood on August 03, 2021
---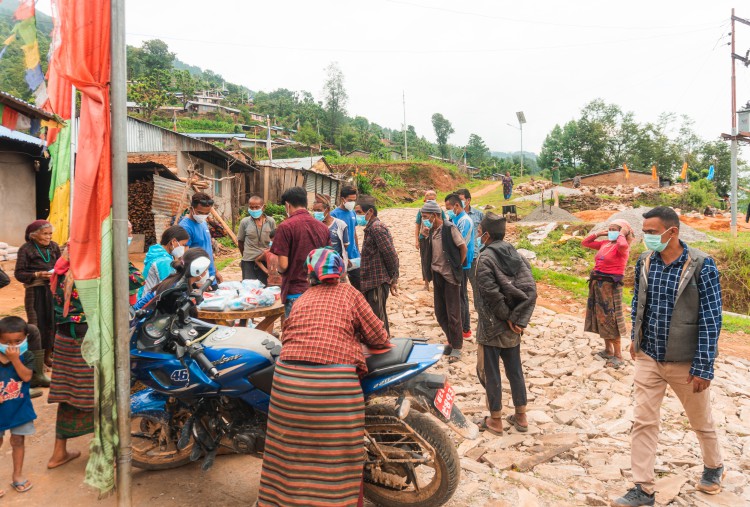 Wayne Cheung, a senior business systems analyst in UC San Francisco's Campus Life Services has been providing COVID relief to rural areas in Nepal through the Nepal Education Initiative Organization (NEIO), a charitable organization he established. So far, three oxygen concentrators have been delivered to two rural hospitals, and 1,000 prevention supplies, including masks, soaps, thermometers, oximeters and hand sanitizers, have been distributed to close to two dozen rural villages.
"Nepal has been severely hit by the same COVID-19 outbreak that is raging in neighboring India," Cheung said. "The variant identified in India is believed to be more contagious, and the K417N mutation of that variant is now found in Nepal."
NEIO's COVID Efforts
The delivery of supplies from Kathmandu to rural areas in Nepal required close to a dozen volunteers who traveled through the rugged mountains. Their jeep broke down several times and one trip took 13 hours to complete.
"All of these COVID efforts would not have succeeded without help from NEIO's Nepal President, Chiring Lama, who has lined up everything in a short timeframe, and our volunteers who had to walk a long distance through tough terrain to hand-deliver the prevention supplies," Cheung said.
Cheung said NEIO is expanding the scope of its aid in two aspects: sending supplies to other rural areas in Nepal where they have connections and sending small oxygen concentrators to two remote villages if they cannot transport ill persons to other health clinics.
Nepal's COVID Crisis
The Centers for Disease Control and Prevention has issued a warning against traveling to Nepal because of the COVID outbreak. Even fully vaccinated travelers may be at risk for getting and spreading COVID-19 variants.
Earlier this year, the government of Nepal announced a lockdown of Kathmandu as a public health measure to help slow the spread of COVID-19. Government hospitals in Kathmandu are nearly all occupied. "In May, there were 8,000 to 9,000 new cases of COVID per day," Cheung said. "More than 660,000 Nepalis have been infected and more than 9,500 deaths have been reported."
Barely four percent of Nepalis are fully vaccinated and, despite vaccine donations, Nepal is suffering from a severe vaccine shortage. "In rural Nepal, the healthcare ratio is one doctor per 150,000 residents," Cheung said. "Our local contacts in rural areas have witnessed people dying from COVID without being able to obtain any medical help. In a country where a third of the population lives near the poverty line, the hospital stays and medical treatments are just too expensive for most people."
The History of NEIO
Cheung is no stranger to delivering aid to Nepal. From 2008 to 2011, he lived in the country for up to eight months a year and stayed in Asia for four years overseeing the Nepal Education Initiative Organization, a charitable organization he established that builds schools for children in geographically disadvantaged regions. Since NEIO's founding in 2008, the organization has constructed four buildings and 16 classrooms to serve more than a thousand students as well as other physical structures, including libraries and technology labs.
You can follow the work of Cheung and the Nepal Education Initiative Organization at the NEIO Facebook Page. Cheung was honored at the 2017 UCSF Founders Day Awards for his public service in Nepal.