UCSF Custodians Share Fond Memories of Chinese New Year
---
By Robert Hood on February 28, 2022
---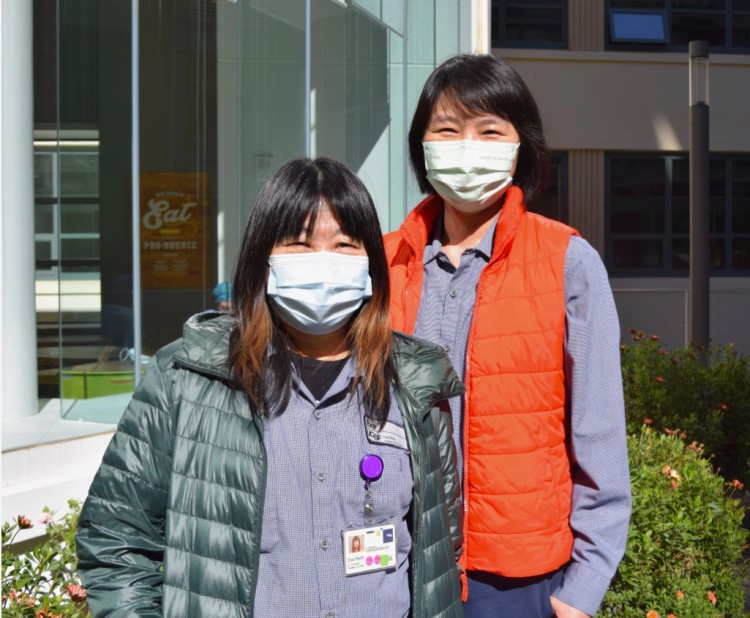 Robert Hood, Campus Life Services
For UC San Francisco Senior Custodians Eva Banh (left) and Michelle Mo (right), the thought of red envelopes, dim sum, and firecrackers will bring memories of Chinese New Year.
"It was always a time to play with firecrackers," Mo said. "I also remember the food. We had a large variety of vegetarian food. As a kid, it was a very happy time."
Chinese New Year, or the Spring Festival, is the most important festival in China. It's estimated that more than two billion people celebrate it in some way, even if it's just a national acknowledgment.
Banh was born in Hong Kong but she's been in the Bay Area for more than 40 years while Mo moved to the Bay Area with her husband three years ago. Both still consider the Chinese New Year a special time of the year.
Banh said she would often use the red envelope money to buy shoes, a jacket, or clothes. "As a family, we would usually celebrate with a large dim sum dinner.
Mo said her grandmother would prepare the meal and even today the holiday brings back memories of her family.
Mo joined Facilities Services three years ago and began cleaning the Millberry Union Food Court. "When I started working here two years ago, I was too shy to talk with strangers. Now I talk to all kinds of people and I'm improving my English." Mo is now cleaning labs in Health Sciences West.
Banh has worked the past four-and-a-half years at Facilities Services and cleans the Parnassus Central Utility Plant and the Laboratory Animal Resource Center. Banh said she appreciates the university's benefits and pay structure along with the friendly coworkers.
"I used to work two jobs before I came to UCSF," she said. "I really like my supervisor and my coworkers and the people who work in the buildings that I clean are very nice."
Both Banh and Mo said they enjoy living in the Bay Area where people celebrate Chinese New Year and other cultural holidays. "I haven't been in the Bay Area for a long time but I do feel like it's home," Mo said.