UCSF Celebrates Bike to Work Day May 9
---
By Robert Hood on March 27, 2019
---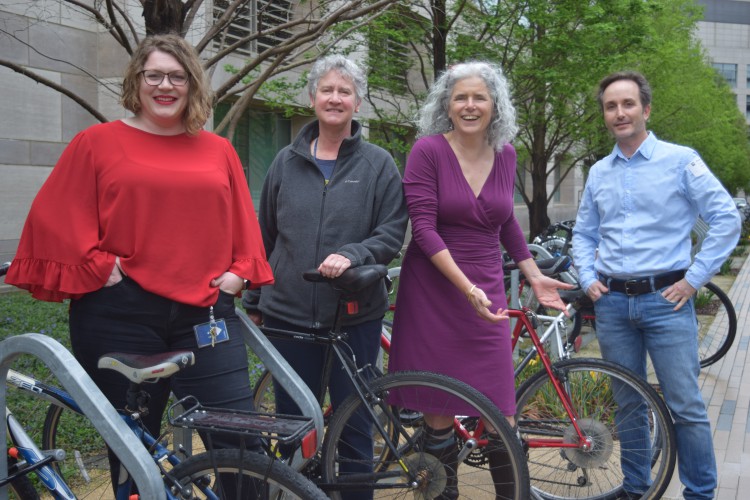 Robert Hood, Campus Life Services
Page Sorensen, Elyse Chiapello, and Kaya Balke (photographed left to right with John Hamiga) are regular commuters from the East Bay to UC San Francisco's Mission Bay Campus and all three pedal a bicycle from public transportation as part of their commute.
"I love having the 15 minutes biking to myself in the morning," said Sorensen, a research development specialist. "I ride along the Embarcadero and it's just so beautiful. I also love that my bike ride gets me to work faster than public transportation or driving would."
Balke began riding her bike from home to BART but as soon as the Ford Bikeshare opened at SPARK in Mission Bay, she started using the iconic blue bikes to zip along the Embarcadero to work. "It's faster, more pleasant, cheaper, and a whole lot more fun than MUNI," she said.
Chiapello takes BART to the Mission Station where her bike is parked in a security bike rack then rides 15-20 minutes along the bike lane on 17th Street to Mission Bay. "I always say that my commute is the best part of my day. Being outdoors and exercising lifts my mood." At times, Chiapello said she feels sad when her ride is finished but her cure is a good Americano from Peasant Pies.
Sorensen, Balke, Chiapello and other members of the UCSF community will celebrate Bike to Work Day on Thursday, May 9. The event is hosted by the San Francisco Bicycle Coalition (SFBC) and John Hamiga, a researcher at the Center for AIDS Prevention Studies, will serve as the bike captain for the Mission Bay energizer station on 16th and Owens.
"I would love to have a total UCSF volunteer take-over of that station," Hamiga said. "It's the 25th anniversary of Bike to Work Day." Hamiga said volunteers can sign up at sfbike.org but they must be SFBC members to help out at the energizer station.
According to UCSF Transportation Services, approximately 17 percent of UCSF employees either bicycle or walk to work. Last year's Bike to Work Day energizer station drew 18 UCSF volunteers. The UCSF Bike Committee, which formed from the UCSF Bikes! Chatter group, hosted three Bike Committee meetings last year, five after-work meet-ups, two bike-to-lunch events, and even participated in Critical Mass, the monthly mass bicycle ride in the city.
UCSF employees can join SFBC at a reduced membership rate of $25 per year instead of the standard $35 fee. "We have a busy schedule of events planned for 2019," Hamiga said.
Making the bicycle commute from public transportation hubs to Mission Bay is a big issue for the committee this year. Sorensen said cars and construction are safety issues for bicyclists in the city's fastest growing neighborhood.
"I'm constantly having to go around cars that are pulled over in the bike lane," Sorensen said. "This is super dangerous because I have to enter traffic. Sometimes cars honk and zoom around me when I'm taking the lane. The honking itself is really dangerous because it startles me and could result in me falling."
She said the 3rd Street bridge construction and lack of bike lane through that area forces her to ride across the slippery grate that serves as the road. "It feels like my bike is going to slip right out from under me. There are at least two other construction zones on my way that also put me in traffic with cars."
Balke agreed that traffic is her biggest challenge commuting by bicycle. She said the worst are rideshare cars that pull over without warning into the bike lane and passengers who suddenly open the doors. "You just have to be vigilant and pay attention at all times," she said.
Balke said she would like to see representation from the bike community on the university's transportation planning committees. "Traffic is only going to get worse, so more people will be looking for alternative commuting solutions," she said. "The more UCSF can do to ensure safe cycling in San Francisco, the better."
UCSF Transportation currently offers bike parking; free bicycle registration that provides access to the bike cages at Parnassus, Mission Bay, and Mt. Zion; and a bike-to-work shower program. For a full list of bike-to-work benefits, visit UCSF Transportation.
Chiapello agrees that cars are the biggest hazard on her daily commute and said she would like to see more protected bike lanes and access to bike tools. "It would be great for UCSF to invest in a tool station and air pump located inside the bike cages, that way cyclists would have access to needed bicycle equipment."
If you ride your bike to work and want to stay up-to-date on the latest campus cycling events, you can visit the UCSF Bikes! Calendar.