UCSF Celebrates 10 Years of Sustainability Accomplishments
---
By Robert Hood on April 05, 2020
---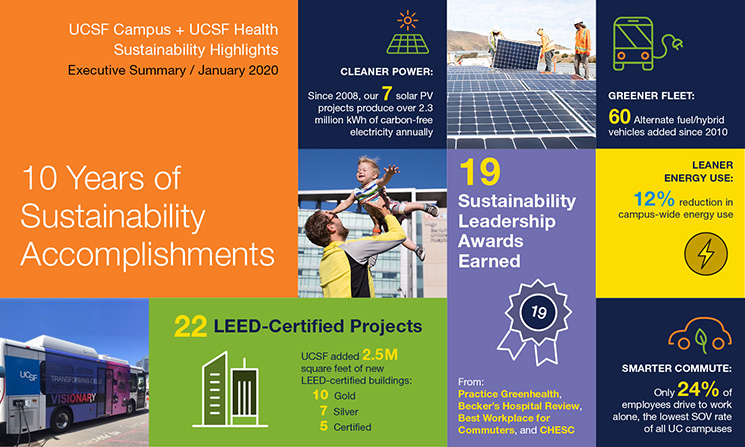 From a fleet of 60 alternative fuel-hybrid vehicles to seven solar power projects that produce more than 2.3 million kilowatts-per-hour of carbon-free electricity annually, UC San Francisco has made significant strides over the past ten years in its efforts to make the campus carbon neutral by 2025.
As Earth Day approaches, UCSF Sustainability Director Gail Lee said it's a good time to reflect on the university's sustainability successes but it's just as important to understand that work remains. UCSF Sustainability has issued its 10-Year Anniversary Report outlining the various ways UCSF has integrated sustainability into all aspects of its operations.
"I can't say I was really surprised by our achievements, but I think it's quite remarkable that we reduced our carbon emissions by 24 percent while more than doubling our square footage," she said. "This is mainly attributed to our energy efficiency projects initiated by Facilities Services, the focus by UCSF Real Estate to construct high-performance new buildings, and the university's commitment to purchase cleaner energy."
The Facilities Services Energy Management team partners closely with the Office of Sustainability and Lee to ensure that UCSF meets UC-wide energy policies.
"Over the last 10 years, energy efficiency projects initiated by Facilities Services has resulted in more than 20 million kilowatt-hours in electricity savings and 1.5 million therms in natural gas savings," said Interim Campus Energy Manager, John Rosendo.
Rosendo said another partnership helps labs replace old, energy-hogging freezers with new, energy efficient models. Labs can use up to two-thirds of the energy used by research universities and cold storage equipment, particularly freezers, are some of the highest energy consumers in laboratories.
"Our Freezer Rebate Program saves the university over $65,000 annually in utility costs," Rosendo said. "Since the program started in 2014, UCSF has received more than $70,000 in PGE rebates."
For the fifth year in a row, UCSF Health was recognized in Becker's Hospital Review as one of the Greenest Hospitals in America. The Tidelands, UCSF's newest housing project, are two all-electric buildings, using only clean electricity.
Lee said the housing project is a great example of an institutional-level decision to help the university reach carbon neutrality by 2020 but said that individual decisions made by UCSF students and employees are equally important.
"Buy only Energy Star products when available," she said. "We could save $1.7 million per year on energy costs if we converted to all Energy Star products. I would also encourage our community to continue to embrace alternative transportation and fly less often."
Only 24 percent of UCSF's employees drive to work alone, the lowest rate of any UC campus. UCSF has seen a consistent decrease in overall UCSF commuter single occupancy vehicle rate down from 48 percent in 1991. "This is great news, since 14 percent of UCSF's carbon footprint is created by commuter travel," Lee said.
Lee said the biggest hurdle to UCSF achieving carbon neutrality by 2025 is the Parnassus power plant. "It's our biggest source of emissions but it generates electricity for Parnassus and heats the campus at a lower cost than utilities," she said. "The challenge is finding a cost effective alternative, especially since we won't pay off the debt from the plant until 2030."
Lee said she's excited about the strong engagement of students and faculty around the sustainability movement and their willingness to share the increasingly clear connection between climate change and health. "We've already seen the impacts of climate change that have increased incidents of extreme heat, infectious diseases, flooding, power outages and mental illness. Our faculty and students are engaging other health professionals to make that connection and take action. We all have the power to reduce the impact of climate change for ourselves and our children. The time is now"