Transportation Services Explores East Bay Commuter Ferry
---
By Robert Hood on October 18, 2018
---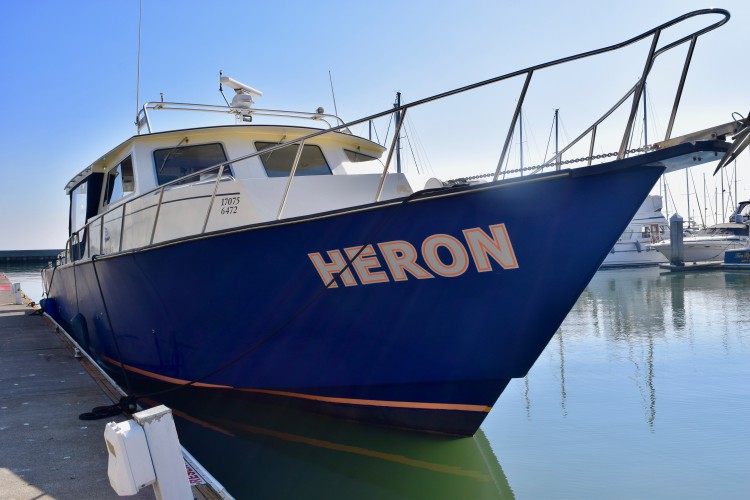 Robert Hood
Imagine cruising to work at Mission Bay on a commuter ferry from Oakland's Jack London Square and watching the traffic stalled on the Bay Bridge while you fly by. The idea may not be that far fetched as Tideline Marine Group, a local commuter ferry service, explores the idea of launching a ferry to connect East Bay commuters to the booming Mission Bay neighborhood.
Representatives from major businesses around Mission Bay were recently invited on a short cruise in one of Tideline's ferries. Representatives from UCSF Housing Services and Transportation Services took part in the 20-minute bay tour.
"Our goal is to establish ferry service between Jack London Square and Pier 52 at Mission Bay," said Charlie Gondak, vice president of operations at Tideline. The ferry would deliver passengers to San Francisco twice during the morning commute and back to Oakland twice more in the evening. "It's a short 30-minute ride across the bay compared to fighting Bay Bridge traffic," Gondak said.
Each ferry holds approximately 45 passengers, Gondak said. They feature morning coffee service, complimentary snacks, WiFi, restrooms and a cash bar for evening service.
UCSF Director of Transportation Services, Erick Villalobos, said the university is exploring the possibility of partnering with other Mission Bay employers to offer the ferry service to employees. "It's certainly in the exploratory stage," he said. "If we can offer a competitive price for both our students and employees and reduce their commute times the ferry service could be successful."
Pier 52 is located is located at the corner of Mission Bay Boulevard South and Terry Francois Boulevard. It's about a five-minute walk from the pier to the Mission Bay Campus.