Transportation Services Expands Electric Vehicle Charging Station Locations
---
Published on April 26, 2017
---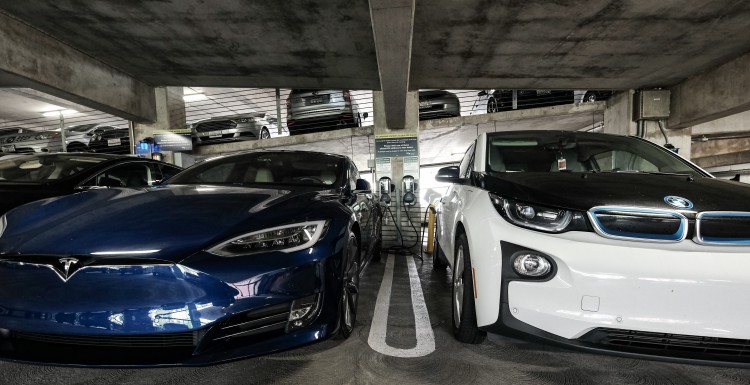 Drivers of electric vehicles will find more charging stations around campus with more being added through 2018. The expansion of EV charging stations directly supports UCSF's 2025 carbon neutrality goal and better services an increasingly large number of electric vehicle customers.
According to Transportation Services' annual commuter survey, 3.75 percent of UCSF faculty, staff and students reported using all electric vehicles in 2016. Further, 11.75 percent of respondents reported using alternatively fueled vehicles, including hybrid, plug-in hybrid, compressed natural gas and biodiesel vehicles.
Already installed at UCSF are 45 Level II charging stations. By the end of 2018, approximately 35 additional Level II stations, operated by the vendor ChargePoint, will be added at Millberry Union and ACC garages, the Mission Bay Third Street garage, Westside Lots (behind the School of Dentistry), Surge/Woods, and the Mission Center Building. The Level II ChargePoint stations are 220 volts and are designed to charge electric vehicles for a fee of $1.25 per hour, up to a four-hour maximum. All existing EV charging stations are located in university parking structures, which require a permit or paid fee to access the charging stations.
Transportation Services has also partnered with Volta Network to provide free electric vehicle charging. "Drivers can just pull up and plug-in for up to two hours," said Erick Villalobos, Director of Transportation Services. "Volta is able to provide this service at no cost to UCSF because Volta displays advertising on the digital electric signs that are connected to the charging system."
All ads displayed on Volta stations are reviewed and approved by the University and will be appropriate for a university setting. As part of the agreement with Volta, UCSF can place digital ads on the Volta chargers at no cost and when coordinated through Campus Life Services Documents & Media. During the initial pilot project, a total of six Volta stations were installed with two each at Mission Bay Rutter Center, Mission Bay 3rd Street, and 1835 Owens Street.
"Because the initial batch of Volta stations are very popular, we look forward to installing more Volta stations to complement the Chargepoint expansion," Villalobos said.
All EV stations can be conveniently located on the CLS mobile app or on the Transportation Services website under Alternative Transportation.
Facilities Services is in the process of reviewing current electrical load capacities and requirements to update parking garage and surface lot facilities to support the EV charging expansion initiative, Villalobos said. "The challenge is providing electrical infrastructure to support new or additional EV charging stations, especially in UCSF's older garages such as on the ACC garage which is nearly 70-years-old."
According to the State of California's 2016 Zero-Emission Vehicles Action Plan, California is one of the world's largest markets for Zero Emission Vehicles (ZEV) and as of the Summer of 2016, Californians drive 47 percent of all ZEV's in the U.S. Approximately 73,121 ZEV's were sold in California in 2016, representing 3.6 percent of all new vehicle sales in the state. Market trends and industry research indicate that sales of all-electric and plug-in hybrid vehicles in the San Francisco Bay Area region will continue to grow through 2025. The State of California has mandated that 15 percent of all new vehicle sales be Zero Emission Vehicles by 2025, as part of the state's comprehensive climate action plan. Providing additional EV stations at UCSF supports anticipated demand and reduces barriers to adopt zero emission vehicles.