Transportation Cruises Through Chase Center Opening
---
By Robert Hood on September 26, 2019
---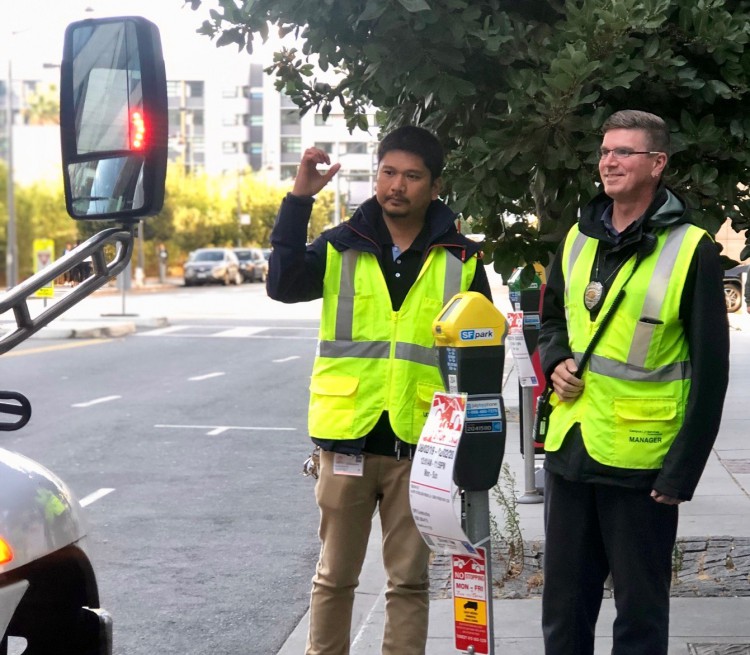 The calendar on the wall at the UC San Francisco Transportation Services office in Mission Bay told the story. After opening on Sept. 6, the new Chase Center and nearby Oracle Park, home of the San Francisco Giants, would hold events on 20 days in September.
"We had a good idea of what to expect," said UCSF Transit Supervisor Drew Pannell (photographed right). "We had a plan in place but there were still a lot of unknowns."
Amit Kothari, interim director of Transportation Services, had been meeting regularly with leaders at the San Francisco Municipal Transportation Agency and the Golden State Warriors discussing possible scenarios. But, until the crowd actually filed into the 18,000-seat arena for the first set of concerts, it was anybody's guess what the traffic impact would be around the gleaming new arena and UCSF Mission Bay Campus.
It was "all hands on deck" for Pannell and the Transportation Services team on the ground, including Senior Transit Manager Ricky Williams, Transit Supervisors Sonel Amores (photographed left) and Carlos Vides, and Assistant Transit Supervisor Andrew Vela. Additional drivers were shifted to the Red and Grey lines, two of the university's busiest shuttles during the rush hour, when needed. A team of Transportation Services employees, armed with cellular iPads loaded with Tripshot software that monitors the fleet in real time, were cruising 4th Street, 16th Street, Nelson Rising Lane and other arteries in Mission Bay observing traffic.
Amores said managing Red and Grey shuttles was more challenging than a regular commute day, but wait times were less than expected. Pannell agreed. "We didn't have any major delays and we maintained a constant flow of shuttles."
The Parking Operations management team was also in the field, rotating shifts on event nights between Tim McNeil, Yat Cheung, Jaime Mac, Robert Wong and Andy Herrera, alongside Senior Parking Operations Manager Wayne Kwan. "The flow of traffic was smooth down 3rd Street and the majority of foot traffic was coming down 16th Street and 3rd Street," McNeil said. "We saw very little foot traffic on Campus Way or Nelson Rising Lane."
While traffic flowed smoothly through the neighborhood, the university's retail vendors did see an uptick in business on event days and Facilities Services reported no increase in trash on campus from the Chase Center crowds.
The primary issue was keeping the university's parking structures free of Chase Center patrons, in order to reserve those spots for the UCSF community. "We posted no parking signs and placed staff members at all of our entrances to deter them from parking in our lots. We then directed them to nearby public garages," McNeil said.
The other issue McNeil had was Uber and LYFT drivers dropping guests off on Campus Way and 3rd Street.
Senior Associate Vice Chancellor for Campus Life Services, Clare Shinnerl, said she was proud of the team and advised to stay vigilant. "I'm thrilled that the UCSF community and the event-going public heeded the warnings and stayed out of their cars, but we have 80 more near capacity events in the next few months," she said. Shinnerl also cautioned that darker evenings, winter rains, and different types of crowds attending Warriors games could lead to different traffic conditions.