The View: Part of the Laurel Heights Community
---
Published on August 18, 2017
---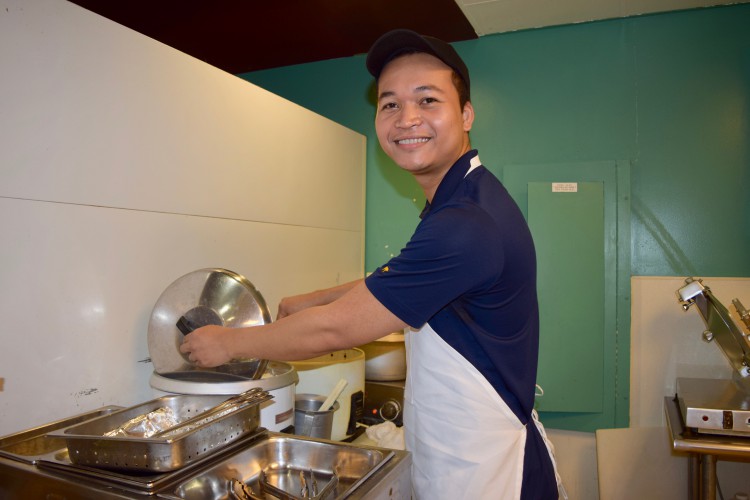 For Sakpraneth Kim, owner of The View restaurant on the second floor of Laurel Heights, customers are like family.
"Our customers are very friendly and I try to know everything about them," he said. "If they order a sandwich for lunch I try to remember exactly how they like it."
"Neth" began running the business about six years ago after his grandmother, Rina Sun, retired. "She had been running the café for more than a decade," he said. "She owned other shops prior to coming to UCSF and that prior experience helped her with the opportunity to run this restaurant."
Like other restaurants located in UCSF, The View is a fixture for Laurel Heights' employees. Many arrive to work and grab a cup of coffee and come back later for lunch.
"Our customers often order the same thing every day," Kim said. "I like to talk with my customers and get to know them. I want to make sure they get exactly what they want."
Owning a restaurant is a big commitment. The View opens at 7am every weekday but Kim and his employees arrive at 6am and don't close until 5pm. In addition to sandwiches, the restaurant serves a variety of hot food.
"It's most important to maintain our quality," Kim said. "The hardest part of managing a business is making your customers happy. I always want them to leave satisfied."
The homemade wonton soup is one dish the customers love. "We sell out of the soup very quickly," he said. The veggie sandwich is also popular along with a variety of Chinese hot dishes made fresh daily.
"Thursday is a big day at The View because Thursdays are wonton noodle soup day," said Arezu Sarvestani, social media manager for the university. "A bunch of us from University Relations go up together and get our soups, it's become a sort of tradition. Just make sure to ask for hot sauce at the register, it's the secret ingredient that makes it extra awesome."
Sarvestani said she also likes the lemongrass pork, eggplant/chicken on rice, curry chicken, and the gyro pita sandwich with cucumber.
Kim said he's not sure if he'll move the restaurant to Mission Bay when Laurel Heights is closed. "Right now, we're focused on keeping our customers happy. We'll explore our options when the time comes."