The Tidelands: Unique UCSF Student & Trainee Housing Project to Open This Summer
---
By Robert Hood on May 01, 2019
---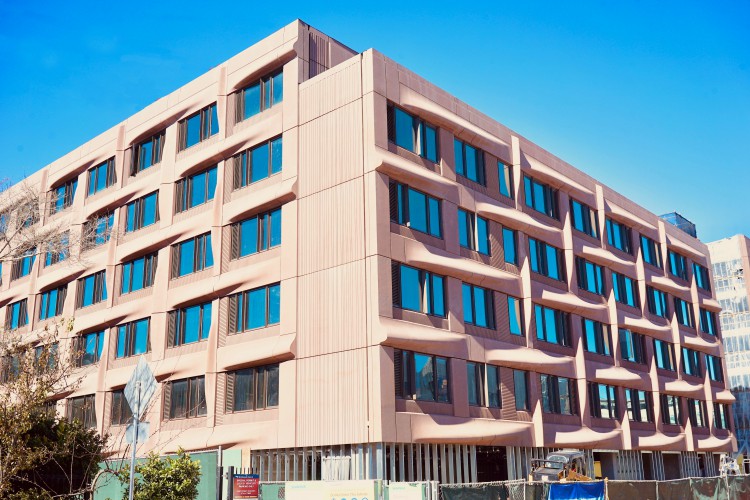 Bryan Garza
Constructing 595 student and trainee housing units in one of America's busiest cities comes with challenges, but Beth Piatnitza, senior project manager for UCSF Real Estate, said the university's newest housing community is on target to open this summer.
Designing the two buildings, located at the intersection of Minnesota Street and 18th Street in the Dogpatch Neighborhood, to fit the greatest number of apartments on the amount of available land and within the city's height restrictions were two of the biggest challenges, Piatnitza said.
Each building sits on a 40,000-square-foot lot and are a combined 331,000 gross-square-feet. They include 386 efficiency units, 96 studio apartments and 113 two-bedroom apartments.
"The architects designed very efficient floor plans," Piatnitza said. "Based on feedback from current residents in UCSF's Mission Bay housing, floor plans focus on what tenants need during private/quiet time and social space is located outside of the units in common areas. The strategy to place social space in common areas enabled the architects to maximize the number of units. Common areas include a generous number of study rooms, a game/TV room, a multi-purpose room with a kitchen, and landscaped courtyards in the center of each building."
Todd McGregor, assistant director of Housing Services at UCSF, said that while the units are small, they offer privacy for study or relaxing after an intense day in class, the laboratory, or the emergency room. Tenants will be able to socialize in the common area space or in the vibrant Dogpatch neighborhood.
In addition, a new corner market will be developed on the ground floor providing tenants easy access to groceries and necessities, while the Dogpatch neighborhood offers a number of established restaurants and entertainment venues.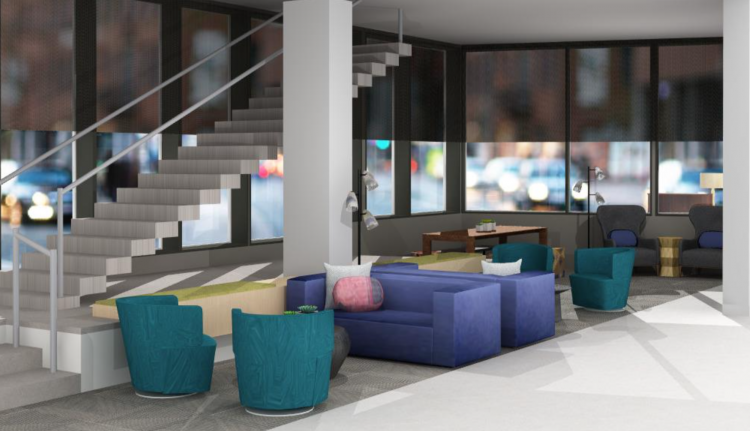 McGregor said Housing Services is actively promoting the availability of The Tidelands (and UCSF's other properties). The priority consideration deadline for student and trainee applications to The Tidelands is March 25. Offers will be sent to UCSF housing applicants beginning on April 1 and will continue until spaces are filled. Tenants will begin moving in later this summer. More information on The Tidelands can be found at UCSF Housing.
McGregor said all units will come furnished with custom-fitted beds, desks, a dining area and induction stove tops and convection microwave ovens. They are located just one-block south of the UCSF Medical Center at Mission Bay and will be served by the university's extensive shuttle system. Public bus, light rail, and CalTrain options are also located nearby.
"The Tidelands is geared toward the lifestyle of singles and couples who are looking for simplicity by moving into a highly efficient floor plan and an already furnished apartment," McGregor said.
Piatnitza said the university has paid close attention to details that will contribute to making The Tidelands a great place for students and trainees to live.
"Each unit has high-quality air filters and we used sustainable paint, carpet, and other building materials, which also contributes to good indoor air quality," she said. "The buildings won't have that 'new car' smell, but that's actually a positive thing. All of the units have excellent natural lighting and each building will have a landscaped courtyard with plenty of sunlight."
Sustainability is important at UCSF and Piatnitza said The Tidelands may be the first all-electric housing units in the UC system. "Tidelands will have better energy use performance than UC policy mandates, which is even stricter than state requirements – so these will be very energy efficient buildings! We are on target to get LEED (Leadership in Energy and Environmental Design) Gold." They will also be solar ready and UCSF's Energy team in Facilities Services is in the process of identifying the best solar options for the building.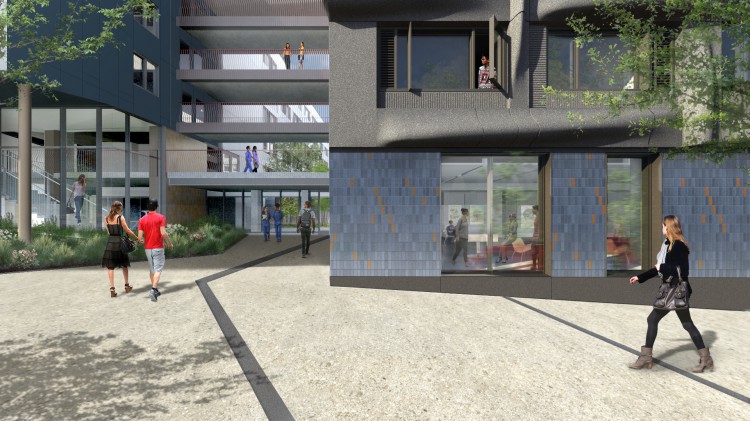 The Tidelands complex also has a unique exterior. "It is comprised of integrally colored concrete panels with built-in windows that were fabricated at a plant in southern California and shipped to the site," Piatnitza said. "A crane lifted each one off the truck and into place, where they were welded to a frame and caulked at the joints."
This process allowed exterior fabrication to take place concurrently with construction of the structure, saving time. "The traditional method would have involved construction of the façade after the structure was complete and would have required scaffolding around both buildings, which would have been a challenge on these constrained construction sites," Piatnitza said. "The façade is a very high-quality system."
Leslie Santos, Executive Director of UCSF Housing Services, said opening The Tidelands will nearly double UCSF's inventory of campus housing for students, postdocs, residents, and clinical fellows and rental rates will be 30-40 percent below market. "We know that offering below-market rental units helps ensure the wellbeing of our current students and trainees and also assists our schools with their important recruitment efforts, and so we are delighted to be able to offer these additional units this summer."