An Upgraded Mobile Experience is Making Life Better at UCSF
---
Published on August 22, 2017
---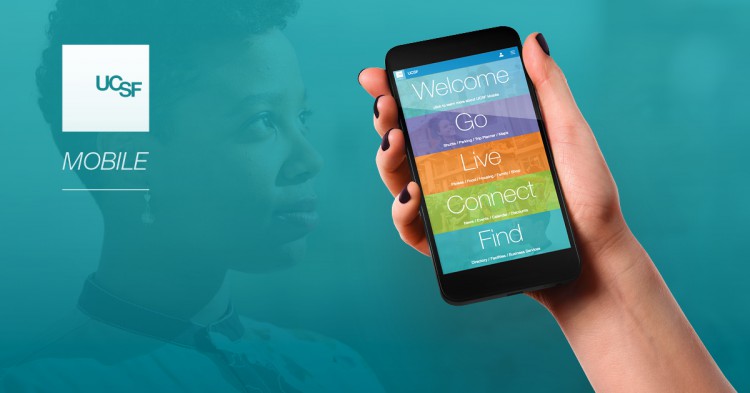 The latest version of the UC San Francisco mobile app – UCSF Mobile – has been released by Campus Life Services and it's making life a whole lot better at the university.
The updated app can:
• Customize alerts for the shuttles you ride most;
• Display open/close times for campus services and businesses in real time;
• Generate a consolidated UCSF social media feed; and
• Allow users to bookmark favorite items.
Developed and powered by UCSF Campus Life Services, UCSF Mobile is reorganized in five easy-to-use service areas – Welcome, Go, Live, Connect, and Find. The new, simple design makes it easier to access information.
UCSF Mobile allows users to sign up for shuttle alerts. No longer will you have to wonder when the next shuttle arrives. With UCSF Mobile, you'll get a five-minute reminder before your shuttle arrives, and know exactly when it arrives!
The updated maps function makes it easier to find UCSF parking lots and garages, EV charging stations, dining and shopping, bike racks, housing and more. It even lets you know if a business is open and the hours of operation. You can also see related UCSF services and Campus Life Services nearby your current location, and access driving or walking directions to your next destination.
The new social feed allows users to follow the UCSF and CLS social media accounts in one place and bookmarking gives you instant access to your most popular pages.
UCSF Mobile also features seamless transition for everyone using the current CLS Services at UCSF app on iOS. Launched in 2014, the CLS Services at UCSF app has more than 11,000 unique users. UCSF Mobile automatically updates the CLS Services at UCSF app with the new look and features.
In the near future, the upgraded mobile app will also be integrated with the latest CLS technology, including:
• Fixit.ucsf.edu a sign campaign that gives the campus community the power to use a mobile device to quickly alert Facilities Services to common issues such as a leaky faucet, vandalism, messy floors and more.
• Zerowaste.ucsf.edu, a recycling and waste reduction website that helps users determine whether items should be reused, recycled, or composted.
• Mycommute.ucsf.edu, a new commuter portal designed for every member of the UCSF community whether they carpool, vanpool, use public transportation, or bike to work.
UCSF Mobile can be downloaded at the Apple App Store or Google Play.