The Friendly Face Parking Cars at Parnassus: Abbey Abebe
---
By Robert Hood on February 01, 2019
---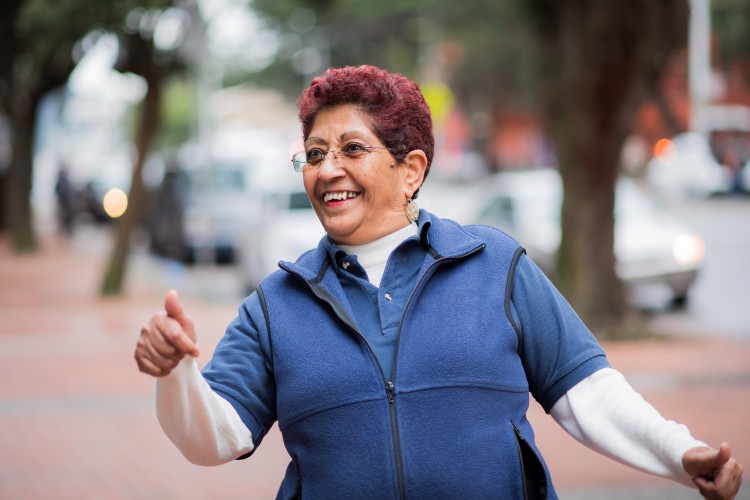 Marco Sanchez, UCSF Documents & Media
When employees or patients pull into the parking garage at Parnassus they are often greeted by the friendly smile of Woinabeba (Abbey) Abebe.
"She takes the initiative to help patients, families and drivers by providing great customer service," said Girma Taye, who oversees Abebe at UC San Francisco Transportation Services Valet Operations. "She will make sure you are taken good care of – like a mom!"
Abebe is one of the friendly faces working as a valet in the Parnassus garage. She's been there for 11 years and Abebe said most of her customers are doctors, nurses, and other UCSF employees. "I'm happy in my job. I have friendly customers and good coworkers."
The valet team at Parnassus (photographed below from left to right Harold Lee, Gizachew Tolla, Abbey Abebe, Abel Haile, Eric Palor, and Girma Taye) has four employees per floor and each floor can park up to 140 cars per day. Abebe said the busiest time of the day is between 8:50-10:30am. "That's when we have a line of cars in the garage waiting to be parked."
Abebe said it's especially busy when it's raining and people don't want to struggle with street parking.
Taye said Abebe is always helping customers, permit holders, patients and families, but she also plays a critical role as "mom" for the valet staff. "She is very outspoken and she speaks for all the valet staff. Some staff are quiet but Abebe always fights for a better working environment in the parking garage."
Abebe came to the U.S. from Ethiopia in 1999. She moved to Oakland to live near her sister and brother and later moved to Washington, D.C., and then to Denver before settling back in the Bay Area. She now lives in San Francisco's Civic Center neighborhood. "I like living downtown," she said. "I love walking around downtown San Francisco. There is so much to do and see."
She also spends time with her two daughters and four grandchildren who live in Oakland. "I call my grandchildren and talk to them or FaceTime them every morning."
And following that morning call, Abebe is off to the parking garage at Parnassus where she plays her role as "mom" for customers and the valet staff.