Thanks for the Memories! Millicent Magiera Retires From UCSF
---
Published on June 20, 2017
---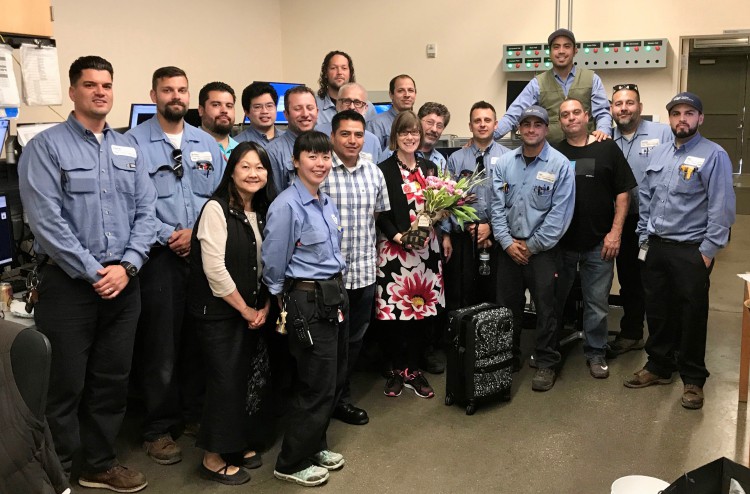 For Millicent Magiera, director of Mission Bay operations for Facilities Services, a 30-year career at UC San Francisco began by accident.
"I was visiting San Francisco with my boyfriend," she said. "We had driven across country from New York City. We thought we would like Los Angeles because it was a bigger city but we found San Francisco and decided to stay."
Staying in San Francisco required a job, so Magiera went to a temp agency downtown and a recruiter told her about a file clerk job for the Director of the physical plant at UCSF.
"I understood a little bit about physical plants because I had worked with one at Syracuse while I was in college," she said. "Eventually, my boyfriend left the city but I got the job at UCSF and stayed." (She is quick to point out that they remain friends to this day.)
While working as a temp, a full-time purchasing assistant position opened up. She succeeded in landing that job, and her career at UCSF began. For five years in this role, she worked closely with all the physical plant staff, including the shop supervisors and craftsmen, engineers, building and project managers. The role also supported the storehouse, which expanded when the department relocated to the 20th & Mission site in the late 1980's.
At the time, most of the employees in UCSF Facilities Services were men and the women who did work in the organization filled clerical roles. "I always felt very welcomed and I felt like I was part of the team," Magiera said.
In the early 1990's, new leadership was in place, and Facilities changed its service model and began forming building teams. "That was the beginning of the end for the shops as we moved to a more customer-service oriented model," she said. "There was a lot of change in personnel as we began a new way of operating."
This presented Magiera with a new career opportunity. She began working as a facilities assistant on the Medical Sciences team, which included Medical Research 1, 2 and 4 buildings, all now gone. "The new building teams were formed with a building manager, an assistant, craftsmen, and custodians. We had one team that was responsible for an entire set of buildings." As the facilities assistant, Magiera worked closely with faculty and lab managers, troubleshooting building issues and managing small construction projects.
As she excelled in her new role, Magiera knew her eventual career goal was to become a building manager. Coworkers told her that she needed to prove to everyone that she could manage a big project. That project came in the form of a mudslide off Mount Sutro. "I was charged with construction of a retaining wall at Kirkham to prevent further mudslides," she said.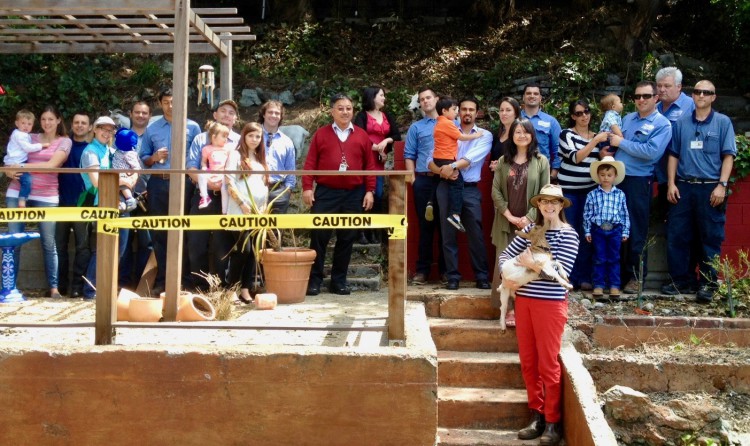 In 1999, Magiera used her building and project management experience to successfully apply for the vacant building manager position at Laurel Heights. She was there until 2002 and eventually added the Mt. Zion Research Center and Mission Center Building to her portfolio.
In 2002 she bumped into UCSF faculty member Charles Craik, whom she had helped move into the Medical Sciences Building when he arrived at UCSF. "I managed the remodel of both his office and his lab when he moved to Parnassus," she said. "When I saw him at the airport, he asked if I was going to move to Mission Bay. I hadn't even thought about that possibility."
Magiera said, at the time, there was some sentiment in the UCSF community that there was nothing at Mission Bay and people weren't anxious to move to the new campus. But within a few months, she received a call from the facilities director letting her know she had been reassigned to Mission Bay.
In October of 2002, Magiera moved into Genentech Hall. "At the time, we were the only people on site," she said. "I was in charge of the building engineers, custodians, and security. It was literally our building."
In her first few months at Mission Bay, Magiera would receive calls from faculty asking if they could see their new space at Genentech Hall. "We were like pioneers at the time," she said. "The new campus and building presented some very real challenges. We did not have a parking garage or bike racks, which is why bike rooms are inside the building. We had to walk over wooden planks from the parking lot to Genentech Hall to avoid the mud."
Ironically, the first faculty member Magiera helped move into Genentech Hall was Craik. "I was happy to welcome him to his brand new office on the south side of the fifth floor."
Craik's lab moved into Genentech Hall on Jan. 8, 2003. "I was like the canary going into the coal mine. Everyone was interested in seeing how things turned out and Millicent was here to make sure we were in good shape."
As with all new buildings, there were growing pains at Genentech Hall. There were issues with the phones, natural gas lines, and ice machines but Craik said Magiera was always there to help. Craik and his team of students and postdocs worked closely with Magiera in those first months. "As I learned from working with her, Millicent is usually right."
Eventually, everything was working properly, including Craik's phone, and Magiera became the go-to person at Mission Bay. "We clearly bonded early on," he said. "Those were such heady times and we shared the common goal of wanting to be able to show that Mission Bay was a great place to do science. It was always a pleasure to work with her since she is genuinely interested in helping to solve problems so that we can do our job better. I will miss her and I know many others will as well."
Jewel Barton, senior associate director of Facilities Services, said Magiera has provided him with unselfish, proactive support and guidance since he first joined UCSF in 2011.
"Given she literally started and shaped the Facilities Services organization for Mission Bay, I always sought out and valued her knowledge and experience regarding operations and the needs of the customer," he said. "She has always been an exceptional advocate for the customer and the university mission. She leaves some big shoes to be filled."
As Genentech Hall filled in, so did the Mission Bay campus. Rock Hall opened in 2004, Byers Hall and Mission Bay Housing in 2005, and University Child Care in 2006.
After the campus had been opened several years, Chancellor J. Michael Bishop, MD, recognized the contributions of Magiera and others at a special ceremony for their work in opening Mission Bay. At the ceremony, Vice Chancellor for Science Policy and Strategy, Keith Yamamoto, told Magiera that the faculty considered Genentech Hall to be her building. "That was a very special moment for me," she said.
Facilities Services Engineer Ronny Melo describes Magiera as a good person to work with and someone who is always willing to help.
"She cares about the people, buildings, campus and animals that live and work here at Mission Bay," he said. "This campus is her legacy and will live on forever."
Adam Schnirel, assistant director for East Campus Operations, met Magiera when he was working as a recycling assistant. "She was quick to encourage and champion sustainability projects and I knew we would get along. We soon realized that we both had similar roots in Pittsburgh, Buffalo, and Canada. Millicent has always been a pleasure to work with and provides a wealth of knowledge about the UCSF institution, faculty and staff, as well as all the inner workings of the Mission Bay Campus."
In retirement, Magiera will spend time with her mother near Pittsburgh, Pennsylvania, and she and her husband Mark will travel the globe. She intends to return on a part-time basis to work on special projects for Facilities Services.
"I never took my job for granted," Magiera said. "I always felt fortunate for the professional opportunities I was presented. My friends were always envious because I would talk to them about how much I loved my job and working at UCSF."