Still Keeping Hardcopy Records?
---
By Sophia Labeko on July 29, 2021
---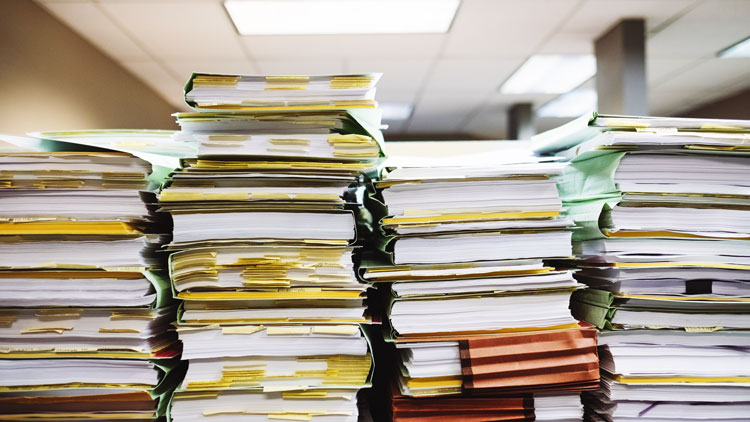 Boxes filled with papers and hardcopy records frequently pass across Torie Beth Hawkes' desk. Organizing and storing these records is usually a tremendous lift. If you've done it, you know. It requires an ever-expanding space, a strategy for organizing the files for easy retrieval, and a process for making sure all retrieved files are returned.
Hawkes, an Administrative Assistant, at the Moffitt Long Operating Room, who has been with UCSF for almost a decade, would like to share a tip for managing hardcopy records – use the bulk scanning service offered by UCSF Documents and Media (DM).
About every quarter, Hawkes gathers hardcopy documents, that include staff schedules and confidential information, boxes them up, and submits them to Judy Flannery, Publications Specialist at DM for processing.
DM scans the documents into a secured server location, assuring that all the files get added to the appropriate folder with the appropriate file indexing, and after verifying with the customer that the files can be accessed online, they securely shred the hardcopy bundle. On top of this being a very satisfying process, it gives the Operating Room Management Team access to the files anytime and from anywhere.
Hawkes notes that if UCSF DM did not offer this service on campus, she would need to rent costly off-campus storage, and every time someone requested a document, she'd need to file a request with the storage provider and wait a few days to receive the hardcopy document.
DM's bulk scanning service takes the hassle out of dealing with hardcopy records by converting them to digital files, and for that reason, Hawkes would "highly recommend this service."

Start your bulk scanning project: .(JavaScript must be enabled to view this email address).