Step Up to UC Walks
---
By Robert Hood on April 12, 2019
---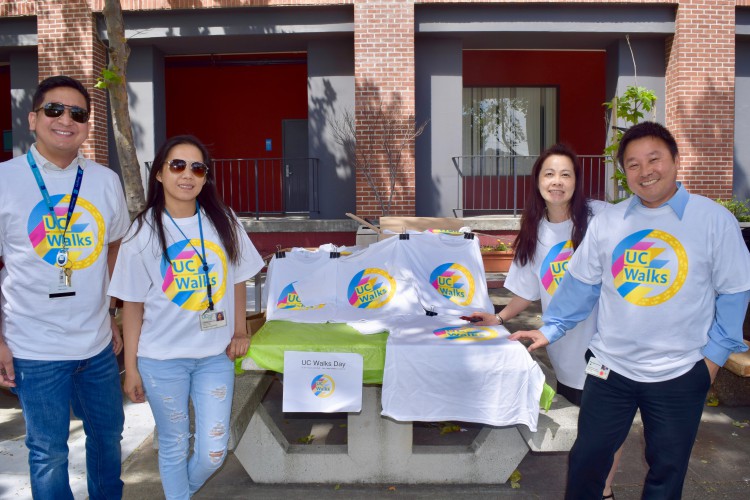 Robert Hood, Campus Life Services
Lace up your shoes and make plans to walk with your coworkers on Wednesday, May 1 for the 10th Annual UC Walks Day event.
Events will be held at Parnassus, Mission Bay, Mount Zion, ZSFGH, VAMC, Mission Center Building, Laurel Heights, 8000 Marina Blvd., and Fresno. Free t-shirts are available while supplies last.
UC Walks is a systemwide wellbeing initiative coordinated by the wellness programs at each campus and health system. The event promotes wellness and an active lifestyle by encouraging faculty, staff and retirees to take time for a walk. UC Walks also builds community and campus spirit.
Kathleen Yumul, the new wellness coordinator at Campus Life Services, is coordinating the event at UCSF. "We're currently looking for volunteers," Yumul said. Volunteers will help organize the walk at their respective campus and hand out t-shirts for participants. If you would like to volunteer, contact Yumul at .(JavaScript must be enabled to view this email address) and let her know your preferred site.
Last year, 9,167 staff, faculty, post docs, retirees, residents/fellows across the UC system participated in the walk. They walked the equivalent of 12,919 miles. At UCSF, participants were given maps of a 15-minute route. They also received UC Walks t-shirts and were encouraged to do a second loop wearing their new shirts.