Staff Readies Millberry Union Fitness Center for New Equipment
---
By Robert Hood on August 15, 2019
---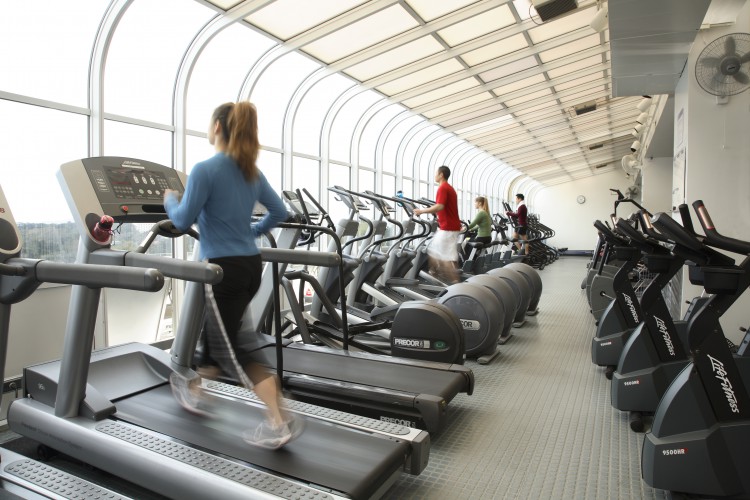 Greg Whisman, general manager of the Millberry Fitness & Recreation Center at Parnassus, admits it's been a busy time for the fitness center staff as they prepare to replace approximately 100 fitness machines in the facility at the end of August.
The last time all of the fitness machines were replaced at the same time was 1989 when the center was completely remodeled.
"We've been replacing machines individually, as needed," Whisman said. "We usually replace six to eight machines a year. It's obviously a much bigger project when you replace all of them at once."
For Gail Mametsuka, director of Fitness & Recreation, the equipment upgrade serves as a belated birthday present to the facility. "Millberry celebrated her 60th birthday last year, and we wanted to give her a little make over," she said. "From new paint and furniture to all new strength and cardio equipment…we hope these exciting improvements motivate the campus community to get involved at the fitness center."
Whisman and his team are working with approximately a dozen people from Matrix Fitness to remove the old equipment. UCSF Facilities Services will re-wire electrical outlets to accommodate new treadmills. The project is being done in conjunction with the fitness center's annual closure.
(Preview the new equipment at Millberry Union in the video below).
"We're already scheduled to be closed the entire week for our annual fitness center improvements," Whisman said. "This is just one of the projects scheduled during that closure. We'll open again on Tuesday, Sept. 3."
One of the biggest obstacles to replacing every fitness machine in the center is the urban nature of the Parnassus campus, Whisman said. "Finding parking for the delivery trucks is difficult, which is why we're moving the equipment in and out at night."
Whisman said fitness center staff surveyed members prior to the project to determine the type of machines they wanted. "Their input helped guide our decisions," he said.
The new machines will also provide more space in the fitness center. "They'll fit better so it won't be quite as tight," Whisman said.
Liane Wong, sales and marketing manager said a special open house for UCSF employees will be held in late October. "We will be opening our doors so the campus community can work out and try the new equipment," she said. "Incorporating exercise into your day - whether it's before, during, or after work - is something positive that you can do for yourself."