Shuttle Changes Aim to Improve Rider Service
---
By Robert Hood on January 08, 2020
---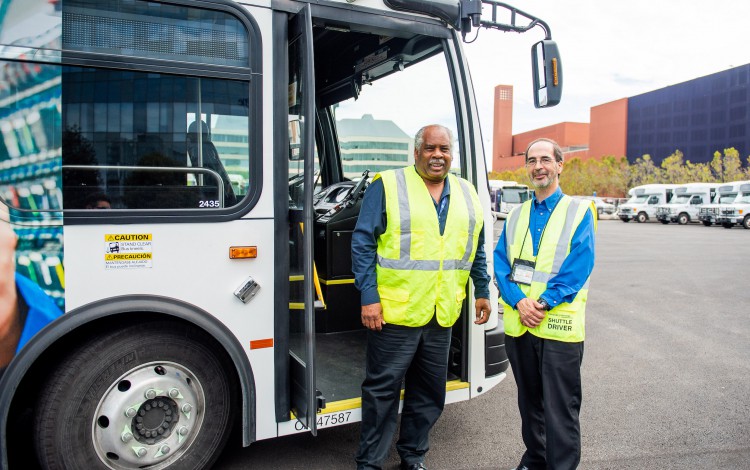 A number of shuttle service enhancements that are based on rider feedback will begin on Monday, Jan. 13. The changes impact the Gold, Blue, Grey, Orange, Red and Yellow routes and include:
Gold Route: The shuttle stop at Parnassus Heights will be relocated from Parnassus Ave. at LPPI to Parnassus Ave. at the Library. By moving the stop across the street, the Gold will avoid the Irving Street loop, resulting in faster travel times from Zuckerberg San Francisco General Hospital. A larger shuttle will also be used to accommodate additional riders.
Blue Route: The first Blue shuttle will depart at 4:55 a.m. to accommodate early shift start times and a larger shuttle will be used to welcome more riders on each bus.
Grey Route: A new 7:27 a.m. departure from Mission Bay will ease overcrowding during peak morning commutes between Mission Bay and Parnassus Heights.
Orange Route: Shuttles will now arrive more frequently – every 20 minutes – to reduce travel time for passengers traveling between the Laurel Heights campus and/or 3360 Geary Blvd. and Mount Zion or Parnassus Heights.
Red Route: The 7:10 p.m. departure from Mission Bay is back by popular demand. The schedule has also been modified so that shuttles will run from Mission Bay to BART every 20 minutes after 6:30 p.m.
Yellow Route: A new 3:10 p.m. departure is scheduled from Zuckerberg San Francisco General Hospital.
To view shuttle schedules, please visit shuttles.ucsf.edu.